Hardly a working moment goes by that a sparkling new vehicle doesn't roll off an automotive assembly line somewhere in the Southeast. But where are they headed? All over the world.
Most are sold in the United States, but more than you might think — at least 680, 000 units last year — are exported. Automotive exports from Mississippi, Alabama, Georgia, Tennessee, South Carolina and Kentucky last year totaled around $30 billion, according to state sources.
Most of those exports go to China, Canada, Germany, Russia, Great Britain, Mexico and the Middle East. Southeast exports are shipped to most of the world's countries, including more obscure places like Qatar, Azerbaijan, Gabon and Guam. 
Exporting is an out-of-sight, out-of-mind thing for most of us. But it's business on a massive scale that involves pinpoint planning and millions of miles covered each year by trains, trucks and ships. 
Take, for example, the Mercedes-Benz U.S. International plant in Alabama, one of the heavy lifters in the region's export scene. It shipped 136, 000 cars and SUVs to international markets, some 45 percent of the plant's production last year. The plant ships to customers in 130 countries, with its largest markets last year being China, Canada, Germany and Russia.
Vehicles for export are put on covered rail cars or trucks at the back door of Mercedes' plant in Tuscaloosa County and transported directly to Canada or to ports in the Southeast.
Exports to Canada are shipped by rail through the Detroit area to rail heads in Montreal and Toronto and through Minnesota to Calgary and Vancouver. From those points, they are trucked to 57 Canadian Mercedes dealerships throughout the country.
"It's a fully automated process, " says Deborah McLellan, national distribution manager for Mercedes-Benz Canada. "The vehicles are tagged with a dealer destination, and when they arrive at the rail head, it triggers a release to the trucking company and the trucking company comes in, loads the trucks and takes them directly to the dealer."
It usually takes seven or eight days to transport the vehicles into Toronto and Montreal and closer to 14 days for the longest trip to Vancouver, which lies just north of Seattle, Washington. With the trucking time included, it's a two- to three-week process from plant to dealer.
Last year, the Alabama Mercedes plant shipped 19, 000 SUVs and cars (C-Class, GLE and GLS) to Canada. Mercedes-Benz Canada also imported 24, 350 cars and SUVs last year from Europe as well as 5, 500 vans.
"We try to keep it as simple as possible but, you know, sometimes we have a moose on the tracks out on the prairie, or ice in the auto port, all kinds of interesting things, " McLellan says. 
Alabama OEM exports last year exceeded $8 billion, if parts and components are included. The Honda plant in Talladega County exports 10 to 15 percent of its production, which was 350, 000 units last year. The Pilot SUV and Odyssey minivan are shipped to countries that include Qatar, Oman, Saudi Arabia, Dubai and the United Arab Emirates. Hyundai's plant in Montgomery exported just under 10 percent of what it made last year, including about 32, 500 Elantras and Sonatas to Canada.
Export volume has increased sharply in the past few years between Nissan's plants in Tennessee and Mississippi. In 2014, Nissan exported 130, 000 units made in those facilities to almost 70 countries, with Canada (63, 000), the Middle East (29, 000) and Mexico (13, 000) being the largest markets. 
Toyota's Mississippi plant exported 7, 500 Corollas in 2014 to 18 countries in Central and South America and the Caribbean, according to an online company report. The company's plant in Georgetown, Kentucky, exported roughly 10, 500 Camry and Avalon models — and hybrid versions of both — along with the Venza to countries that include Belarus, Germany, Russia,   Ukraine, Australia, New Zealand and China.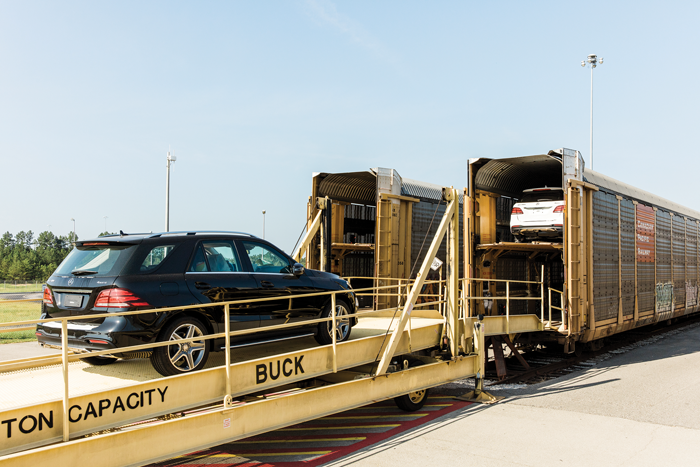 Mercedes-Benz cars are loaded on to covered rail cars in Tuscaloosa County prior to being exported to Canada.
Photo by Cary Norton
Any Port But Near Home
Alabama automakers exported more than 220, 000 vehicles last year, but none of those was shipped through the Alabama State Port Authority's Port of Mobile. That port handles the automotive grade steel and components for the state's four OEMs — Mercedes-Benz, Honda, Toyota and Hyundai — as well as the Kia plant in West Point, Georgia. 
Now, port officials are taking steps to capitalize on market opportunities resulting from continued development of the auto market in the Southeast and Mexico by building a finished vehicle processing terminal with roll-on, roll-off capabilities.
According to Port spokesperson Judith Adams, the port authority launched a study and preliminary design work two years ago to build such a terminal at an estimated cost of $65 million. 
At the time, Alabama was the 5th-largest producer of cars and light trucks in the United States with exports in excess of $7 billion. Not having an auto-exporting terminal killed a shot at $56 million in business revenues, $15.5 million in local purchases and $4.7 million in local and state taxes, officials say.
In July, the port authority issued a revised request for proposals aimed at a different site than originally considered. The new site, in the main port complex, has a 40-foot draft, better rail service and access for newer, larger ships.
Proposals are due October 10 with selection and award scheduled for December, according to Adams.
Elsewhere in the Southeast, Charleston, South Carolina, and Savannah, Georgia, have announced plans to enhance port facilities for increased traffic. Georgia and South Carolina also have announced joint plans to build a massive port that would lie in South Carolina near Savannah.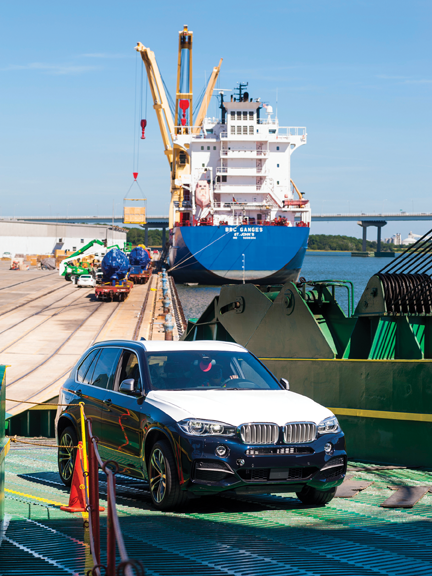 BMW export activity.
Photo courtesy of BMW Manufacturing Co. LLC
BMW Leads the Region
South Carolina's BMW Manufacturing in Spartanburg ships about 70 percent of the vehicles it makes each year to overseas markets and is the Southeast's largest auto exporter. In 2015, the South Carolina plant exported 281, 256 units — nearly $10 billion worth — to 140 countries.
Based on the value of exports, the BMW facility in South Carolina is the largest automotive exporting facility in the United States, according to company spokesperson Steve Wilson. Leading export markets last year were China, Germany and Great Britain.
BMW sends cars by rail from the Spartanburg plant to the Port of Charleston, which handles most of the facility's exports. The company also ships out of Savannah, Jacksonville and Miami.
BMW uses South Carolina's Inland Port to import about 95 percent of all parts for cars the company makes in Spartanburg. That amounts to about 250 sea containers per week and includes parts such as engines and transmissions, according to Sky Foster, corporate communications department manager for BMW Manufacturing in South Carolina.
The BMW facility exports about 500 sea containers each week filled with parts and components for the BMW X3 and X5. Those containers are shipped to emerging markets around the world such as Russia, Thailand, India, Indonesia, Malaysia and Egypt. 
In 2015, about 20, 000 painted X3 and X5 bodies along with parts and components were exported from the Inland Port. BMW does not provide the value of parts and components it exports.
"The Inland Port is important for BMW's import and export operation, " Foster said via e-mail. "The company's export program enables BMW to invest in new markets where we see potential for future growth. Demand for our X models from emerging markets has grown significantly over the past five years, and we believe that trend will continue."
---
Text by Charlie Ingram