The Southern Automotive Conference, set for Oct. 4 – 6 in Birmingham, Alabama, will be the state's largest trade show. But it's much more than that, says Ron Davis, president of the Alabama Automotive Manufacturers Association.
"I think it's a lot more than a trade show, " he says, adding that this year's SAC will be a 10-year celebration of the event, which first took to the stage in Birmingham, before traveling year to year to other states.
But besides looking back, the conference will "create an environment of connection and solutions to problems in our industry, " Davis says. "So it's more than a trade show, which in my mind is a lot of exhibit booths, and folks trying to sell their product. … This is far beyond that. This is really highlighting challenges and opportunities in our industry and hopefully providing opportunities for solutions to some of those problems and ways to connect to those who have solutions. And it also does create a business connection opportunity for those who want to do business in the industry."
The biggest challenge facing the industry now is workforce, Davis says, and the SAC will take that on. "We will tackle some workforce discussions in our conference. I don't have a meeting where workforce doesn't come up, " he says. "Finding the right people, training them, and filling positions as the industry changes are all concerns throughout the sector, " Davis says. "I think the concern that a lot have is just making sure we're doing the right things now to provide a pipeline of workers for the future."
The SAC will provide "opportunities to connect with Millennials who will be the future of our industry, " he says.
"But there are other opportunities and challenges in the industry that we have breakout sessions and speakers to talk about. Cars are becoming more computerized with autonomous vehicles… The complexity of manufacturing due to electrical controls and things of that nature are growing and expanding."
The conference will give people ideas they can take back to their plant and benefit their individual operations, Davis says. "A very important part of this event is folks can attend, learn things they can take back to their operations, whether it be strategic planning thoughts that they have, or how they run their plant or make improvements or enhancements to their plant, or people they can connect with to improve their business, grow their business, share best practices."
Conference attendees have a robust schedule of activities to engage in, Davis says, from the Innovation Zone to the Diamond Celebration to informative speakers and breakout sessions.
"We're going to have an Innovation Zone which will highlight innovations from the industry, which is a new addition to the conference. We have our Diamond Celebration, which is an addition to our conference that really brings significant additional value to our exhibitors and sponsors and speakers to connect with purchasing from OEMs and Tier 1s in the region. We have keynote speakers and breakout sessions that are really in tune with current issues and opportunities in the industry."
The Innovation Zone is one of the things that makes the conference anything but routine, says Bill Todd, president of o2ideas, the Birmingham-based firm putting on the conference. Describing it as a key conference highlight, Todd says it will showcase groundbreaking research that's changing the manufacturing industry.
"There's also a big emphasis in this Innovation Zone on something called Industry 4.0 and that's an impressive array of new technologies and ways of fabricating and manufacturing that were unforeseen just a few years ago — maybe even just a few months ago. So when you come to the Southern Automotive Show, you're going to get a perspective you've never had on automotive manufacturing."
Todd says o2ideas' involvement in the conference grew out of years of work in the automotive industry.
"We have more than 16 years' experience in the automotive industry, " Todd says, working with Honda companies in Alabama, Indiana and Ohio, on what he calls "great milestone events." Honda supports the SAC, Todd says, and "We just felt a natural synergy with the Southern Automotive Conference with our automotive background and the fact that we love doing special events."
As a result, Todd says, "We didn't want this to be a routine Southern Automotive Conference. Our objective is to clearly underscore that the Southern Automotive Conference is the conference to be at in North America if you're in the automotive manufacturing industry or in its supplier base. I guess a good analogy is we want this to be the Detroit Auto Show of the manufacturing world. Just like the Detroit Auto Show highlights every year the great new models and concept cars that automakers have, this is the same kind of conference that we want to have for the people that are actually making the cars."
Todd also pointed to the conference as a look toward what's next in the industry. "I think we've got a great mix of showing attendees and sponsors and exhibitors the automotive industry of the future and not only what we're doing now. Arguably, the South may be the most successful automotive manufacturing center in North America right now — certainly business is booming in Southern automotive manufacturing. We just want people to see there's an incredible future ahead in this industry, particularly in terms
of innovation."
The SAC this year will include a roster of important industry voices including Bharat Balasubramanian, the executive director of the Center for Advanced Vehicle Technologies at the University of Alabama; John Bradburn, the global manager of waste reduction for General Motors; Jason Crain, the construction management leader for Hargrove Engineers + Constructors; cyber security expert Lisa DeCarolis, a risk control consultant to CNA; Tony Comella, an account executive for Supply Chain Services International LLC, and Ryan Miller, associate director for external relations at the Haley Barbour Center for Manufacturing Excellence of the University of Mississippi.
"It's a conference folks just don't want to miss, " Davis says.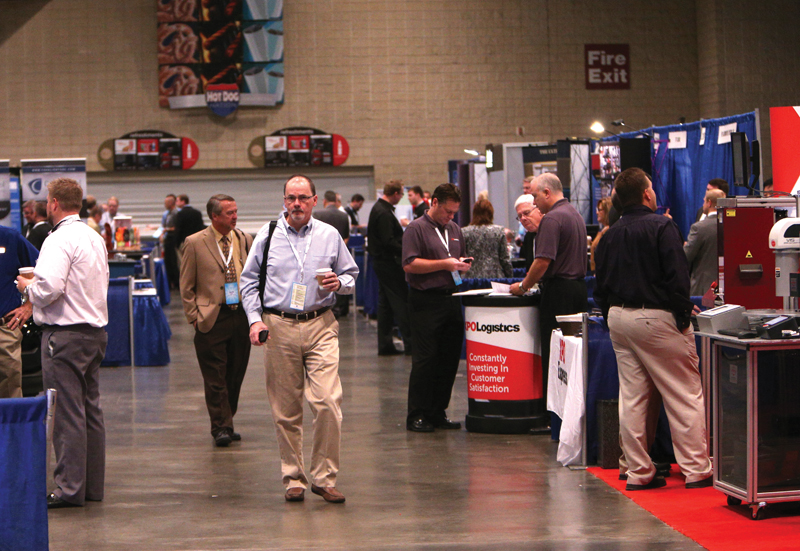 2014 Southern Automotive Conference held at the Birmingham-Jefferson Civic Center.
Sponsors and Info
The Southern Automotive Conference is sponsored by the automotive manufacturing associations of Alabama (AAMA), Georgia (GAMA), Mississippi (MAMA) and Tennessee (TAMA), with the South Carolina Automotive Council (SCAC) and Southern Automotive Women's Forum (SAWF) as affiliate members of SAC.
The SAC will be held at:
Birmingham-Jefferson Convention Complex
2100 Richard Arrington Jr Blvd N, Birmingham, AL 35203
The event runs from:
1 p.m. Wednesday Oct. 4 through 1 p.m. Friday Oct. 6.
For more information, contact Lynsey Delane of AAMA at [email protected] or (256) 824-6407
---
text by nick patterson