Kentucky Cabinet for Economic Development Sec. Terry McGill is excited about the way the automotive sector is transforming the fortunes of his state, which just experienced in 2017 what he calls a "record shattering year."  The automotive industry accounted for 47 percent of the 9.2 billion investment announced for the state – 62 separate automotive related projects expected to bring more than 4, 500 new jobs. His overall impression of the health of the industry in Kentucky? "It's booming, " he says with pride.In this edited version of our question and answer conversation with Gill, he gives an impressive number of the highlights. For the full version of the conversation, check out our website, www.southernautomotivealliance.com
Q: How do you account for Kentucky's success in the automotive sector?
A: Kentucky's many advantages – including its gateway position between the Midwest and Southern automotive hotbeds, its abundance of aluminum and steel producers, and its focus on becoming the engineering and manufacturing hub of excellence in the US – all contribute to its ongoing success.
We're actively improving our business climate, too. One of the biggest shifts came in early 2017 when the Legislature passed and Gov. Matt Bevin approved right-to-work legislation.
Within four months, he and Legislative leaders announced a $1.3 billion aluminum rolling mill would locate near Ashland in the state's northeast corner, bringing 550 high-paying, advanced-manufacturing positions to a region hit hard by coal and steel job losses. Braidy Industries Inc. will produce rolled sheet and plate for the automotive, aerospace and defense industries. The company's CEO said Kentucky wouldn't have won the project without right-to-work.
We expect that project alone to spur other new investments in Kentucky by metals processors, aerospace companies and auto suppliers. With Kentucky already a leader nationally in aluminum smelting, recycling, rolling and downstream processing, automotive suppliers are increasingly coming to Kentucky as OEMs seek to cut weight and reduce fuel mileage.
In addition to large-scale investments at two OEM plants last year, Kentucky attracted new companies in plastic injection molding, metal fabrication, tanker-truck manufacturing, transit bus and motor coach components production, powertrain gear manufacturing and automotive aftermarket performance parts. We announced more than 50 expansion projects by supplier facilities, headquarters, service and technology companies in the automotive industry.
Q: I understand you have some interest in innovative manufacturing – how does the state of Kentucky help the automotive industry in that regard?
A: A considerable part of my background is in advanced manufacturing, small and middle-market business and fostering the entrepreneurial community. Our cabinet plays a direct role in those areas, as well as in workforce development.
From the ground-upward perspective, we've recently hired executive and deputy directors in our Office of Entrepreneurship to bring new focus to the state's efforts. The office oversees an array of programs that offer credit assistance, exporting resources and expertise, expansion and reinvestment incentives, grants for high-tech transfer and facilitation of angel investment. Our Kentucky Innovation Network operates offices across the state that provide resources, guidance, industry connections and mentorship to entrepreneurs. As you'd expect, many of the Innovation Network's clients are tech-related and a considerable number combine tech and manufacturing.
"With Kentucky already a leader nationally in aluminum smelting, recycling, rolling and downstream processing, automotive suppliers are increasingly coming to Kentucky as OEMs seek to cut weight and reduce fuel mileage."
Q: What role does the cabinet play?
A: Our cabinet, through the Department of Business Development, works companies planning new locations and expansion projects that create 10 or more new full-time jobs. Our established track record of bringing together partners – local economic developers and political leaders, utilities, higher-education and training resources – that set up companies for success and provide the support they need immediately and in the long term. As well, we provide industry connections within Kentucky's business community that often blossom in vender-customer relationships. Automotive OEMs, suppliers and industry support companies – such as tool-and-die makers, machine shops, factory-floor tech providers and companies that design, build, install and maintain manufacturing equipment – are key players in innovating and advancing the technology in the field.
In the long-term scope, we're working, along with partners in state government, utilities, secondary and higher education, private industry and non-profits, to create the education and training opportunities that will seed these companies with skilled employees for the decades to come.
Q: What's the most exciting development coming soon?
A: Right now, Kentucky is in a workforce training revolution and, as much as any industry, it will benefit the vitality of our automotive sector.
I speak with companies nearly every day that are looking to hire and want to add production but the availability of skilled labor holds them back. That's a national situation. Low unemployment and a strong economy with demand for Kentucky-made vehicles and components in the US and foreign markets means companies must compete hard for qualified workers.
We see this situation as an opportunity. Through a variety of programs, state and partner initiatives, apprenticeships, scholarships and task forces we are pipelining future employees into in-demand careers in key sectors including advanced manufacturing, healthcare, business and information technology, construction trades and transportation and logistics.
Q: For instance?
A: Examples include the $200 million Work Ready Skills Initiative, which is reshaping workforce training across the commonwealth through focused funding that backs local partnerships between private-sector employers, high schools, community and technical colleges and other community stakeholders. The awarded workforce development projects also leverage millions in local funding. In 2017, the program announced $100 million in funding for 40 selected projects across the state. As they come on line, these projects are expected to provide top-of-the-line training to more than 30, 000 Kentuckians annually – an increase of more than 50 percent. We anticipate the General Assembly allocating another $100 million this year for another competitive round of project proposals.
On another front, our cabinet is working with Fort Campbell and Fort Knox to connect the hundreds of military personnel who leave the service every month with private companies and training opportunities. Ultimately, we will retain more of these mature, disciplined people for Kentucky's workforce. Kentucky's Work Matters Task Force launched in June. The 20-member group is designing methods to increase workforce participation among former and working-age foster children, people with disabilities, disabled veterans and individuals burdened by substance abuse or criminal records.
Alongside our business-climate improvement initiatives, the commonwealth's success in workforce expansion, training and retention will further distinguish Kentucky as a top location for new corporate investment and job creation.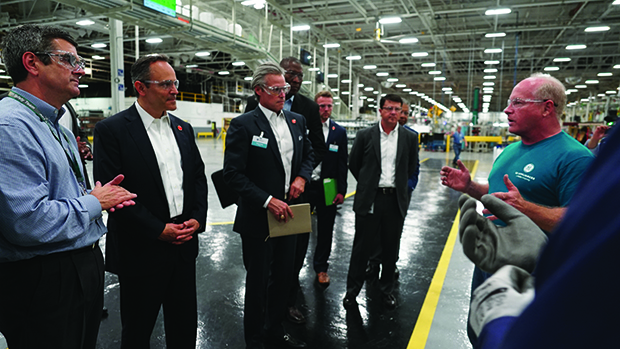 Kentucky Economic Development Secretary Terry Gill  meets team members from GE Appliances along with Governor Kentucky Matt Bevin (second from left) and Labor Cabinet Secretary Derrick Ramsey (fourth from left).
 
Q: Tell me about foreign investment in the state.
A: Kentucky continues to attract – and pursue – foreign direct investment (FDI) and the automotive industry is a key target. Our improved business climate, prime location within the US and existing industry partners give Kentucky short-list status for automotive industry projects.
Last year we announced approximately $2.5 billion in FDI projects for Kentucky, $2 billion of which was automotive FDI. Those investments represent 38 projects from auto-industry companies based in Japan, Germany, Mexico, Canada, Sweden and South Korea. They include:
A $40 million, 100-job expansion by Hayashi Telempu North America to increase its interior component production
A $36 million, 113-job expansion for truck frame production at one of three Metalsa Structural Products plants in Kentucky;
$51 million in investments and 60 jobs from Asahi Bluegrass Forge Corp., which produces automotive gears, bearings, joints and other steel components.
A 100-job, $26 million expansion of Kayser Automotive Systems in West Kentucky, which produces fuel-system components, valves, ducting and activated charcoal canisters.
In 2016, we welcomed automotive-related projects from Thailand, India, Canada, Japan and South Africa. To recruit new jobs and investment and strengthen existing industry ties… We've taken multiple trips in the last two years, visiting industry partners and prospect companies in Germany, Japan, Canada, Switzerland, Belgium, Italy and France.
---
Interview by Nick Patterson / Photos courtesy of Kentucky Cabinet for Economic Development