When Silas Birch went to work at Ford in Louisville, Kentucky, the truck plant wasn't even built yet. But when it was, he knew he had found the place he'd want to work for a lifetime.
Fifty years later, Birch is still a mainstay at the Louisville plant, and still loving his work. "With a company like ours you can have a dozen different jobs without going anywhere, " says Birch. "And being flexible enough to try something different and not being afraid to give it a try — I see it as making you a more valuable employee. Plus there is more diversity in not just doing the same job over and over and over again."
Birch started at the Louisville Assembly plant two years before Ford completed the Kentucky truck plant, drawn to the company by two important factors: "I guess it was basic love for vehicles, " he says. "But the bottom line was, since my father worked in the [American Standard] foundry, he told me, 'Don't even think about' coming there for employment. So Ford made the best offer for me."
During his career, Birch has worked in everything from building 18-wheelers — "less volume but it was intense because it was such a big truck to build and it was almost like building them by hand" — to the Ford Super Duty, the heavy duty pickup with the military grade aluminum-alloy body.
Although Birch has worked on trim and chassis in the Super Duty line, today, his focus is on the parts connection with Ford suppliers. "I'm an incoming quality clerk, " he says. "So basically, it's about the parts that we receive and trying to guarantee that we're going to be building with good parts."
He works as part of a team with divided responsibility for chassis and trim on Super Duty pickups, and Expedition and Lincoln Navigator SUVs, he says. "But we also have body and paint and a lot of different subcomponents. So even though we have a team of people handling all that, I get a chance to work with everybody on the team."
During his interview, shortly after Hurricane Harvey, Birch expressed concern that parts shipments might be delayed because of flooding or closed roads. "That kind of puts a wrinkle in parts we're going to get from Mexico and Texas, " he says.
The biggest difference in his work now and what he's done in the past is that he gets a better look at the finished project, he says. "One of the differences is instead of having like a little peephole to see what I was building or building a part of, now I get a chance to get a much bigger overall view. And to me that's major, " Birch says, adding that "a lot of employees don't get a chance to see the finished product. They only see a few nuts and bolts that they put on. They don't get a chance to see the finished vehicle and take some pride in what they're doing."
Over the years, one of the reasons he remained at Ford was the pride he takes in his work, and in passing on what he has learned, both in training new hires and "trying to help be the person that tried to guarantee that every new manager that I had the privilege of working with got a chance to get a bigger overview of some things that we needed to accomplish, " he says.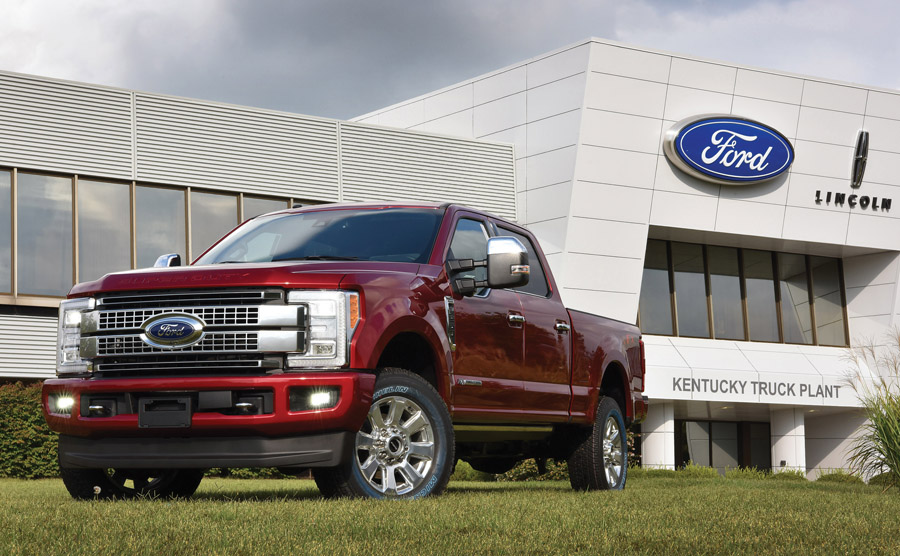 Prison outreach
A big part of Birch's life outside of Ford has been a prison ministry through his congregation at St. Stephen Baptist Church in Louisville. Birch and others work with inmates at Kentucky Correctional Institute for Women and the Kentucky State Reformatory, located in Oldham County.
Despite the name, the reformatory is not a place just for juvenile offenders, Birch says."There are some men there that are great grandfathers. There are some individuals there that… haven't even reached their 19th birthday. And there are some individuals there because they have a large medical facility that takes care of a lot of different problems including mental health and also AIDS, which is rampant in a lot of places. So they get a chance to do a broad spectrum of inmate population, " he says.
The ultimate goal is "for people's lives to be impacted for good, " he says.
"We want to magnify God… encourage some people to make that connection to have the contact with God as part of their life experience, " he says. The results of the prison outreach has been to see "desperate" people turn their lives around, leaving behind a life engaged with crime for one that is more productive, he says.
"We also have a lot of sheriff's deputies and police officers — they and their families are coming to our congregation because they see us doing ministry and they believe that this ministry is effective, " Birch says.
Whether on the job or off, Birch says he wants to share "A love for people and… the chance to not just get the blessing, but be the blessing."
At age 70, Birch is considering retirement at some point in the near future. But as he does, he leaves a legacy behind at the Louisville plant, not only those he's worked with, but family. One of his nephews is working for Ford now, and you can be sure Birch didn't repeat his father's warning about not coming to work there at the Louisville plant.
"A lot of people know that this is good employment, " Birch says. "This is a place I can work and feel good about working."
---
Text By nick patterson // Photo by aaron borton