Clinton, a city of about 10, 000 people in eastern Tennessee, has proved to be a great location for automotive supplier Eagle Bend Manufacturing.
"We have seen our Southern demand grow significantly over the years, " says General Manager Ed Steinebach, "and we have benefited from it. Tennessee is a strategic location for any of our markets or potential markets in the Southern states and the Midwest. Any new factory or expansion in those areas is an opportunity for us." 
Created in 1985, Eagle Bend became a division of Cosma International in the early 1990s, doing mostly metal-stamping with fewer than 100 employees. Cosma's parent company is Canada-based Magna International Inc., which has more than 150, 000 employees worldwide and recorded revenues of $32 billion in 2014.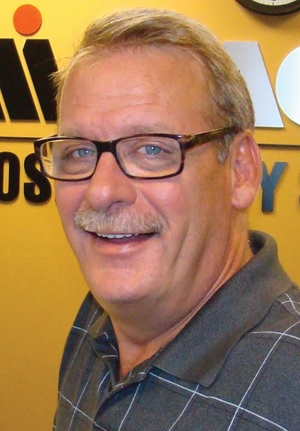 Eagle Bend General Manager Ed Steinebach, above, has been in the automotive business more than 30 years. "I'm just an old 'gear head, ' " he says. "I have built and raced automobiles since my teen years. I love cars with a passion." 
Now one of the 10 largest employers in Anderson County, Tennessee, Eagle Bend has grown to 850 employees. And if present trends continue, "We will hit the thousand mark, " Steinebach says. 
Customers include Toyota, Honda, Mercedes-Benz and other major car companies across the United States. The company's 710, 000-square-foot manufacturing plant turns out a diversified array of products known in the industry for making cars lighter and safer.
As cars became more complex, so did Eagle Bend. Its focus now is automotive systems, including body-side, underbody, closure, bumper and door beams assemblies. "Today we have evolved into manufacturing components and vehicle structures, " Steinebach says. "We provide the safety cage around a vehicle. We are specialists in crash protection."
Making cars safer and more fuel efficient is not just a good idea; it's the law. Regulatory mandates are becoming more stringent every year, and Gene Schilling, director of marketing for Cosma, expects that trend not only to continue but also to increase.
"In the past, the heavier a car was, the safer it was, " says Schilling "But a heavier vehicle meant lower gas mileage. Lightweight often contradicted safety." 
That mindset has hit the road. "There is a constant demand to make cars safer without compromising fuel efficiency, " adds Schilling. "The pressure will only increase, and it is a constant challenge and a driving focus of Eagle Bend."
The company has been a research leader in finding ways to make metal lighter yet stronger. And one of the techniques for doing that — the metal-forming process of hot-stamping — is something Eagle Bend has done for a long time.
"Essentially what hot-stamping does is make metal thinner, lighter and tougher, " says Steinebach. "Eagle Bend's hot-stamping techniques have made great strides in stronger metals that provide added safety and better fuel economy, by making the body metal lighter."
"We make car parts you normally do not see and we hope you never use, " Schilling says. "For the most part, we make the safety features of a vehicle, the structures around the car."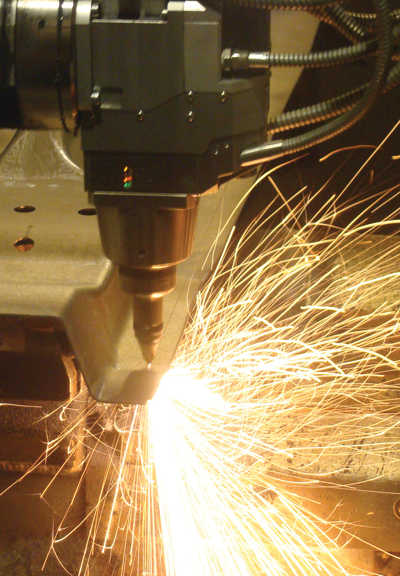 Sparks fly on the floor at Eagle Bend Manufacturing in Clinton, Tennessee. 
Like most manufacturers, Eagle Bend faces workforce challenges.  "We develop our people, " says Steinebach. "You don't always find tool and die makers walking the streets of Clinton, Tennessee."
Eagle Bend's employee workforce is a mix of skilled trades, toolmakers and technical people. Many are trained in onsite programs but also developed through local college training and other state and federal programs.
Company officials say that finding good employees is an ongoing process but worth it. Once they find them, they stay. Eagle Bend's workforce has a less than 1 percent turnover rate.
Clinton's complex has undergone two major expansions in recent years. In 2012, a $64 million development added 100, 000 square feet to its site. In the fall of 2015, the company announced plans to add a new building and more equipment, spending $54.9 million and adding 160, 000 square feet. Together, the two expansions will generate about 300 additional jobs. 
As for the future, Eagle Bend believes its place is secure. "There will always be demands to make metal lighter and stronger, " Schilling says. "It accounts for much of a vehicle's weight, which means it accounts for much of a vehicle's safety and fuel economy. Governments will aggressively continue demands for tougher standards on metallic portions that contribute to a vehicle's weight."
Steinebach, who has been at Eagle Bend about five years, has spent more than 30 years in the automotive business and even longer being fascinated by cars.  
"I'm an old 'gear head, '" he says. "I have built and raced automobiles since my teen years. I love cars with a passion."
Emmett Burnett is a freelance writer for Southern Automotive Alliance.
---
Text by Emmett Burnett // Photos courtesy of Eagle Bend Manufacturing