Growth in the auto manufacturing industry relies heavily on the availability of employees skilled in STEM fields. In recent years, however, employers have noticed a disconcerting drop in applicants with sufficient skills in science, technology, engineering and mathematics. Several organizations and manufacturing associations across the Southeast have made efforts to ensure more qualified professionals will enter the job market in the future ensuring a strong foundation in STEM education.
Alabama
Since 2001, the Alabama Automotive Manufacturers Association has awarded a scholarship to help Alabama students cover tuition and books. The AAMA Dr. Bernard J. Schroer Scholarship Program has provided over $400, 000 to more than 300 students pursuing higher education in automotive manufacturing fields.
A scholarship committee reviews student applications and offers awards based on criteria including GPA, transcripts, essays and more. The committee consists of Alabama education professionals and auto industry members and is chaired by Frank Chestnut, Apprenticeship Alabama Manager for the Alabama Department of Commerce.
"The original idea came from an AAMA board meeting discussion facilitated by Dr. Bernard Schroer, " says Chestnut. "At that time he was the executive director of AAMA and the associate vice president for research at the University of Alabama in Huntsville."
The first scholarships were open to high school and community college students, although the program's scope was refocused in 2011 to Consortium for Alabama Regional Center for Automotive Manufacturing community college students. To be eligible, applicants must have already completed one college semester and be enrolled in a program relevant to automotive manufacturing.
"Back in 2001, the thought was to increase automotive career awareness while encouraging students to take interest in these new opportunities in locally, " says Chestnut. "Immediately, Dr. Schroer began asking members and other stakeholders to consider investing in the future, Alabama's youth."
Recipients of the scholarship have gone on to work for companies like Das Automotive, Mando of America and Hyundai Motor Manufacturing Alabama among others.
Georgia
In Georgia, a non-profit launched earlier this year to inspire students toward STEM subjects and develop professional skills. The HOPE Foundation provides STEM exercises, corporate tours and scholarships to help students learn about industry like supply chain management and logistics.
Standing for "Help Optimistic Positive Effective, " the HOPE Foundation was designed to prepare a new generation of skilled professionals and innovators to enter the state's engineering industries. HOPE founder and CEO Terri Seese cites a critical need for STEM-skilled employees in today's workforce. "I believe there is a lack of hands-on training and mentoring, " she says. "The vision and goal of the program is to include donations to create financial opportunities and support mentoring efforts."
The Foundation connects students K-12 with mentors to offer a first glimpse of how STEM work can be applied in the field. "Students will learn from industry experts while creating their own manufacturing plant within their classroom, guided by the most basic concepts in supply chain management, " says Seese.
Activities are designed to engage students while allowing them to naturally develop an interest in STEM principles. "While building their model cars, students will learn about design, supply/demand, shipping, operations and leadership, as they are encouraged to improvise their own top-notch design specific to leadership, automotive, robotics, shipping and operations."
Seese believes that students are receptive to learning math and sciences at an early age, as long as they can see how principles are applied outside of a textbook. "Most children are interested in learning more, " she says. "They would like learn more about how the world works and how things happen."
South Carolina
In 2016, the South Carolina Manufacturers Alliance also endeavored to inspire students to consider the opportunities that only STEM could provide. The SC Future Makers initiative was designed to connect students, parents and educators and open doors to new career and education prospects.
SC Future Makers' ultimate goal is to close the state's STEM gap through direct links from education to workforce. The SCMA partnered directly with state organizations like the S.C. Department of Commerce and the S.C. Department of Employment and Workforce to show students the variety of careers available.
The private/public partnership uses an online networking platform called STEM Premier to promote relationships between school and future employers. Students first create a profile, listing relevant information like talents and interests. Colleges and companies can also create profiles, through which they can connect with prospective interns, apprentices and employees.
Since the initiative began, 100 of 228 SC high schools have participated, and more than 44, 000 students have created profiles. With these connections, more than 11, 000 students have participated in tours and speaker bureaus with manufacturers. The SCMA hopes to see 100, 000 profiles created by May, 2018.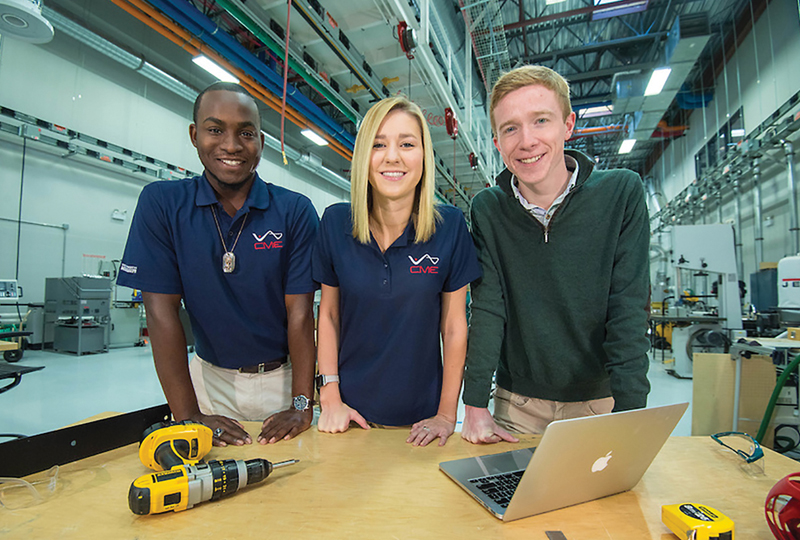 ABOVE Internships are extremely valuable for both students and the future of the automotive manufacturing industry.
 
Mississippi
In Mississippi, a new philanthropic organization is preparing two initiatives benefiting health and education. The Collegiate Automotive Manufacturing society at the University of Mississippi is currently in its planning stages with the support of both the Mississippi Automotive Manufacturers Association and the university's Haley Barbour Center for Manufacturing Excellence.   
"Both of these groups recognize the need to develop the next generation of automotive manufacturing leadership, " says chapter founder and adviser Ryan Miller, who also serves as MAMA secretary and director of external operations at the Haley Barbour Center.
Formed nearly a year ago, the UM CAMs will concentrate on local philanthropies at their outset, including the Blair E. Batson Children's Hospital in Jackson, Mississippi, as well as MAMA's scholarship program. "They both provide hope to young people in different ways, " says Miller. "CAMs will also serve the local community associated with the chapter location by engaging in K-12 educational programs."
CAMs' student leaders will introduce younger students to automotive manufacturing concepts in an effort to promote future opportunities in that field. "At the end of the day, hope in Mississippi's future is a part of why we, as an organization, exist, " says Miller. "We're excited to get to work."
The society is intended to create a clear path from college to career, ensuring that skilled graduates will continue to enter the automotive workforce in the future. "Mississippi has experienced a recent boom in this industry, and having a younger pool of people equipped with the intimate knowledge and appreciation for it is paramount to success in its existence for years to come, " says Miller. "CAMs is designed to bridge the gap between industry and the Mississippi students of both four-year and two-year college programs."
Going forward, Miller hopes to expand the program to other campuses throughout Mississippi. "Beyond that, we would love to see other states adopt the CAMs organization within their own respective state university programs and community colleges, " he says.
SAWF scholarships help drive women to the industry
Since 2011, the Southern Automotive Women's Forum has aided women seeking to enter and excel in the automotive industry. As of this summer, the nonprofit has awarded over $240, 000 in scholarships.
The forum serves a vital role in leveling the playing field in the Southern market. "While there were several groups of like-minded women in the automotive industry in the Michigan area, there were none in the South, " says President Amy Moffatt. "Even though we've seen a societal change towards more female exposure to STEM careers, the fact remains that there is a severe underrepresentation of females in the industry. "We want to get more women in the C-suite. There remains an untapped potential until we can successfully engage this diverse group."
To address this issue, Bloom Energy COO Susan Brennan sought a means to support other female professionals. After assembling a team of influencers, she founded the Southern Automotive Women's Forum.
From the start, the organization had a twofold mission. They support the promotion and development of women that already work within the automotive industry, and they aim to bring more women into the industry through scholarships and mentoring.
SAWF's scholarship is designed to support women working toward a STEM degree with an interest in applying it in an automotive field. "The purpose is to expose young ladies to the exciting opportunities available in the automotive industry and connect them with people who can truly speak about the industry from their own experiences, " says Moffatt.
The forum's reach encompasses 13 states, and involves a vast network of manufacturers and associations. "We have women and great men from every OEM involved in SAWF, " says Moffatt. "We also have representatives from all the suppliers and service providers."  
SAWF's annual conference allows women to meet professionals, mentors, and potential employers through speaking events and a job fair.  "SAWF will expand your vision of the automotive industry in the South and give you a network of the most amazing people you will ever imagine meeting, " says Moffatt. "Relationships are the difference and SAWF provides the opportunity to form key friendships throughout the industry."
The forum's All Girls Auto Know program exposes young women to STEM career potential as early as middle school. As their education continues, these women can establish connections with professionals that may lead to career introductions down the road. "We have many great sponsors who have benefitted from their scholarship donations by finding some incredible graduates with an already established network of mentors and coaches, " says Moffatt. "As our organization grows, so will our influence."
At their conference last July, SAWF awarded scholarships to 19 young women. "We gave over $40, 000 this fall in scholarships" says Moffatt. "We have big plans for the upcoming years!"
---
Text by Tom Little