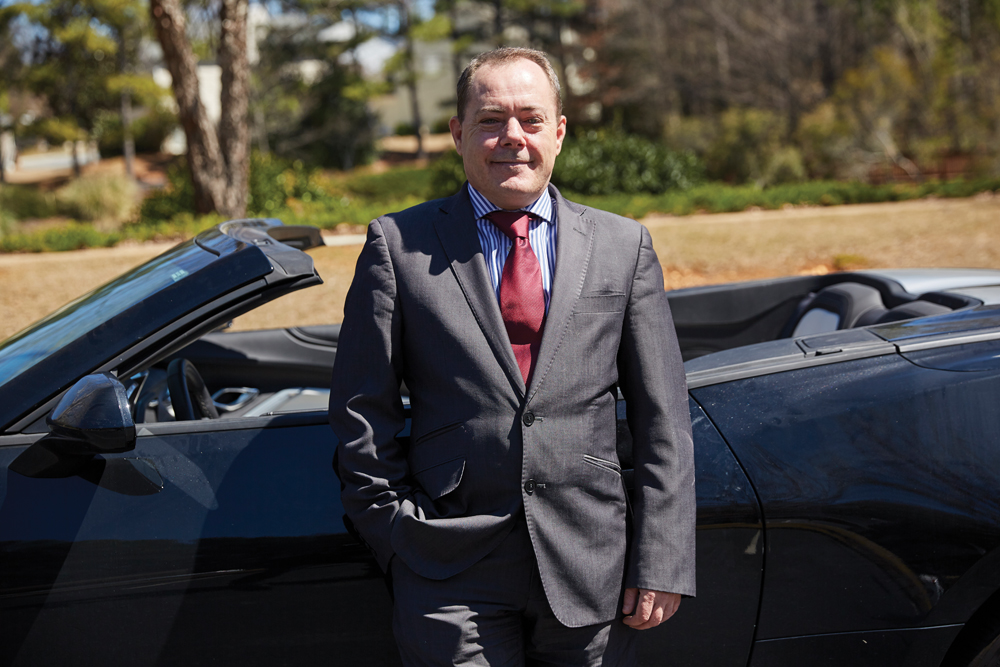 Data Interchange provides technology for electronic data interchange (EDI) between any site and any other site, including from original equipment manufacturing plants to supplier operations. 
"With uncertain financial, political and environmental factors we are dealing with in the world today, automotive suppliers need real-time access to data and the ability to track all their parts from manufacture to delivery to use on the production line, " says Eyes, who has worked in supply chain management for the past 25 years. His company enables suppliers to know just where their parts are in the supply chain through the use of bar codes, radio frequency identity tags, on-location sensors, and proprietary software solutions.
Eyes' argument for why tracking is important: Without the ability to carefully track their parts end-to-end along the chain, suppliers are more vulnerable to losses. Electronic tracking can mitigate their risk, reduce costs and speed payment. Suppliers often face fines when their parts aren't available to keep production flowing smoothly at OEMs and the production line is forced to stop. "If suppliers knew ahead of time that their parts were being held back because of defects or other problems, " he says, then they could address the situation before it caused a production stoppage.
Part of Eyes' challenge is convincing companies, especially OEMs, to collect and allow the sharing of information down the line. "There is some resistance to sharing data. It takes education for companies to understand the value to everyone in the supply chain, " Eyes says.
Data Interchange's solutions are part of what is being called "Industry 4.0, " the use of software, sensors, processors and communications technology to digitize and revolutionize industry for the fourth time since the original industrial revolution of the Victorian era, Eyes says. Sophisticated software with powerful analytics is able to quickly comb through large data fields, often including information from sensors, to provide more valuable real-time information and better automation of industrial processes.
The technologies behind Industry 4.0 are not entirely unfamiliar, Eyes notes. They are commonly used by brands such as Google, Apple, Android, Amazon and Wal-Mart among others. Google is able to track individual-user preferences to throw out helpful internet search suggestions and product ideas to individual users, for example. Apple iPhone and Android cellphone users get all sorts of helpful assistance based on their past usage patterns. Amazon tracks the many items it sells and fulfills from innumerable suppliers and distributors online as does Wal-Mart throughout its supply chain.
Eyes gave a presentation on Industry 4.0 at the South Carolina Auto Summit in Greenville in February. "A large part of my job is educating people about the advantages of the technologies and how they are going to become a necessity in a short while, " he says. "Unless companies start investigating and integrating Industry 4.0 processes into their businesses now, they are going to fall behind as their current competitors and emerging competitors adopt the technologies."
Eyes says suppliers can integrate EDI and e-business solutions over time rather than having to try to make a massive changeover. "We work with companies to determine what makes sense for them to adopt now with their current needs and budget with an eye to the future of what's coming in the industry, " Eyes says.
Data Interchange tested the U.S. market first in California, then established its base in Atlanta three years ago after seeing the business opportunity of the Southern Auto Corridor. Eyes moved to Atlanta's two-person office full-time last August. The Atlanta office will expand as demand increases, Eyes says, but all of Data Interchange's EDI and e-business services can be installed and run remotely from the U.K. Like Adobe with its graphic arts software, Data Interchange provides an affordable monthly subscription for its services. "Software is constantly changing and being upgraded, so it's often not cost effective to buy software outright. It's also much more affordable on the front end to pay for a monthly subscription service where upgrades are included, especially for smaller operations, " Eyes says.
Now an international provider of EDI and e-business integration solutions, Data Interchange started in 1986 as a small subsidiary of Perkins Engines, now owned by Caterpillar. Philip Friend, a mainframe systems analyst for the company, had developed the first protocol for electronic data interchange between business partners for the automotive industry.
Philip and Janice Friend soon bought out the Perkins Engines subsidiary and started their own company, headquartered in Peterborough, England. During the past 30 years, Data Interchange has grown to a multimillion-dollar operation, including offices not only in the U.K., but also Germany, Poland, Spain, Sweden and the U.S., with distributors in Europe, South Africa, South America and Asia. "But it's still a family-owned business interested in providing affordable solutions to small companies, " Eyes says.
The company's competitors tend to go after the bigger players for a bigger payoff, Eyes says.  While it has an impressive list of big-name customers in Europe, including Ford, Chrysler, GM and VW, and easily supports the needs of large Tier I companies, Data Interchange representatives take the time to work with the smallest customers, he says. "The real opportunity is Tier II and III family businesses, some in the industry 30, 40 or 50 years, " Eyes says. "A number of them rely on one customer for 80 to 100 percent of their work and they've never had to change their operation before."
Data Interchange supports more than 4, 000 customers globally, enabling them to trade electronically in the areas of manufacturing, retail, finance, logistics and supply chain. The software and services are used for supply chain management, order processing, business integration, data synchronization and electronic funds transfers. The goal is reduced costs and risks and improved margins. 
"After we prove ourselves in the automotive industry, we will be looking to support other manufacturers and other type businesses that need our services in the South and beyond, " Eyes says.
Eyes participates in a number of Southern automotive associations. He serves on the advisory boards for the Alabama Automotive Manufacturers Association (AAMA) and Georgia Automotive Manufacturers Association (GAMA). He chairs the GAMA supply chain committee. He is also active in educating the younger generation on the supply chain, regularly visiting and speaking at schools, colleges and universities about opportunities in the field. "Now is an exciting time to be working in the automotive industry because we're seeing the beginning of a major transformation, " Eyes says.
---
TEXT By KATHY HAGOOD // Photos by SCOTT AREMAN