The elephant in automobile showrooms as we enter 2017 lives in Trump Tower and the White House. Industry analysts are reserving their opinions on what exact impact the Trump presidency will have on the auto industry until more details emerge, but possible trade regulation revisions and policy changes are part of the conversation as are environmental and mileage issues.
Steven Szakaly, chief economist of the National Automobile Dealers Association, (NADA) back in November at an economic briefing prior to the Los Angeles Auto Show and a week after the presidential election, said, "The outlook obviously is a little less certain than what we had just one week ago. We clearly have had a lot of changes."
Szakaly predicted sales of 17.1 million new cars and light trucks in 2017. As 2016 came to a close, new-vehicle sales were on pace for 17.4 million, which would be a slight decline from the all-time record set in 2015. Szakaly added that the overall economic outlook for 2017 remains strong.
"Next year we are expecting close to 2.5 per cent gross domestic growth with inflation likely to remain low, at least through the first half of 2017. Having said that, employment also is very strong, we continue to see employment growth, that coming in at over 150, 000, continuing to absorb all those new people that are entering the labor force, " he said.
Szakaly also said unemployed people are starting to find work, "which is also good because they represent some people who will likely be looking at ordering a new or used vehicle."
But, he added, "We are headed toward a stable market for U.S. auto sales, not a growing market. The industry has achieved record sales, and pent up demand is effectively spent."
Most auto industry observers say it's too soon to understand the far-reaching effect of Donald Trump's presidency, but some are concerned that his talk of axing trade deals and imposing high tariffs on automobiles imported to the U.S. could cause short-term sales declines and long-term implications on the global industry.
The centerpiece for much of the talk is the North American Free Trade Agreement (NAFTA) signed into law by President Bill Clinton Dec. 8, 1993. One of the clear beneficiaries of NAFTA in these two decades has been the Mexican automobile industry. Ford, Nissan, Honda and Audi are just some of the companies expanding production south of the border and taking advantage of cheaper labor.
The goal of NAFTA was to eliminate barriers to trade and investment between the U.S., Canada and Mexico. The implementation of NAFTA on Jan. 1, 1994, brought the immediate elimination of tariffs on more than one-half of Mexico's exports to the U.S. and more than one-third of U.S. exports to Mexico.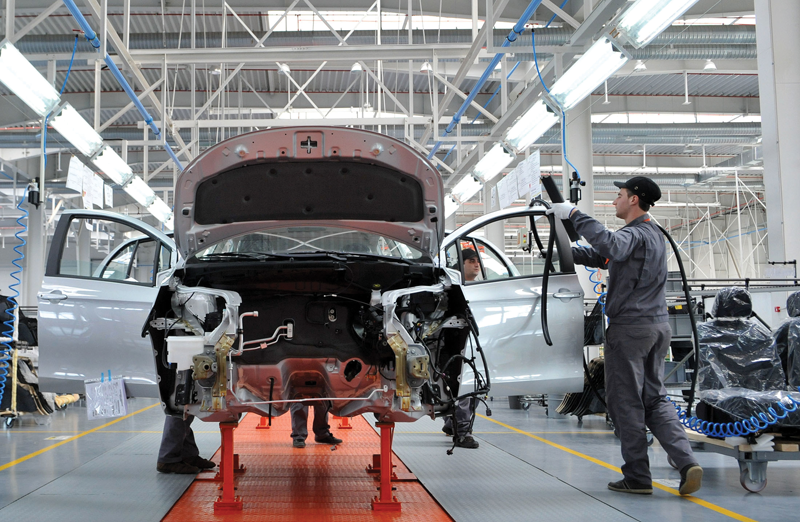 Jeff Windau, a senior equity analyst in St. Louis who covers Ford and GM for Edward Jones, says he has not yet seen any shifts in the volume forecast for 2017 that could be linked to the election.
"I think at this point it is a little too early to tell, " Windau says. "I think there are some big potential themes that are out there which are unknown. Trade restrictions and NAFTA are the big ones that come up. With Mexico the issue would be if there is some kind of tariff or penalties that go into effect and that could impact the Fords and the GMs depending on what is put in place. And no one knows what will be put into place. But if there is some kind of tariff, that could increase the cost and potentially impact those volume numbers." 
"When it comes to NAFTA, first of all it's getting one heck of a lot of play but I think it is helpful to provide numbers, just to give you an indication of the scale, " says Bernard Swiecki, director of the Automotive Community Partnership at the Center for Automotive Research.
"If you look at NAFTA region trade as a percentage of the total U.S. economy, over the entire period that we have had NAFTA, it has only increased from 4.6 percent when NAFTA was enacted to 6.7 percent today.
"So it is not, I think, as impactful on the total economy as it may have gotten portrayed during the election that we just concluded. It does, however, have an outsize-impact on the automotive industry and that's the automotive factor here. Right now intra-NAFTA trade is completely built into U.S. automotive manufacturing, so we are reliant on a lot of inputs coming in from Mexico. We also are reliant on a whole lot of goods that we send to Mexico that then become parts of other components and they are sent back. So this complexity makes it very difficult to take Mexico out of the equation in one fell swoop the way that some people talked about during the election."
Swiecki says the auto industry runs on a complex supply chain of about five days that is difficult to change, "so you can't shut off the border with Mexico because you would shut down U.S. manufacturing if you did that."
Swiecki says his organization does not expect to see some of the more extreme predictions coming true. "By that I mean void NAFTA entirely, stop all trade, and enact a 35 percent tariff rate, " he says.
"Take your pick but some of the extreme scenarios that have been put out there, we do not foresee them happening because of the unintended consequences of starving off the inputs by U.S. manufacturing. And so for that reason even if NAFTA is renegotiated, we expect that any resulting tariffs would be on the light scale."
Swiecki says the growing consensus is that any tariff increase would likely be somewhere between 2.5 to 3.5 percent. "And yes, that is adding cost but it is not necessarily the end of the world, " he says.
Also, Swiecki says, "There is something else that is important that got completely left out of the conversations that were had leading up to the election. First of all, NAFTA is not a two-country trade deal. It's a three-country trade deal. Second, all the industry is global. The industry has global product platforms and also global sourcing contracts. 
"We're already importing a ton from countries other than Mexico so if you shut off Mexico you can't have the assumption that automatically something that doesn't come in from Mexico is produced in the United States and creates new jobs. Industry would likely just re-source that from China, and other countries, whether we have free trade agreements with them or not. Canada has been left out of the talk entirely."
In addition to NAFTA and the tariff issues, automakers are also keeping an eye on what the new administration might do in terms of other regulations such as easing emissions and fuel economy standards.
If emission regulations and mileage requirements are softened under the next administration, says Windau, automakers might benefit. 
"If those get softened a little bit, it could be little more beneficial, " says Windau. "Not necessarily to the volume levels but for an OEM like a Ford, it allows them maybe to push out the investment in new products or new models a little further down the road.  So instead of having a specific mileage target for 2017, they might push it out to 2022, more or less relaxing the regulation a little bit."
The challenge, Windau says, "is that no one knows if those things will be changed and if so, to what degree."
According to Windau, most of the regulation changes will impact suppliers more than the Fords and the GMs.
"As you have tighter restrictions or need more mileage per gallon, you are going to start incorporating more and more technology that is going to cost more so that will benefit the suppliers, " Windau says.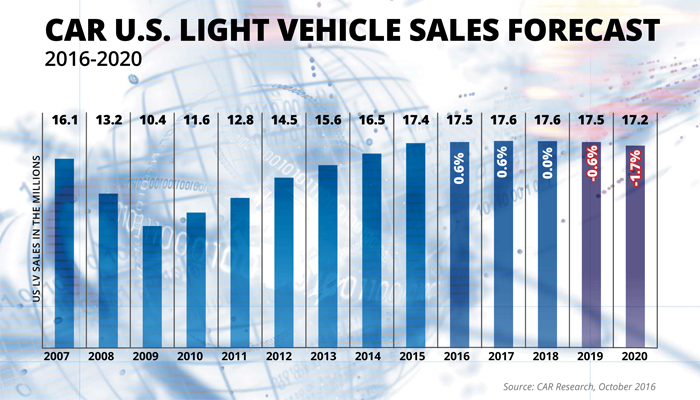 Another area that has a major impact on new car sales is leasing. 
"Leasing has two key impacts, " says Swiecki. "First, each vehicle leased is counted as a car sold.  So that's a good thing and leasing typically results in a lower monthly payment for the consumer, so it allows consumers to be able to afford more expensive vehicles than they usually would not be able to outright purchase. So in that sense we see it as good and leasing is very, very healthy right now.
"But here is the other way that leasing impacts new car markets. When you have tons of used cars it decreases used car prices. That's bad for new cars.  Someone buying a used car is competition for new car sales.
"The situation we have right now is we have an environment that is driving consumers to purchase more expensive vehicles from the industry, " he says. 
According to Swiecki, that means more revenue coming into the automakers and by extension, to suppliers throughout the country. More expensive vehicles result also in more revenue and more business for those suppliers and that means more jobs contributed by the auto industry. 
"So it is a very good thing that we have an environment that is driving consumers to buy more expensive vehicles because of all the spin-off effects for the automaker, the supplier and for the economy overall, " Swiecki says.
A healthy economy, one in which consumers feel confident enough in their own financial situation to purchase a more expensive vehicle, and low fuel prices, which make vehicles less expensive to own, are the major reasons for the increase in sales of higher priced vehicles.
Swiecki says the vehicle platform of a mid-sized sedan yields multiple vehicles, including crossovers built on that same chassis and that crossovers are more expensive to buy and own because of content and fuel usage. "So it is a good sign of consumer confidence when people choose that vehicle over the mid-sized sedan, " he says.
Analysts are also interested in the new administration's views on autonomous vehicles, which will require more technology and infrastructure spending.
"In general, over the next several years, we are going to see a lot more electrification and autonomous vehicles, " Windau says, "and that is going to drive the conversation from a technology standpoint. We will look to see if we will get any different perspective from the new administration on autonomous vehicles."
Swiecki agrees. "Connected and automated vehicles are getting a lot of attention these days. Automated means a vehicle that drives itself down the road.  Connected means that vehicles can communicate with each other, for example, to warn you of an accident ahead of you."
Swiecki says vehicles of the future will be able to connect wirelessly to the next traffic light up ahead "so you know there is no point in going fast because it will be red when you hit it anyway."
The auto industry also will be anxiously watching the Federal Reserve for what will likely be a tightening of monetary policy, most likely a series of small interest rate increases next year following the Fed's December increase. The move brought the target for the federal funds rate — the overnight lending rate between banks — to a range of 0.5 percent to 0.75 percent.
Ryan Jones, an auto industry analyst with Regions Investment Management in Birmingham, says interest rates are pretty hard to predict.
"But the one thing that I would point out, the thing that stands out to us this year versus last year, is that retail incentives are up between 11 percent and 17 percent this year. In September incentives were up 17.4 per cent compared to September 2015, so we think that is a little bit concerning and we think it dovetails with our view on where we are in the economic cycle. While we can't necessarily predict interest rates we do think that we could see a potential slow down in loan issuances if we are using incentives as an indicator." 
And Jones adds, "We think if the new administration gets its corporate tax plan through, that would certainly be beneficial not only for the auto industry but also for the economy in general. There has been a lot of talk about this administration and its pro-growth policies. From a fiscal standpoint we think that could potentially be a tailwind, which would help the auto industry as well."
---
BILL GERDES