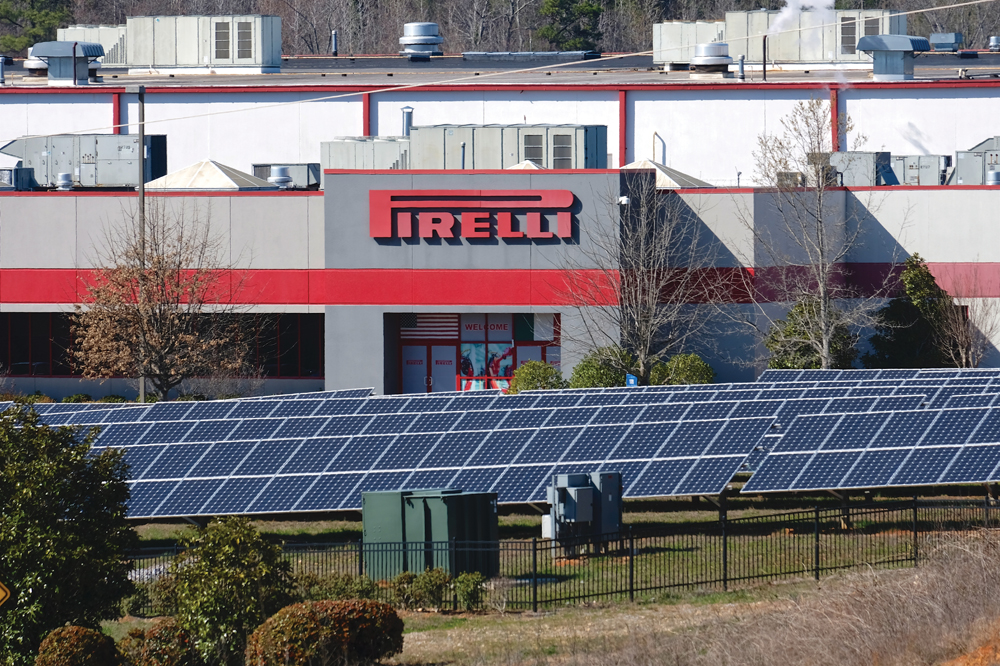 Based in Milan, Italy, Pirelli is well known around the world for its long history of producing and supplying premium and ultra-high-performance tires. Virtually every American past a certain age grew up hearing about race-car-worthy Pirelli tires.
Since Pirelli opened its North America headquarters and small-batch specialty tire plant in Rome, Georgia, in 2002, the company has made even greater inroads into North America, says Ian James Coke, chief technical officer for the operation. "We needed to be here to best serve this market, " Coke says. "We can't have a Eurocentric point of view and be able to swiftly tailor our tires to what consumers here want."
Pirelli Tire North America, located in Rome's Floyd County Industrial Park, features a 430, 000-square-foot facility housing five automated robot lines and employing 250 staff members. Manufacture of each tire is fully performed by robots through a modular integrated robotized system (MIRS). Technicians and inspectors support the highly automated process that produces tires for both original equipment and replacement markets.  
"MIRS can develop specialty tires for cars and pick-up trucks on the line in real time, " Coke says.
The company first unveiled the MIRS technology, which was developed at Pirelli's Milan home base, at the end of 1999. Pirelli's press release announcing MIRS touted the many efficiencies of the new process, including the reduction in production steps and time, improvement in quality control and reduction in energy expenditure and environment impact. 
"Integrated software guides the robots' movements, automatically provisioning the materials, selecting the drum, assembling the tire, curing it and handling the finished product, " the press release reads. "Just tell the program what type of tire you wish to produce at a given time: the program does the rest."
Of Pirelli's 20 plants globally, only two others — one in the United Kingdom and one in Germany — create small-batch specialty tires via MIRS lines as the Rome operation does. 
The MIRS process favors the efficient production of small batches of high-end specialty tires. The Rome plant specializes in run-flat tires for luxury vehicles and large-diameter, low-profile tires for showy tuner rims. The robot lines can be programmed to produce premium and prestige passenger vehicle tires for rim diameters ranging from 17 to 30 inches. Most of the tires the plant produces are for rims ranging from 20 to 24 inches. 
Demand for the extra-large tuner-rim tires tends to be localized to the United States.  "It's a product of the car culture here. In Italy you couldn't find a big enough space to park, " Coke says laughing.
The Rome plant generates about 450, 000 specialty tires a year, running four shifts 24/7. By contrast, Pirelli's typical high-production plants can manufacture about five to six million tires a year. "We can produce a batch as small as 50 tires here in Rome, but our average batch is 500 to 1000, " Coke says. 
While Rome targets passenger cars and pick-up trucks, Pirelli's other operations around the world also produce tires for motorcycles, trucks, buses and agricultural vehicles and machinery, as well as race cars. 
According to the company's 2015 annual report, its global tire market grew 1.5 percent last year. The premium tire segment, consumer tires with a rim diameter of 17 inches or more, such as those manufactured by the Rome plant, grew a whopping nine percent by comparison. The company's third quarter report, released in September, showed a 14 percent increase in premium tire volume. "Fortunately for us, premium tires are in great demand and that likely won't change anytime soon, " Coke says.
Coke, a career Pirelli manager who has lived all over the world, came onboard at the Rome operations two years ago. Since then he has worked to beef up its research and development, quality assurance and consumer emphasis, he says.
"We're working to create the best tires to suit our market, " Coke says. "We couldn't do as good a job if our R&D department for tires that are going to be used here was based in Milan. Pirelli knows we need to be here."
Originally from England, Coke says he and his family have embraced the local community. "We have enjoyed living here more than anywhere we have lived in a long time, " he says. "The people are great and the quality of life here is excellent."
When the company researched a location for its North American headquarters, the Rome business community stepped up to the plate with an attractive series of incentives, Coke says of the early history of the plant. "It didn't hurt that the community was called 'Rome, '" he adds.
Demand in the North American markets has increased so much since the founding of the Rome operation that Pirelli in recent years built a new high-production plant in Silao, Mexico, to help supply the continent. The Rome operation oversees that plant, which is now producing millions of tires each year. "Our headquarters here has been tremendously successful for the company, " Coke says.
As the Southern automotive industry has grown in recent years, the Rome plant has benefited from its location near the region's luxury car plants, including the BMW plant in Spartanburg, South Carolina, and Mercedes-Benz in Vance, Alabama. The Rome plant supplies original equipment run-flat tires for cars produced at those plants.
"When you start with good quality and value, proximity can make a big difference, " Coke says.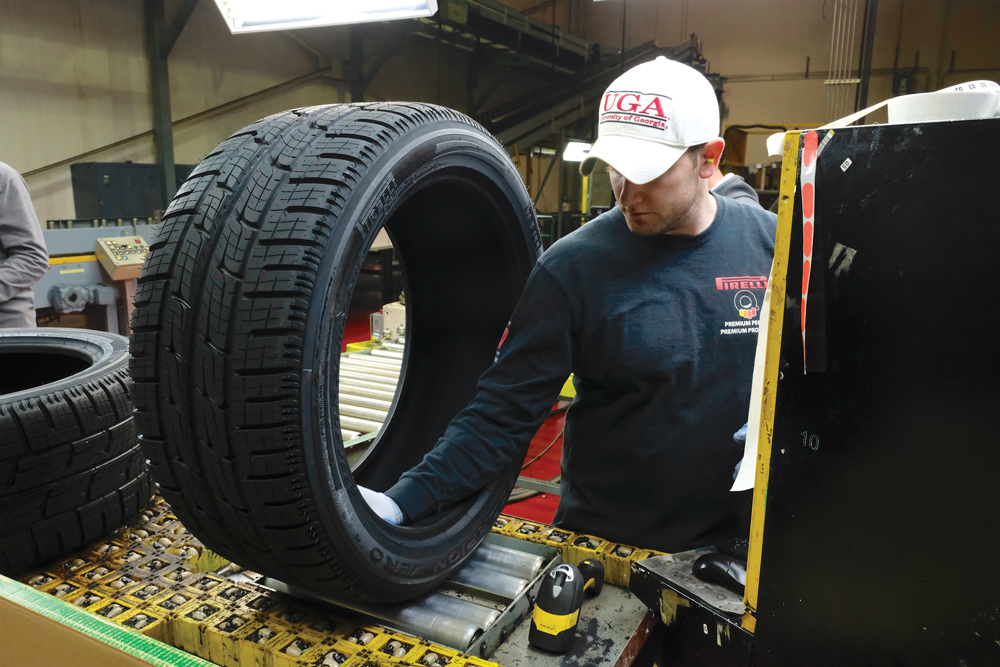 ABOVE The Rome plant produces specialty tires for Ford and Cadillac original equipment among other brands. Pirelli now has its eye on the new Kia plant in Mexico and hopes to supply original equipment tires for that plant. "Pirelli is always looking for new opportunities wherever we can find them, " Coke says.
 
The Pirelli Name
Founded in 1872 by Giovanni Battista Pirelli when he was 24 years old, the Pirelli company originally manufactured elastic rubber for various purposes, including cables, which it only quit producing in 2005. The company added bicycle tires to the mix in 1890 and became Italy's first tire company.
Pirelli tires became famous in international motorsport for their use on the Itala racecar that won the Beijing to Paris rally for Prince Scipione Borghese in 1907. Today the company is the exclusive supplier of the Superbike world championship and the sole supplier for the Formula 1 World Championship.
Truly international in nature, Pirelli has operations in more than 140 countries. The company first went abroad with a production facility near Barcelona, Spain, in 1902. Plants in England and Argentina soon followed.
ChemChina acquired Pirelli in 2015. The new owner is a Beijing-based chemical company specializing in the production of rubber products, agrochemicals, chemical materials and specialty chemicals, industrial equipment and petrochemical processing. Marco Tronchetti Provera, who was named chief executive officer of Pirelli in 1992, continues to lead the company with Pirelli's new chairman, Ren Jianxin, ChemChina's founder.
---
TEXT By KATHY HAGOOD // PHoTOS BY Steve Latham