Seven years after a devastating windstorm ripped through Tuscaloosa, city, state and economic development officials had the perfect day to welcome a huge new automotive supplier to the community.
"It was a chamber of commerce day at the site – blue skies, white puffy clouds, " said Jo Bonner, interim director of the Tuscaloosa County Industrial Development Authority. "Several of the speakers noted the irony that seven years earlier was when that deadly tornado came through Tuscaloosa and how much better it was to be gathered together for something that was so festive and celebrating such good news."
The good news on April 27, 2018 was that SMP, also known as Samvardhana Motherson Peguform, has opened a $150 million facility in Cottondale, locating another prestige supplier plant near Mercedes Benz U.S. International in Vance, and bringing with it, eventually, as many as 1, 000 jobs. The Tuscaloosa plant will be SMP's first U.S. facility, and is expected to begin production of "high quality interior and exterior modules for the automotive industry" in Sept. 2018.
Specifically, SMP, a member of the India-based Samvardhana Motherson Group(SMG), which is one of the 26 largest automotive suppliers worldwide, makes plastic parts and "highly integrated modules" for the automotive industry. The corporate website lists SMP as "specialist in cockpits, door panels, bumper modules and innovative plastic vehicle body parts."
The announcement and ribbon cutting were attended by representatives of government and industry, including MBUSI. And, not surprisingly, the news was greeted with enthusiasm from state officials. "This is an exciting moment for SMP, and a great day for Alabama and Tuscaloosa, " Governor Kay Ivey said. "SMP is an industry leader with a global manufacturing footprint, and the growing workforce at its new Alabama location will help the company reach new levels of excellence."
Alabama Commerce Secretary Greg Canfield added that "SMP is poised to become one of the largest suppliers in the state's auto manufacturing sector."
Bonner, who was for almost 10 years a member of the U.S. House of Representatives for Alabama's first Congressional district — until 2013 when he resigned to become the vice chancellor for economic development at the University of Alabama – also saw the new plant as a profoundly positive addition to the state.
"The thing I think that gives us so much reason to be encouraged with SMP's announcement, is this is one of the top 50 automotive suppliers in the world and they wanted to be close to their customer, they wanted to be in a state that is growing in the automotive sector — and we certainly are —  and they are going to be, I think, an outstanding corporate citizen in terms of giving back to the community and bringing not only good jobs, but good jobs with a bright future, " he said.
Currently, the SMP plant employs 320 people in a 700 thousand square-foot building, sited on a 100-acre property. Although the Cottondale site will be the first in the U.S. for SMP, its parent, SMG, already has 25 plants in North America, including in the U.S. and Mexico, and 230 manufacturing facilities worldwide, located in 37 countries.
SMP's new plant, "is an impressive facility, " Bonner said. "It's almost as big as the original Mercedes plant, which opened in '97. It is massive. When our local delegation had an opportunity to meet with the company officials at the very beginning, it was obvious that this was a company that we wanted to locate in Tuscaloosa because of their reputation for not only building a quality product and putting together a quality workforce, but also of encouraging their employees, their team members, to become outstanding members of the community as part of the corporate family. And we have every expectation that they will do just that."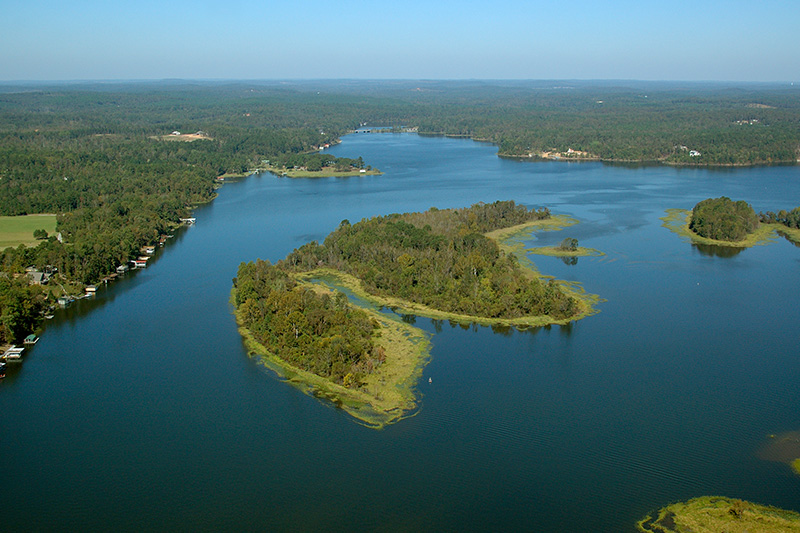 ​
Lake Tuscaloosa
SMP-automotive.com
Bonner said SMP fits with other automotive companies, starting with Mercedes, in it's potential to significantly impact the community and the state as a whole.
"Not only do these companies come and bring good jobs and good benefits, but they promote –  almost to the company — they promote giving back to the community, being active in the community, being involved in the United Way campaign, being involved with Little League and youth soccer and other sports programs to get the children of these employees actively involved in different opportunities, " Bonner said. "We've been very fortunate that since Mercedes came that they have helped to bring some of the top suppliers in the world to Alabama. And of course, Honda and Hyundai and Toyota and now Toyota and Mazda up in Limestone County are going to be doing the same thing.
"When you look at the numbers, over a million cars, trucks and SUVs rolled off our assembly lines last year, $9.5 billion in exports of automotive parts and vehicles. And I think we're the number 3 state in the nation, if I'm not mistaken, in terms of automotive exports. And that's without SMP coming fully online, that's without Truck and Wheel – they're a Spanish company that came a month ago – without their full impact. Without the … electric vehicles and the batteries that Mercedes has pledged to bring online in the next two and half to three years. It's without Toyota and Mazda up in Huntsville, " he said, noting that Ivey recently returned from a trip to Japan in support of the joint venture plant slated for Limestone County.
Bonner said the automotive sector has fundamentally changed the state.
"The companies that are investing and keep investing in Alabama, … truly transformed our state from a state that 25 years ago, didn't build a single car to a state today that is in the top in the nation in terms of production and volume, " he said. "To think how far this industry has come and how it's helped change the economy of Alabama, the landscape of Alabama as well as … it not only replaced a lot of jobs that we were losing in textiles and in other industries, but it also just brought a tremendous confidence that Alabama is a state that can do anything."
---
By Nick Patterson/ Photo courtesy of SMP