Since opening in 2001, Toyota's engine plant in Huntsville, Alabama, has undergone a number of changes. The manufacturing facility has expanded four times, the company has invested more than $864 million since groundbreaking and the plant has hired 1, 500 workers. 
And this past January, the plant underwent another change. Longtime Toyota executive David Fernandes was named the new president of Toyota Motor Manufacturing Alabama Inc. Fernandes replaces Jim Bolte, who became the plant's first American president in 2009 and will now oversee manufacturing efficiency for all of Toyota's 15 North American manufacturing sites. 
Fernandes says he is both "grateful and humbled" to take on this new role, and as the facility continues to grow and the demand for the truck engines it produces continues to increase, his leadership is sure to play an important role in the Southeastern automotive industry in the coming year. In February, for example, the plant celebrated its five million mark in engine production. 
"I don't know what the future will bring, but I know things are changing drastically, " Fernandes says. "My goals are to get us ready for whatever that future is and make sure we're adaptable and good at problem solving so we can continue to succeed well into the future."
Groomed for Greatness
Fernandes started his career in the automotive industry as a co-op student at Indiana University-Purdue University Indianapolis. As a co-op student worker in Indiana, he began at for Rolls Royce Manufacturing. There he received his first opportunity "to see what the manufacturing world was about, " he says. After a positive experience as a co-op, Fernandes took a job with Rolls Royce and stayed with the company in Indiana for the first six years of his career. 
In 1998, Toyota recruited Fernandes to serve as a group leader in the company's Buffalo, West Virginia, facility. As a student of lean manufacturing, Fernandes "thought it would be the opportunity of a lifetime, " he says. Gradually rising through the ranks, Fernandes spent the next 18 years learning everything about the company, its products and process. He eventually became an executive, leading the transmission plant in West Virginia, and later took a position as general manager of Toyota's plant in Georgetown, Kentucky. 
While in Kentucky, Fernandes was first introduced to Toyota Alabama, as his team helped bring a new line to the Huntsville plant. And in January 2016, he moved to Huntsville as vice president of Toyota Alabama. After working under Bolte for a year, Fernandes took the reins in January, 2017.
Fernandes says his experiences at all those different levels of the company prepared him for his new role. Throughout his 18-year tenure at Toyota, he has reported directly to five different presidents. "I've gotten to learn from each of them and experience their different leadership styles, and I think that has also helped prepare me to lead this facility, " he says.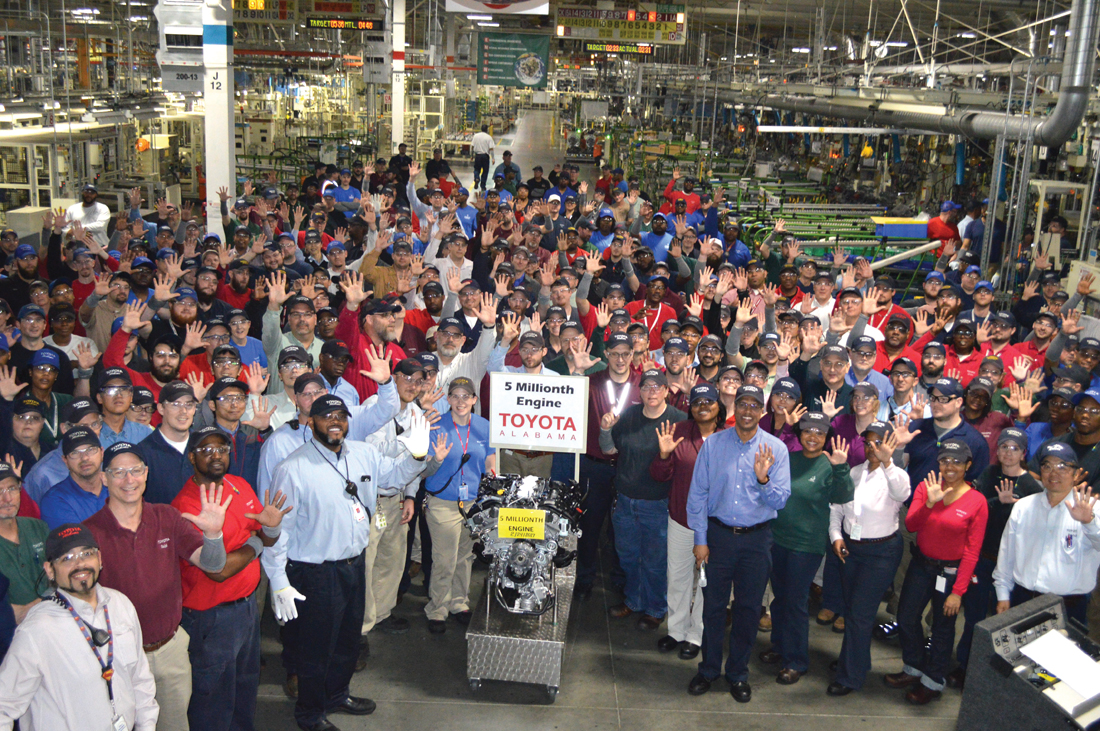 Settling In
If an upward move was in the cards, Fernandes appears pleased that it landed him at the Toyota plant in Huntsville. During 2016, in addition to celebrating its 15th anniversary, Toyota Alabama built 702, 000 engines. In February 2017, the team celebrated its five millionth engine. 
"Team members here have had to work a lot of overtime to meet the high volume demand for trucks, " Fernandes says. "I have seen first hand the commitment our workforce makes to meet customer demands while focusing on quality and safety. I've been amazed by the Toyota team members here and their skill and dedication, and I look forward to what's in store for our future."
While Fernandes has now been in Huntsville for more than a year, his arrival in January 2016 wasn't his first introduction to the people of Alabama and its Toyota plant. Through his Kentucky plant's work with the Alabama factory, he was already familiar with the area and impressed by the people. "I got to know all the people here and got to know the area while I was living in Kentucky, " Fernandes says. "I have been amazed by the industry here and the community support, and I love the Southern hospitality." 
Leading into the Future
In recent years, the Huntsville Toyota plant has quickly ramped up production. Getting to 5 million engines in February wasn't a slow and steady process for the past 15 years. More than 700, 000 engines were produced just during 2016. As a producer of four-cylinder, six-cylinder and V8 engines for some of Toyota's most popular vehicles, the Alabama facility is positioned to continue high levels of production to meet customer demand, Fernandes says. For instance, most of the engines produced in Huntsville are used in Toyota trucks such as the Tacoma, Tundra and Highlander, and some are used for the Camry and RAV4.
"The demand for the Highlander and Tundra is very high, and because we expect gas prices to stay at current levels, the demand will probably continue, " Fernandes says. "American customers tend to like larger vehicles, and we are challenged to continue meeting that demand while working to become more efficient to comply with regulations. We've really ramped up to a very high-volume plant, and we want to make sure that we maintain that level and sustain the success of this plant." 
As Fernandes takes over, he expects to lead his team of 1, 500 through changes, whatever they may be. "Every so often, we refresh our engines or change models, and Toyota has announced that new global architecture engines are coming, " he says. "I want to make sure that our plant is ready to embrace those new engines and any other changes that may come our way."
With new leadership in both Congress and the White House, some industries are waiting to see if current regulations will be loosened or changed, but Fernandes isn't looking for compliance relief. "Toyota is such a forward-looking company, " he says. "We're not basing decisions on what's going to happen in the next four years or eight years. We try to do what's best for the customer and the environment, and we will continue to do that, regardless of what the regulations are." 
As he plans to lead Toyota Alabama into the future, Fernandes expects to continue the traditions of leadership he has experienced across the company. 
"I totally believe in the Toyota way, which is focused on determining how we can provide support to help make every employee the best version of themselves, " he says. "My style is mainly about listening and trying to understand the challenges our team members face, and trying to remove the barriers from their success."
---
Interview by nancy mann jackson // Photos courtesy of Toyota