A flock of wild turkeys scuttles along the service road next to the massive site where a Volvo plant is taking shape in South Carolina — among the few residents of these parts who are oblivious to the project's significance.
Only a birdbrain would underestimate the impact of the $500 million plant under construction on 1, 600 acres off Interstate 26, about halfway between Charleston and Columbia. It's expected to employ 2, 000 people, to start.
And with an announcement in July, Volvo signaled that the plant slated to turn out its first North American-made cars in late 2018 also could be a game-changer for the industry.
You could even call it electrifying.
Sweden-based Volvo Cars said that starting in 2019, every car it produces will have an electric motor, either all battery-powered or a hybrid model including a gas engine. While other luxury brands also have been adding electric models, Volvo became the first to commit to a move toward a totally electric lineup.
"It's all about delivering what customers want, " says Hakan Samuelsson, Volvo president and chief executive.
"People increasingly demand electrified cars and we want to respond to our customers' current and future needs, " he said when making the announcement on July 5.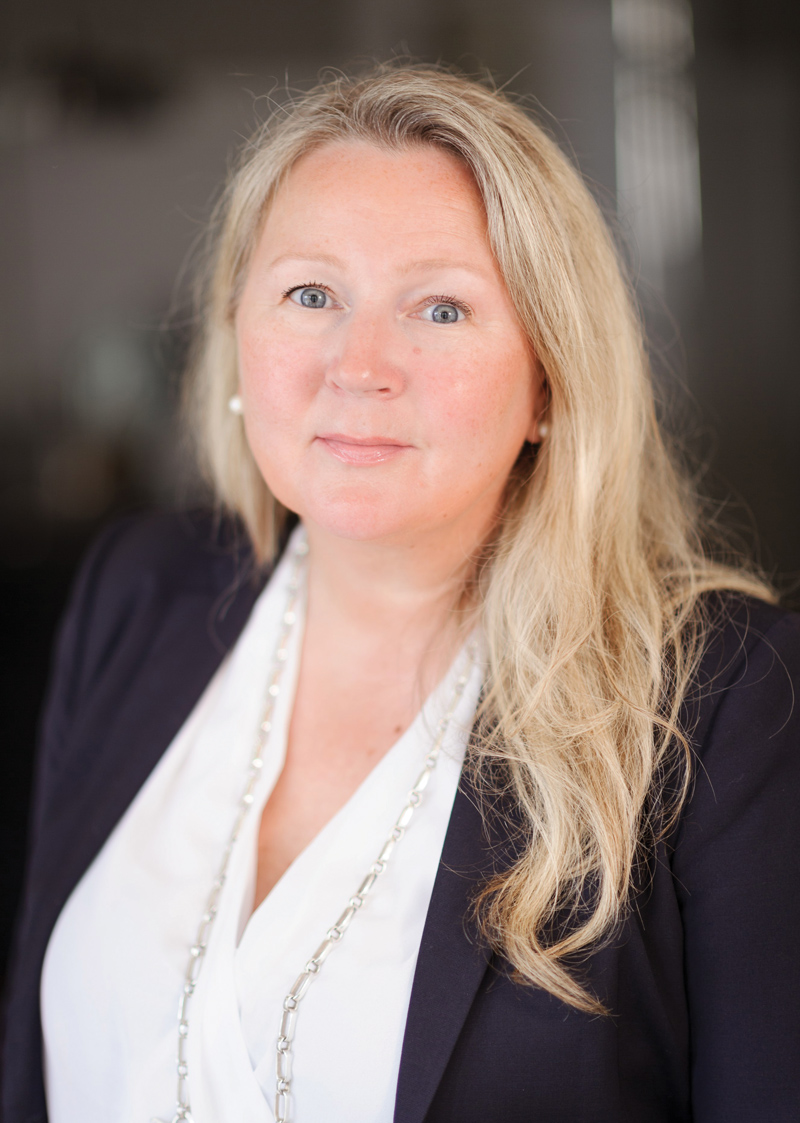 ABOVE Company vice president for purchasing and manufacturing, Katarina Fjording, is leading the construction effort at S.C.'s new plant.
So there's keen interest among industry-watchers that goes beyond curiosity about what the S.C. plant's first vehicle — a redesigned Volvo S60 sedan — will look like. Volvo's decision also could indicate a significant role for the Palmetto State as the market for electric vehicles expands domestically and globally.
"At Volvo Cars, we have a vision to put 1 million electrified vehicles on the roads by 2025, " says Katarina Fjording, the company's vice president of purchasing and manufacturing, who is leading construction at the S.C. plant.
The Lowcountry plant in Berkeley County — where construction is about three-quarters completed — will help the company achieve that vision, she says.
Joseph Von Nessen, a research economist with the University of South Carolina, says logistical factors and a commitment to workforce development have helped the state capitalize on the trend of manufacturing moving south.
"There's a growing auto industry cluster and the supply chain to support it, " Von Nessen says. "That supply chain has been building up over the last 25 years, the catalyst being BMW coming in 1994."
Extending a warm welcome
BMW definitely paved the way. Its final assembly plant in Spartanburg, in South Carolina's Upstate, is the company's largest and its only one in the U.S. It produced its first vehicle in September 1994. Now it employs 9, 000 people.   
Von Nessen says the state's experience with BMW demonstrated what a robust  industry cluster looks like — and the economic gains it could generate.
"Advanced manufacturing is driving economic growth in our state, " primarily automotive, aerospace and tire manufacturing, Von Nessen says.
Lessons from the state's experience with BMW were not lost on Berkeley County, where Barry Jurs serves as director of economic development. The county had an expansive site — an old timber plantation — ready and well located near the Port of Charleston. All it needed was a major manufacturer like Volvo.
"We went and toured the BMW plant, and if there's one thing we learned, it was that all of this [effort] is certainly worthwhile, " Jurs says.
Everything about the BMW operation impressed his team: the leadership, employment opportunities, job satisfaction and economic impact. State and Berkeley County officials touted the area's business-friendly tax climate and workforce training opportunities, along with promised enhancements to infrastructure.
"These companies do a lot of research, they vet a lot of places… it's a huge process, " Jurs says.
Von Nessen says several key factors are important to the state's efforts to prevail in that competitive process:
Supply chain multiplier effect
Job growth might be the holy grail, but it's part of a broader process as an industry scales up. As a manufacturer like BMW or Boeing sources its supplies locally, those suppliers expand, the supply chain attracts more industry, jobs multiply and more dollars turn over in the local economy.
Currently in South Carolina manufacturing, Von Nessen says, for every 3.5 jobs, another 2.5 jobs are created. "It's incredibly positive…  Once Volvo scales up completely, they're talking 2, 000 jobs. When I hear that number, I'm thinking more like 7, 000 jobs."
Traded industry clusters
Unlike local clusters — say, makers of mustard barbecue sauce — South Carolina's traded clusters mostly meet demand from outside the state. BMW sells the majority of its vehicles outside South Carolina; Volvo will do the same.
Traded clusters promote economic growth because they are able to respond to demand from beyond the local area or region, Von Nessen says. Just as important, they give a state's industries access to national and global markets, expanding the industry's reach.
Logistical factors
Von Nessen says South Carolina has been able to tout specific logistical advantages such as infrastructure, shipping through the Port of Charleston, and rail and highway access to the entire region and eastern corridor.
South Carolina went the extra mile, Jurs notes, by promising that a division of the state Commerce Department would build a new rail line from the Volvo location to the coast — running to "a port that connects everything to the world."
Workforce training
The state has a strong technical college system with active ties to potential employers. Companies can tap into apprenticeship and training programs that tee up the workforce they need. "Volvo has been explicit that that's one of the main reasons they came to South Carolina, " Von Nessen says.
For example, ReadySC, a division of the S.C. technical college system, is helping to prepare future Volvo employees through a program with Trident Technical College, which has several Lowcountry locations.
"We have three classes with almost 300 people going through that are training right now, " Jurs says. "Volvo has promised us that they want to hire as many Berkeley County people as they can."
Volvo Cars has been an active partner in the training process, Fjording says. "We've worked with the state and local technical institution to develop a compressed manufacturing curriculum that satisfies our manufacturing work experience requirement, " she says, adding that Volvo now is looking to expand the program to local high schools, so students can be prepared to apply for jobs at Volvo.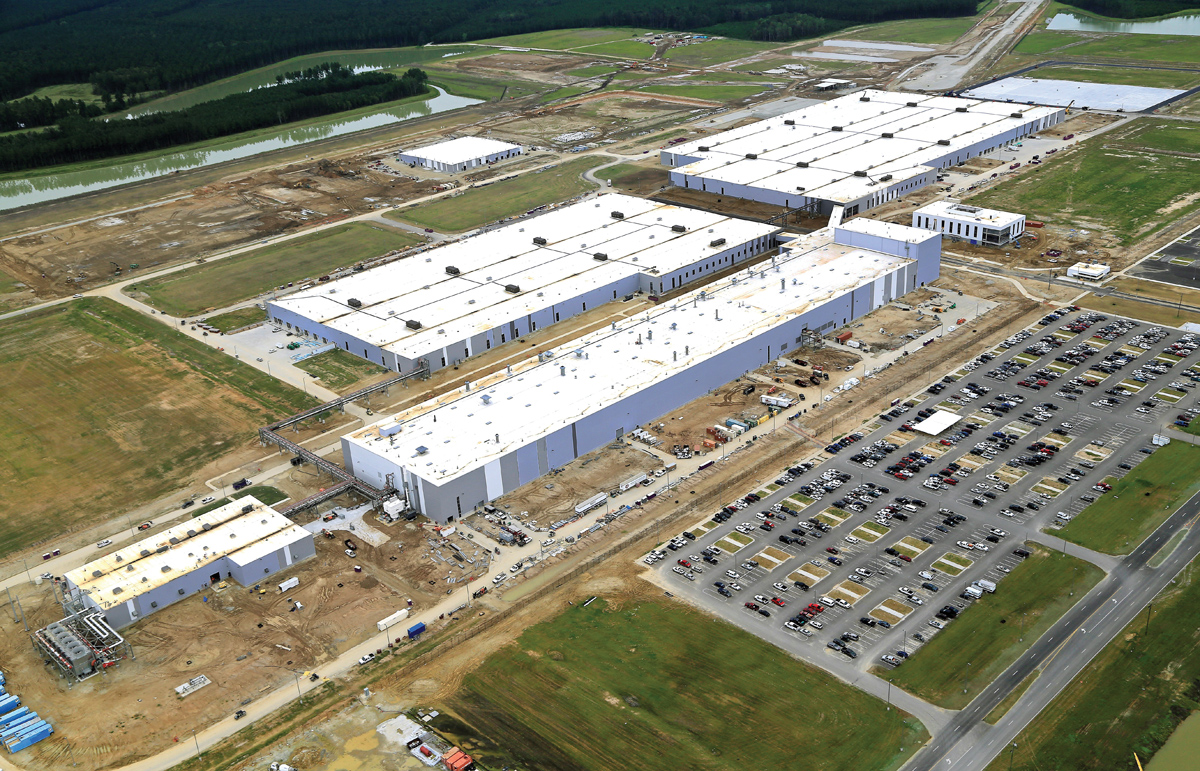 ABOVE Volvo's new South Carolina plant positions it to add electric to its venerable characteristics of solid and stable.
 
All kinds of green
After a rainy summer, everything's coming up green around the emerging Volvo site. There's just the occasional brown cluster of round bales of hay along S.C. 27, near the amusingly named Autonomous Drive that winds 4 miles to the construction site.
"Green" is the approach Volvo has pledged to take with its facility, as well. For example, as then-Gov. Nikki Haley witnessed the formal signing of its S.C. commitment in 2015, the company announced that it would work with the state to support a "green belt" around Charleston, use renewable energy to power the factory and channel stormwater into ponds designed to resemble wildlife habitat.
And in August, the Post and Courier of Charleston featured a photo of one of the new, lithium-ion battery-powered forklifts — made nearby in Summerville — that will be used at the plant. Two S.C. congressmen, one Republican and one Democrat, looked on approvingly.
Since 2010, Volvo has been owned by Geely Holding of China, where consumers already purchase half the world's electric vehicles. It's probably no coincidence that the company best known for its safe, solid cars — like the Volvo wagon that once was the dream car for suburban moms everywhere — is rebranding as an environmentally conscious innovator.
Frederick Cartwright, a 33-year veteran of General Motors, worked on its early electric vehicles in the 1990s. He's watching the Volvo developments now as executive director of the Clemson University International Center for Automotive Research (CU-ICAR) in Greenville.
"This discussion would be entirely different if gasoline were $5 a gallon, as it is in Europe, " says Cartwright, noting that SUVs and full-size pickups are still popular choices in the U.S.
Nevertheless, he says, automakers are moving inexorably toward EVs thanks to global demand, MPG mandates, declining battery costs and the expanding mileage range of electric vehicles. Volvo's electric and hybrid options will join others such as the Chevy Volt, BMW i3 and Nissan Leaf.
"From the consumer's standpoint, if you're in the market for a new vehicle, and looking at an EV that's about the same price and has a 300-mile range, why not?" he says.
Challenges for the future
Besides seeing increased demand for electric and hybrid vehicles, Fjording says Volvo anticipates growing demand for autonomous vehicles as well as "alternative mobility solutions, such as car sharing."
Trends such as these will pose new challenges for Volvo's suppliers and for the state's automotive clusters, she says.
"OEMs will need to continue to work hand in hand with our suppliers to create and build new solutions for our customers, especially in electronics and wireless solutions technologies, " Fjording says. "Suppliers will need to be more nimble and flexible to meet the ever-growing demands of our consumers."
The trend toward electric vehicles will bring opportunities as well, Cartwright says, as supply chains develop to provide components such as lightweight composite materials, electric motors and batteries.
For people born and raised in the Lowcountry of South Carolina, like Barry Jurs, it's all pretty exciting.
Looking at what's emerging at the Volvo site now, "you have to stand in amazement, " he says. "We see a tremendous future with this."
---
Text by linda lamb