Workforce development, education, and infrastructure development are the keys to future growth and success for the automotive sector – according to a recent panel discussion which brought together heads of Alabama-based manufacturers and suppliers.
Leaders of Honda, Mercedes-Benz, Kamtek and Autocar talked about how the automotive sector in Alabama has grown – and what must happen to ensure the sector's long term outlook. The exchange occurred December 5, during the Chairman's Meeting of the Birmingham Business Alliance — a year end recap of local success, a changing of the BBA guard – transitioning new leaders into their positions, and a discussion about the future.
The automotive panel, moderated by John O. Hudson III of Alabama Power Co., featured John Hackett of Kamtek, Jason Hoff of Mercedes-Benz U.S. International, Mike Oatridge of Honda Manufacturing of Alabama, and Andrew Taitz of Autocar.
Changing times
Oatridge, vice president of manufacturing for Honda Manufacturing of Alabama, said technology and demands of customers and the government mean changing times at manufacturing plants. "The cars that we built when we first started producing cars here in Alabama a little over 15 years ago didn't have radar systems.They didn't have lane keep assist that kept the car on the road by itself. They didn't have active cruise control; They didn't have cabin watch and all the things, the features and functions that our customers want that have made the car much, much, much more complicated –  not only to design but to build, " Oatridge said. "So it's a challenge not just recruiting people, but now it's a challenge to find the skills which are required…  I think that challenge will continue because the speed of innovation within the automotive industry right now is so fast that education can't keep up with it."
Oatridge said that "really tight" private-public partnerships would be necessary to navigate those changes. "Understanding what our two-year colleges and our four-year colleges can provide and what we need. And if we do that well, I think we have the opportunity to be in the forefront of workforce development rather than standing up here saying I wish I could get more, " he said.
Hackett, general manager of Kamtek, a Tier 1 supplier in Birmingham, agreed, saying that already changing technology will change even more in time. "Probably 60 percent of the jobs coming in the future will require some form of certificate or training beyond a high school diploma, so that's what we need to get ready for, " he said.
Oatridge added that CAFE requirements pushing OEMs to develop cars that get more than 50 miles per gallon are causing changes — but also coming into conflict with consumer expectations. "So the government is saying you have to provide a car that gets more than 50 miles per gallon, the consumer is saying I want a vehicle big enough to put everything I own in the back of it and drive it to the beach, " Oatridge said. "So they don't fit together. So how do we change that? As automotive manufacturers the challenge now is to produce vehicles that are very lightweight and have alternative power sources that will allow us to meet that CAFE regulation.
"Well, to do that, we're going to have to change from using steel to aluminum or carbon fiber or resin or many other different materials that we've never used before. That means we can't weld it. … It's going to change everything within the auto industry because the traditional way that we have built cars since Henry Ford built that very first line can't exist and [we] build cars that get 50 miles per gallon. .. at this point, it really depends on an infrastructure that doesn't exist."
Oatridge predicted that "the way we build a car and the way we power that car are going to be completely different 10 years from now."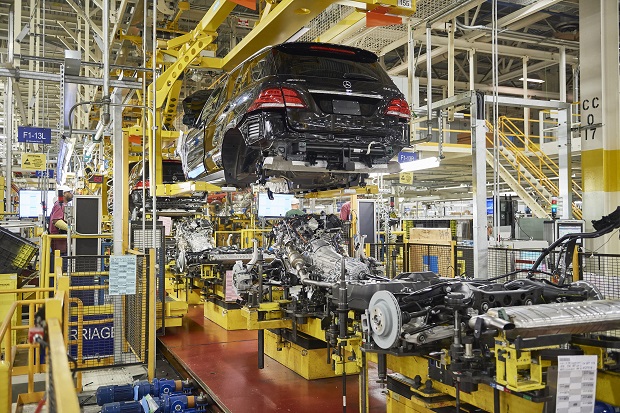 An SUV being assembled at the Mercedes-Benz U.S. International plant in Vance, Alabama. Photo Courtesy of MBUSI
Hoff, the president and CEO of Mercedes-Benz U.S. International, said his company sees the future in terms of an acronym:  CASE, which stands for Connectivity, Autonomous, Sharing, Electrical.
As for connectivity, Hoff said that "Vehicles even now are more connected than they ever were before and..wait till you see what happens in the next three to four years." Autonomous, self-driving vehicles are under development by "pretty much every car maker" in one way or another, he said.  "You can drive a Mercedes Benz now down the freeway, the newer E-Class, S-Class or our next generation of SUVs that will come out and basically, up to 20-30-40 seconds depending on conditions, your hands are not on the steering wheel. And that's only going to expand more and more every day, " he said.
Sharing – as in car sharing — is a trend which has been slower to come to the U.S. than other places around the world, Hoff said. "Car sharing, and car2go[SIC] and other things that we have been sponsoring in other areas – especially big in urban areas… You'll see it in Birmingham before you see it anywhere else in Alabama."
Electric vehicles are a major focus for MBUSI and others going forward. "Mercedes Benz will offer 10 full electric vehicles by the beginning of the next decade, 50 models will have some form of electrification in them over the next coming years, whether that be hybridization, or whatever, " Hoff said." "Our industry is going through a tremendous transformation."
While he said he could not predict whether the product offering would be 15 percent electric vehicles or 85 percent, MBUSI is preparing for any eventuality. Most automakers are trying to figure out how to "integrate an electric vehicle into your existing traditional combustion engine" assembly process, Hoff said, adding that Mercedes plans to "make sure our electric vehicles are built right alongside our gas vehicles. That way if it does become 50-50 we're ready, or if it becomes 15-85 we're ready for that also."
Taitz, founder, chairman and CEO of GVW Group, which acquired Autocar in 2001, said his business depends on changing technology to specifically met customer needs. "We build tools, custom engineered tools for our customers, " he said. "We're continually interfacing with the customers and their issues and trying to resolve them with them.
"We don't develop technology, but we integrate technology … into a final solution for the customers, Taitz said, adding that Autocar was one of the first companies to introduce natural gas vehicles into the market. "So we've had experience in introducing these new technologies and having to build out the infrastructure."
Challenge: changing perceptions
When Hudson asked the executives what challenges exist for their businesses, specific to the Birmingham region, panelists focused on changing mindsets about the automotive industry.
"I think education is number 1, of course, " Hackett said, adding that there is a challenge teaching students, and their parents that the automotive industry is an attractive career choice. "Convincing parents that there are other options for their kids besides going to the University of Alabama or Auburn. There's nothing wrong with that, but there are other options and making them aware, " he said. For example, he said, rather than a dirty factory job, the future workforce should be thinking in terms of automated factories and robots.

Interstate 59/20 under renovation in downtown Birmingham. Photo Courtesy of Alabama Department of Transportation
Hoff said infrastructure in the region needs improvement. "If you look at the infrastructure around Birmingham and the area that we're involved in [Vance, in Tuscaloosa County], there is a need for change. And it's a pretty big change, too, " he said. "Roads need work. Bridges need work. I'm glad to see some of the things going on, in downtown Birmingham, changes say, with Malfunction Junction [the intersection of Interstate 59/20 with Interstate 65], I definitely think that's going to be a great enhancement to the city going forward. But if you get out in other areas…."
He mentioned rural Bibb County, an Alabama site critical to development of MBUSI's coming electric cars and batteries. "That site is seven miles away from the plant [in Vance]. Unfortunately, the seven miles that it takes to get there, you drive on a very old two-lane highway that is in no condition to support the truck traffic and other things that are going to be needed for the transportation between our plant and that site, " Hoff said.
He also noted problems in workforce, that will require changes in school curriculums – which, again, requires a mindset shift to meet the needs of an evolving industry. "It's not just a [case of] go to work and work on the line 40 hours a week, " Hoff said. "The industry is changing the demands of the people that are needed … They don't all need a four year degree. There are other ways to get the training, to get people into the workplace without going in and doing that four year degree. All of us are very active on that front because we see great opportunities there."
Oatridge agreed that making people see the automotive industry in a new light, will take some doing. "People have this image of a manufacturing facility – either old and dirty, or Lucille Ball with the cupcakes, " he said. "And its neither. It is a highly technical very clean, very safe, very challenging career that people can have without getting a four year degree. So you can come and make what you'd make coming out of a four-year degree — without debt…. We've got to educate that these are good jobs. They;re safe jobs and they're great careers."
 Oatridge also pointed to another aspect of the workforce challenge. "When we hire from out of state, our attrition rate is much higher than when we hire people in-state, " he said. "Trying to recruit people to move into the state and then stay in the state is a challenge, " he said.
Apprenticeship – an opportunity
Hoff explained to BBA members that Mercedes sponsors an apprenticeship program which has helped make up for the retirement of seasoned workers, by replacing them with trained, younger team members, Hoff said. The program, modeled after one in use with the company in Germany, puts students after high school through two years at Shelton State Community College where they will earn a technical degree, and can have, depending on factors such as grades, their tuition covered by MBUSI.
Apprentices also work at Mercedes to develop experience. "And at the end of that two years they become a fulltime Mercedes Benz team member, " he said.  "It is a long term investment … You're not going to see the benefit in the next year or two. You're going to see the benefit once you build up that [employee] pipeline." Mercedes offers the program details to other companies as well, he said.
The advantages to apprentices are two fold. First, at the end of the program the new team member, while in his or her 20s, can earn $60, 000 to $100, 000 a year. "I don't know how many college educations, four-year college educations that, by … let's say 30 years old, you have the opportunity to be making $100, 000 a year, " Hoff said.
Another advantage: a broadened viewpoint.  
"We have 150 team members right now this week, in Germany working on our next generation of cars. A hundred and fifty Alabamians, the vast majority of them, by the way, they've never even been out of the state when they got on an airplane and went to Germany, " Hoff said. "Those are the type of opportunities that we believe we're offering to team members… It's not just a dirty smelly plant, things that I think most people would have ever dreamed would be available to them."
---
Text By Nick Patterson/ Photos By Bob Farley, Birmingham Business Alliance