Think South Carolina and you probably think of the devastating Hurricane Hugo, Hootie & the Blowfish or perhaps Myrtle Beach — probably not "Tire Capital of the United States." But you should. 
The smallest state in the Southeast has gained traction (pun intended) to keep America rolling on the road. So how does it pump out 89, 000 units a day, beating Oklahoma for the top spot? Well, similarly to its days as a tiny colony fighting the British, South Carolina has enlisted some help from the French. Specifically, the French tire-maker, Michelin. Two shifts run around the clock at the Michelin US1 plant in Greenville County, creating Defender and Premier line products that contribute heavily to the 171 million tires Michelin makes globally each year. The plant has become one of the world's largest tire producers, feeding the replacement market and automotive manufacturers that include Ford, GM, Chrysler and Honda.
US1 is the Southern flagship facility for Michelin North America, which operates 20 plants across three countries employing 22, 650 people. In 2015, sales topped $9.8 billion in North America alone.
To understand the importance of US1 to Michelin's strong performance and South Carolina's rising status in the automotive industry, consider their combined history. That past is woven together as tightly as the Michelin radials that revolutionized the business back when Studebaker Starlights filled the road. But let's not get ahead of ourselves.
Michelin crossed the pond to join the U.S. market in 1907, fulfilling Édouard and André Michelin's quest to deliver pneumatic tires from Clermont-Ferrand, France to a new continent. 
Through the decades, Michelin North America grew in stops and starts using facilities in New Jersey, New York and Nova Scotia. In 1946, company researcher Marius Mignol introduced the game-changer: radial tires. As consumer demand for the new tire grew, Michelin penned plans to build multiple plants. But where? 
Meanwhile, below the Mason-Dixon, so-called Palmetto pride was turning to Palmetto panic as South Carolina's long-time reliance on cotton and the textile industry entered a precipitous slide.  Beginning in the 1970s, Greenville's reputation as the "Textile Capital of the World" began to unravel as foreign imports started to flood the market, putting local mills out of business. Yet it was the area's experience with textiles that convinced then chief executive Francois Michelin to anchor the company's future in the foothills of the Blue Ridge Mountains.
Pete Selleck, chairman and president of Michelin North America, praises Francois' vision, saying, "Who would predict that an 'overseas' company would fill the void in South Carolina with tires? A lot of our first-generation employees came from the textile industry. And because they were successful, that really laid the groundwork for all we've done here in this part of the country. US1 set the standard that everyone else has followed." 
Michelin built two plants in western South Carolina in a region natives call the Upstate. Greenville County's US1 received semi-finished product from Anderson County's US2, a stone's throw down the highway. The first radial passenger tire rolled off the line at US1 on March 10, 1975.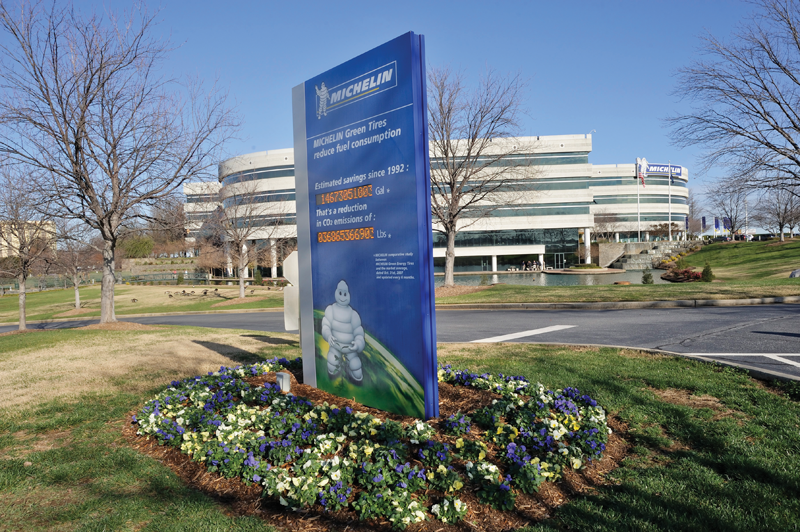 ABOVE Michelin North America headquarters in Greenville, South Carolina.
 
North American Headquarters 
Carolina sunshine pours through the glass-domed ceiling, spilling across the four-story atrium of Michelin's North American headquarters. More than 1, 300 men and women commute daily to offices in the 200, 000-square-foot complex on Interstate 85. The location features a straight shot from Greenville to Charlotte (90 minutes north) and Atlanta (120 minutes south), on the fast-paced I-85 Corridor. 
Logistics were a major component in Michelin's review of options back in 1988, when the company was still headquartered in White Plains, New York, but company officials wanted to consolidate efforts. By then, Michelin had built two additional plants in South Carolina, plus ones in Alabama, North Carolina and Oklahoma. They'd discovered South Carolina's infrastructure provided a well-integrated deep-port system, sophisticated rail service and international air transport. 
Michelin took advantage of those elements, as well as local tax incentives, job development credits and a right-to-work law. One year after relocating, the company purchased Uniroyal-Goodrich Tire Company, which created multi-brand strategies and solidified Michelin as the number two tire maker in the world, after Bridgestone.
Growth has come in many ways since, including innovation. Today, 1, 060 engineers, scientists and developers report to MARC (Michelin Americas Research and Development Corporation) to work with state-of-the-art technology, including 3D printers to design new products. The multi-faceted facility borders the Donaldson Center, which hosted B-25 bomber training during World War II. This Greenville County compound is one of the company's three global technology centers and the one that forged the 80, 000-mile passenger tire for American-made vehicles. 
A vital extension of MARC sits an hour east in Laurens County. Research and development crews spill across 3, 300 acres at the Laurens Proving Ground, one of the largest facilities of its kind. The indoor/outdoor laboratory includes 12 tracks with varying surfaces, inclines and lengths to gauge tire and suspension system performance in passenger vehicles and light trucks, as well as off-road, utility and heavy trucks. Vehicle analysis teams monitor every inch of travel for noise, drift and traction using GPS-based speed sensors and thermal imaging photography.
One of the recent successes to come out of MARC and LPG is the X TWEEL airless radial tire for commercial mowers, construction and agriculture equipment. In 2015, the company invested $50 million to build a 135, 000-square-foot facility to manufacture X TWEEL tires in Piedmont, just south of Greenville. 
Olivier Brauen, head of Michelin Tweel Technologies, reveals strategy saying, "Michelin's Tweel product offerings are designed to reduce the expensive and inconvenient downtime associated with flat tires. For now, Michelin is selling the X TWEEL airless radial for use on skid-steer loaders and commercial lawnmowers, and developing it for all-terrain vehicles, all of which are more vulnerable to flat tires than passenger cars."
As Tweel took off in 2015, one Anderson County plant faltered. Based on a slow-down in global mining markets, Michelin temporarily suspended operations at its then two-year-old Earthmover tire plant in Starr. The plant specializes in tires that stand 13 feet tall and weigh up to 5.5 tons. Workers presently maintain the facility and its equipment for start-up when market conditions improve. 
Crews are also building a new distribution center in yet another Upstate county, Spartanburg. The $270 million facility should feature first-phase opening later this year, with total completion in 2019. "We see it as a transformational milestone designed to better serve our customers while optimizing inventories and improving supply efficiency, " says Selleck. 
Michelin currently uses smaller distribution centers across the state through its Tire Centers Inc. subsidiary. The Spartanburg center will be much larger with 3.3 million square feet and centrally located for seven of the company's sites and operations featuring Michelin, BFGoodrich and Uniroyal tires.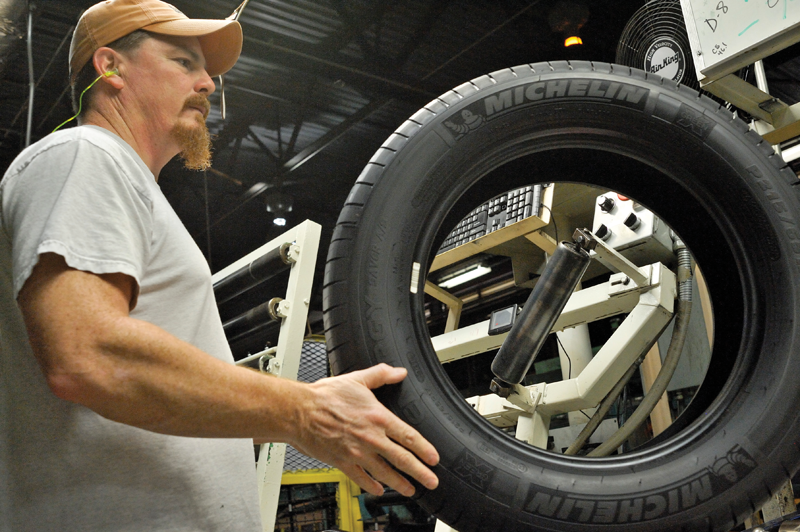 ABOVE An Energy Saver A/S is hand-inspected at the Michelin US1 tire plant in southern Greenville County.
 
Paving the Way
Since first setting up shop in South Carolina more than 41 years ago at US1, Michelin has invested more than $5 billion in the state and become its largest manufacturing employer.  Yet the company's impact reaches far beyond its boardroom. Michelin paved a Palmetto pathway for hundreds of other automotive companies, big and small. Out-going Gov. Nikki Haley praises the partnership saying, "Michelin has been one of South Carolina's most important business partners. Both our state and this fantastic company have grown tremendously."
Today, 250 automotive-related companies, including BMW, Volvo and Mercedes-Benz Vans, employ more than 58, 000 people from the mountains to the coast. These workers are well trained, utilizing local learning institutions. 
The state has offered extensive technical training programs since the '60s, but nowadays you'll find hundreds of students earning their master of science and Ph.D. degrees in automotive engineering at the relatively new Clemson University International Center for Automotive Research (ICAR).
The latter is critical to producing the next generation of car-makers. 
"It's no secret U.S. manufacturing needs skilled workers; there could be a shortage of 2 million manufacturing workers by 2025, " explains Michelin Chief Personnel Officer Dave Stafford. 
To prepare, Michelin works very closely with ICAR, in addition to developing the Michelin Technical Scholar program linking facilities with nearby technical schools. 
In bringing together top technicians, scientists and academia, Michelin engineers hope to invent cleaner, safer transportation that is affordable and accessible to all. To do so, the company is uniting with Clemson University and the University of South Carolina this month to launch the "One SC to Sustain" program. 
The initiative will carve a fresh path from college classrooms straight to the tire industry.  Knowing this, Selleck shares his vision of the company saying, "Michelin North America's long-term business priorities will remain focused on investments in manufacturing and operations infrastructure, as well as the people of Michelin who drive innovation." 
A Desk Won't Do; The Michelin Man Rolls On 
Not a day goes by that Mr. Bib simply sits at his desk. As the company mascot, Mr. Bib the Michelin Man is busy working with employees, customers and the public to meet the master goal of donating 8, 000 work-days by 2020. 
Mr. Bib (short for Bibendum) and colleagues log those hours across North America in a variety of ways, but especially in areas they expect to have the greatest impact. Those areas include education, the environment and community enhancement. 
• The Michelin Challenge Education program puts tutors, mentors, lunch buddies and money into public Title 1 elementary schools near all company locations in the United States. Volunteers have collected data showing rising test scores in reading, science and math in these classrooms.   
• Long before everyone celebrated the National Parks' 100th birthday, Michelin was partnering with Yellowstone National Park to reduce the park's carbon footprint, install FlexiPave paths with used Michelin tires and equip the park fleet with tires and a retreading program that saves $300, 000 annually. 
• In 2014, Michelin kicked off a campaign to quash the number one killer of teens in America: automobile accidents. Using extensive research showing improper tire care's involvement with wrecks, Michelin is working with every state to include tire safety in all driver's manuals and education material. More can be found on this program, along with interactive materials at beyondthedrivingtest.com.
---
Text by stephanie trotter