Wendell Strode admits that his knowledge of cars is about as basic as it gets. "If I turn the key and the car starts, I drive off. And if it doesn't, I call somebody, " Strode says with a chuckle.
Yet for the past 20 years, Strode's life has been immersed in one of the most iconic automobiles in American history. "Some of my family and high school friends are absolutely amazed that this is what I do, and they continue to laugh about it, " Strode says. "They say, here is a guy who doesn't know anything about cars, and he has just about the best car job in the country."
Two things that Strode does know about are finances and how to deal with people. And that has turned out to be much more important for the Corvette Museum than his ability to distinguish a crankshaft from a camshaft.
After spending 25 years in the banking industry, Strode took over at the Corvette Museum in 1996. The Bowling Green native had been a member of the local Chamber of Commerce that helped raise funds to start the museum. But after being open for barely two years, the museum already faced financial difficulties, so officials asked Strode to step in and stabilize the situation.
"I thought I'd stay a year or two and try to change some trends, " Strode says. "Now it's 20 years later and I'm still here."
In the process, Strode helped turn the Corvette Museum into one of the top tourist attractions in Kentucky, with an average of 235, 000 visitors per year and a statewide economic impact of more than $35 million. Approximately 91 percent of reviewers on the travel website TripAdvisor rank the museum as either "excellent" or "very good."
"Wendell has been an extraordinary leader for the museum, " says Dave Tatman, executive director of the Kentucky Automotive Industry Association and a member of the museum's Board of Directors. "The gifts and skills that Wendell has brought to the table really have nothing to do with how much a person loves cars or knows about cars. He's a very affable, open guy and a friend to all of the community. And he's brought such excellent visionary leadership, with a great deal of fiscal responsibility."
The lone Corvette assembly plant has been located in Bowling Green since 1981. So when talk began in the late 1980s about the potential creation of a Corvette Museum, city officials formed a five-person task force to make sure the museum was parked in their town. Strode was a member of that committee.
In 1989, members of the task force traveled to Florida to make a presentation to the Southeast Regional meeting of the National Corvette Restorers Society. During that trip, Strode began to appreciate the strong connection Corvette owners and fans have to the auto.
"I was amazed at how this car generates such a feeling of family and camaraderie, " Strode says. "There's been about 1.6 million Corvettes built since 1953, and 1.5 million of those still exist. That will tell you something about the loyalty of the Corvette buyer."
To land the museum, the city of Bowling Green donated 30 acres off I-65 at the same exit where the Corvette assembly plant is located. Then the fundraising committee was able to generate approximately $12 million: $6.6 million from bank loans, $4.3 million from tax-free bonds and about $1 million through private donations.
Museum construction began in late 1992 and it officially opened on Labor Day weekend of 1994. More than 4, 000 Corvette owners drove their vehicles to Bowling Green for the event. CNN broadcast live from the museum, and the Goodyear blimp flew overhead. "It was truly a spectacular grand opening, " Strode says.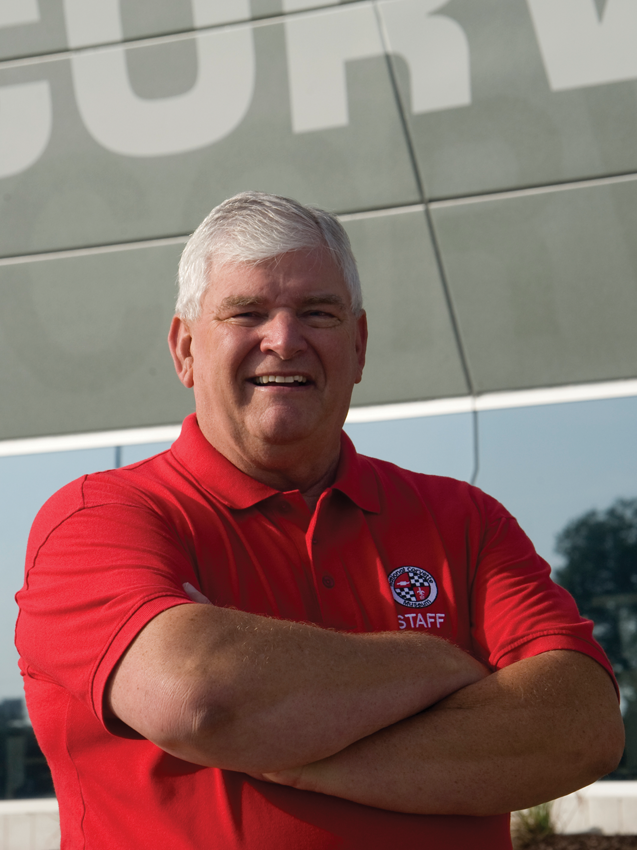 "There's been about 1.6 million Corvettes built since 1953,   and 1.5 million of those still exist. That will tell you something about the loyalty of the Corvette buyer." — Wendell Strode, executive director of the Corvette Museum
However, as sometimes happens with high-performance vehicles, the Corvette Museum got off to a fast start and then began to sputter. Within two years, the museum was $12 million in debt, was in default on its loans and was facing potential foreclosure. Finger-pointing ensued between the museum, the local community, national Corvette clubs and parent company General Motors. That was when Strode was brought in.
"The museum was struggling, " Strode says. "There was pressure from banks and Chevrolet to make some changes. A lot of bridges had been burned, and there was an adversarial relationship among a lot of people."
Strode's first fundraising campaign for the museum after becoming executive director raised $75, 000, enough to give him some breathing room to begin repairing those burned bridges. The museum slowly picked up speed, and within a few years was humming along in high gear.
"I'm not a car guy, but I am a people person. So part of my thought process was to make Corvette enthusiasts and other guests feel welcome here and exceed their expectations for service and what they experience while here, " Strode says. "And hopefully that would translate into some better financial results. But it never entered my mind that this place wouldn't succeed."
He was correct. Today, the Corvette Museum is a famous landmark in southern Kentucky, with its bright-yellow, cone-shaped Skydome and 12-story red spire easily visible from I-65. Inside, visitors can get close-up views of nearly 100 Corvettes, including mint condition classics and rare prototypes.
In fact, a number of Corvettes can be seen for free outside the museum. That's because anybody who buys a new Corvette has the option of making the trip to Bowling Green and picking up the car in person. Strode says between 800 and 1, 000 people choose that option each year, and those cars are parked along Corvette Boulevard when the new owners arrive.
"So people who are visiting the museum can see the latest and greatest Corvettes as part of their experience, " Strode says. "When the owners get here, we give them a plant tour and a museum tour. About 50 percent of new Corvettes are bought by first-time owners, so sometimes they want a little hand-holding. We do that in as much detail as they'd like."
The museum itself depicts the history of the Corvette, beginning with a car from the first year of production in 1953. There are exhibits honoring racers and engineers and designers. There is a tribute to the famous Route 66 highway (the 1960s Route 66 television show featured a blue 1960 Corvette), and an exhibit that showcases the Corvette lifestyle. There is even a display detailing the 2014 incident where a sinkhole opened up under the museum and swallowed eight of the cars.
But probably the most unusual thing on display at the museum involves Zora Arkus-Duntov, who has been called the "Father of the Corvette." The Belgian-born engineer worked for GM in 1953, and he took the original creation and transformed it into a high-performance machine. He became so connected to the car that his ashes actually sit inside the Corvette Museum.
"He's given credit for the significant changes to Corvette that made it America's sports car, " Strode says. "He saw the Corvette and fell in love with it."
After being surrounded by Corvettes for two decades, Strode knows that feeling well.
Cary Estes is a freelance writer for Southern Automotive Alliance.
---
TEXT By Cary estes // photos courtesy of the corvette museum