For more than a century, one of the most important elements of automotive manufacturing has been the horsepower found under the hood. Now Leroy Hurt and the University of Alabama's College of Continuing Studies are attempting to bring a different kind of horsepower to the industry.
As the associate dean for community engagement with UA's College of Continuing Studies, Hurt has developed a partnership with the Alabama Automotive Manufacturers Association (AAMA) in recent years. The goal is to create a series of events and programs that will help the industry in such areas as professional training and maintenance management.
"We're bringing people together to share ideas, " Hurt says. "We feel like the University of Alabama has a lot of research and intellectual horsepower that industry can benefit from. We're still at the starting point with all this, but we think it has the potential to help grow the automotive industry in this state."
The initial reviews have been positive from AAMA president Ron Davis, who says Hurt and his group have done a good job of understanding the needs of the state's automotive industry and providing training to meet those needs.
"They're bringing in knowledge and capabilities. So that's additional talent and extra sets of hands, " Davis says. "It's like any team you put together. When you bring in additional talented players, the team is going to do better. And I view Leroy as a really important part of our team. They are doing everything they can to meet the needs of industry."
The AAMA Maintenance Symposium that the College of Continuing Studies held on the Tuscaloosa campus in July is an illustration of the type of benefits that Hurt's group can offer to the state's automotive industry. The conference provided attendees with information on the latest techniques in maintenance management and included input from planners, engineers, supervisors and operations officials with Mercedes, Toyota, and several other auto supply companies.
"Mercedes talked about their journey, provided ideas about what they were doing, and had other people share best practices and standards that manufacturers and suppliers could work towards." Hurt says. "There was a platform where we disseminated those ideas, and then solutions in the form of the training to build people's skills."
Hurt says one area that was discussed at length was the attempt within the industry to respond to production problems before they occur, rather than waiting to react to incidents after they take place.
"The industry wants to get away from running out and fixing a piece of equipment after it breaks, and get more into understanding when equipment is getting close to breaking so they can get some type of service or replacement in place before it happens, " Hurt says. "They want to be more predictive to keep those production lines flowing.
"That's where we're trying to be of service to the industry, in helping them move in that direction. A university has resources that can be of help because of the kind of learning and research that goes on here. So there is a very significant potential for impact by serving the industry in this area."
Davis says the symposium "really hit the mark" by allowing attendees to share best practices and learn ways to improve and grow manufacturing in the state.
"Maintenance is a critical part of what we do in plants, to keep plants up and running and meet our customer needs, " Davis says. "What Leroy put together in partnership with Mercedes and Toyota and some others was fantastic. I really compliment Leroy for engaging Mercedes and Toyota and listening to what industry says, even when it came to how the conference should be put together. As a result, we had almost a sellout crowd and it was a really informative event."
Davis says Hurt and his group also are providing valuable assistance in terms of workforce development, particularly in providing guidance for creating the types of educational programs the automotive manufacturing industry needs.
"When I go to meetings in the auto industry, the number one topic that comes up is workforce development, " Davis says. "There are other topics, but that's always number one. Solving that requires the four-year university system, the community college system, high schools and industry all working together.
"The work provided by Leroy and the College of Continuing Studies is a piece of that puzzle. They're helping to make sure that we're doing the right things to have a workforce that can fill the jobs as we grow and expand the auto industry in Alabama."
Hurt brings a wide range of experience to his role. Prior to joining the University of Alabama, he held management and consulting positions with several major companies (Sprint, Washington Mutual, Booz Allen Hamilton), was the director of IT policy and planning at the Washington Department of Information Services and was assistant chief of staff /chief information officer in the U.S. Army Signal Corps at Fort Lewis, Washington.
Hurt says one thing he has learned over the years is that a single job can have an impact on numerous different entities, including things that were not necessarily part of the initial plan. He expects that the University of Alabama's partnership with AAMA will have a similar effect.
"What we're doing touches on many different areas of the business, " Hurt says. "There is management, talent, development, training, financial implications. There are a lot of things that can be done for process improvement. It's really a far-reaching area.
"So it's actually larger than it might appear on the surface. It's kind of like an iceberg. There is a lot more under the water."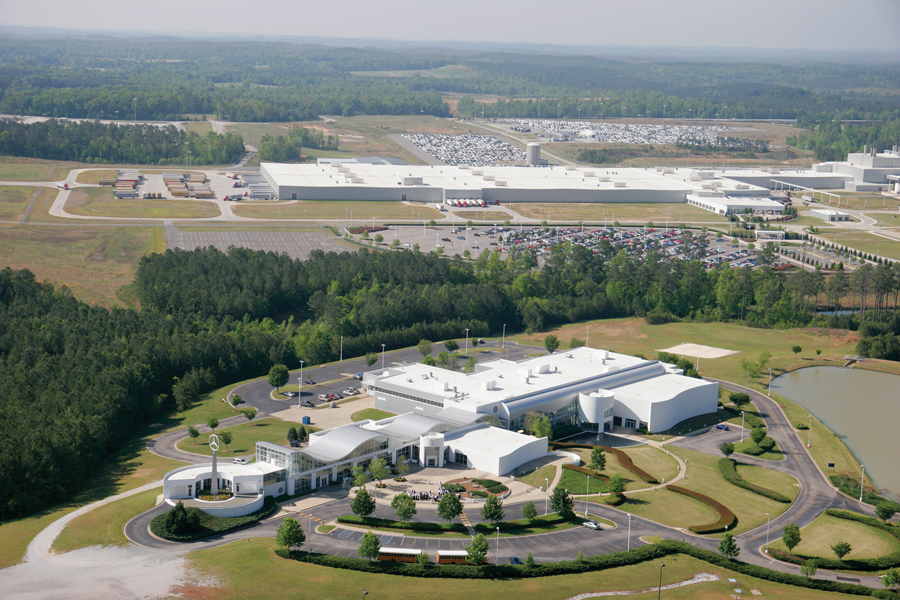 Here's how UA works with the automotive industry
Leroy Hurt says the College of Continuing Studies has three main areas of focus when it comes to working with the state's automotive industries, and they are all intertwined:
The Corporate Engagement maintenance management training program works with maintenance and reliability professionals from different sectors and geographic locations. "Brenda Truelove is the program manager for that and gets a lot of credit for making it successful, " Hurt says. "That was one factor in moving us towards partnering with AAMA."
The University's SafeState department focuses on training and consulting in safety and health (OSHA) and environmental compliance (EPA) matters. "The automotive industry is very interested in reliability, and reliability leads to safety and sustainability, " Hurt says.
Finally, Hurt says the partnership with AAMA can be used to grow relationships with other manufacturing sectors. "For example, as the aerospace presence in the Mobile area grows, there will definitely be interest in that sector in reliability and maintenance and those kinds of things, " Hurt says. "And AAMA has relationships with organizations in those sectors. So I think there's going to be a lot of cross-fertilization and interaction."
---
TEXT By CARY ESTES