Those high-tech goggles are more than game gear — they're part of a new 3-D training technique gaining traction in Tennessee on hopes of attracting more young people into the automobile industry to keep the wheels rolling. 
 "It's a reality experience that is outside your world, " says Tom Brewer, associate vice president of Strategic Initiatives at Tennessee Technological University. The school's virtual reality environment, called the iCube, puts the visitor in a different world through what Brewer calls a "360-degree immersion."
Tennessee Governor Bill Haslam received that immersion during a tour of the iCube earlier this year, so now he knows what it feels like to fall off a five-story building. He experienced that feeling during a virtual tour of a castle.
"You don't (actually) walk at all, but through the use of a wand, you walk through the castle, " Brewer says. "You go up some steps and you get to a platform that is about a five-story drop. It's hard to describe until you do it, but when you look over that ledge, you feel it, your mind sees that there is a ledge and there is an elevation drop."
During Haslam's visit, he was dropped off the ledge.
"You literally drop and you feel, your mind feels, that you're falling, and we do it pretty quickly, " Brewer says. "When we took the governor through the experience he (joked) to the young lady who was controlling the wand, 'You know I can take your scholarship away.' "
It feels that real.
"That is what we use to demonstrate what is virtual reality; it's you standing there but your mind is going somewhere else, " Brewer says.
With a background in the automotive industry, Brewer says he starting thinking about ways to use the new technology the moment he saw it.
One of those ways involved the National Network of Manufacturing Institutes (NNMI) and Lightweight Innovation for Tomorrow (LIFT) consortium, a public-private partnership to develop and deploy advanced lightweight materials manufacturing technologies and implement education and training programs to prepare the workforce.
"I'm at a meeting in Detroit in December 2014 and we had just started this institute and one of the workforce development trainers said he would like to be able to teach metallic light-weighting in a Disney-like environment, you know, in a movie or something like that, " Brewer recalls. "I asked to be given a shot at the request."
When he got back to Tennessee Tech, Brewer challenged the iCube team — a group of 20-somethings, some still in school, some who already have graduate degrees. It took them just four days to come back to Brewer with a presentation.
"They storyboarded a VR game that's an automotive assembly plant, so the concept was that the participant would start in a car and make choices on an assembly line as the car goes down the way, " Brewer says. The storyboard was tweaked to include choices between magnesium, carbon fiber, steel or aluminum materials.
"You make the choice on the body and then the Cody robot comes in and you weld it and you move down the assembly line, " Brewer says. "Then you bring in your doors, and then your instrument panel, and then your engine coming in on a gantry crane. You bring in wheels and tires and at the end … and, again, being in a virtual environment, you can turn 360 degrees along the assembly line, see the car beside you being assembled, your own car being assembled."
Brewer says in building the VR car, the user has concerns for cost, the environment and weight, and the system issues grades in green, yellow and red.  "It's a teaching moment, and what we did after it was developed was to introduce it at national LIFT headquarters in Detroit, " Brewer says.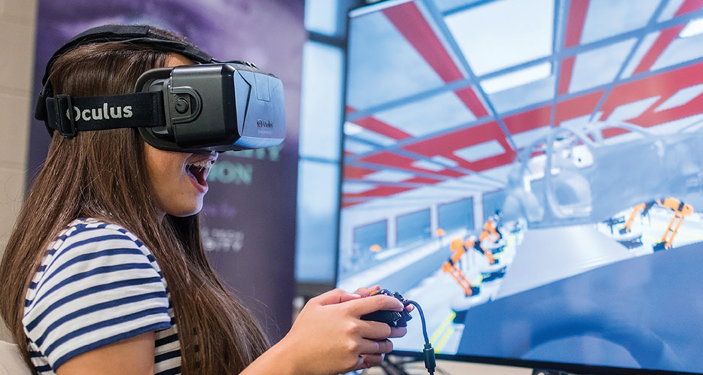 ABOVE With a pair of VR goggles fed by video game technology, visitors at the iCube at Tennessee Tech can experience reality outside of their world. The iCube is working to make such experiences practical in a workplace training environment.
Today there are seven computers with VR goggles at LIFT headquarters, where students go to play the game of light-weighting an automobile that was developed at Tennessee Tech. Closer to home, Tennessee Tech has worked in a partnership with The Biz Foundry in Cookeville and Calsonic Kansei in Shelbyville to develop VR training environments for Calsonic Kansei's  manufacturing process.
Jeff Brown, president of The Biz Foundry, a regional business accelerator, recalls a Tennessee Automotive Manufacturers Association meeting more than a year ago when, instead of wanting to hear about the cool new ideas to put in cars, members couldn't stop talking about labor issues.
That's when he started focusing on VR training opportunities.
"Simulators have been around forever, " Brown says, noting that the military uses them to train everyone from pilots to submarine crews. "It costs millions of dollars to develop a simulator but now VR simulation can be developed for thousands."
Brown says when he called Kim Williams, until recently the vice president for Quality & Modules Manufacturing at Calsonic Kansei, to see if she would take a look at a VR training program, "She said not only would she give us her opinion, but she wanted to be the first to have it."
Calsonic Kansei manufactures cockpits for Nissan vehicles. Workforce development is key and sometimes a challenge for the automotive industry today, she says.
Williams says the concept for VR training modules for Calsonic Kansei revolves around an assembly line. It keeps the same pace as the real world assembly line and includes the same equipment, such as light scanners and torch guns. The environment of the plant is also represented with flashing lights and honking horns. One of the last adjustments was making sure the torch gun vibrated just like in real life.
Williams left Calsonic Kansei shortly before Southern Automotive Alliance went to press. But she says the company plans to implement a VR training module in October.
VR training is important, she says, because factory work is not viewed as prestigious as it was 25 years ago. Back then, it was viewed as a great job with good pay and benefits.
"This generation to me, and this is solely my opinion and I have two daughters this age, while they want good pay and security they also want a good environment … that's stimulating, " Williams says. "I believe the auto industry as a whole needs to look at ideas like virtual reality and how to make it come to fruition."
For a generation that's used to texting, Instagram, Snapchat and video games, virtual reality may be a better way to learn, too, she says. "They're not auditory learners. They like hands on learning and that's what we're hoping for" with VR training.
Engineers and technicians at Calsonic Kansei have already tried out the VR simulations and seem to like them, she says, and that's triggered ideas for other potential areas of use.
"I think we might be on to something and anxious to get it here, but we want it as close a simulation as possible to our stations, " Williams says.
The price has been cost effective for the company because it has invested a lot of sweat equity, along with TTU and The Biz Foundry. The main investment is in the hardware and VR goggles.
"When we first started, the goggles we're using cost around $3, 000 to $5, 000, " Williams says. "That was last October. Now there's already better technology available and the cost has dropped to about $1, 000 for each goggle." 
Brown says VR training systems are "very customized" and most modules will cost around $10, 000 to $12, 000, but could go as high as $30, 000 — depending on the complexity. "It's gained a lot of traction, " Brown says.
"The Alabama workplace development office wants us to do a training for them, " he says. "Alabama helps train a workforce before a new plant is ever built, and they're very interested in what we're doing."
His schedule stays full these days.
"This will transform the way we train people, " Brown says. "If you look at it, we've been training the same way we did 100 years ago. With this, it's a transfer of thought processes. Instead of killing zombies, they're building cars."
Wendy Reeves is a freelance writer for Southern Automotive Alliance.