What was once a rural cornfield is now a paradigm for success in manufacturing parts for the combustion engine, thanks to the foresight of automotive powerhouse Feuer Powertrain GmbH & Co. KG. When the German-based company — the name is pronounced "Foyer" — looked at expansion in 2011, its primary ambition was to enhance its global manufacturing footprint with three facilities worldwide: the headquarters in Nordhausen, Germany, along with a subsidiary in the U.S. and one in China.
With a host of suitors vying for the company's attention, it was Tunica, Mississippi, that courted and won over Feuer, which has invested $68 million to date in the 143, 000-square-foot Feuer Powertrain North America plant, with a five-year plan to include a second full production line, additional buildings and a total investment of $140 million.
When the quest intensified in 2012, the search for a site began, and by 2013, advisors refined the site selection to more than 100, mostly in the Southeast.
That's when the serious investigative efforts ensued, with decision makers drilling down over the course of months of site study, narrowing the focus to 10 sites. Dominic Deig, today's president and CEO of Feuer Powertrain North America, and other principals flew to the U.S. to take a look for themselves.
"We visited all of the sites and made a list of what was important, " Deig says. "We definitely wanted to have a site in the east of the U.S. — logistics was one of our main concerns. It was a pretty intense week. When we evaluated the list, we had three sites — Tunica, Mississippi, Virginia and Kentucky. The last step was for the two owners to visit the sites, and the final decision was made for Tunica."
With essential proximity to big automakers in Detroit, stable energy and power sources and a qualified labor force, combined with healthy incentives, the deal was sealed.
"The team from Tunica County and from Mississippi worked hard to attract us to this area, " Deig says. "We also kept in mind the general quality of life for management and employees, and we wanted to work with colleges and schools."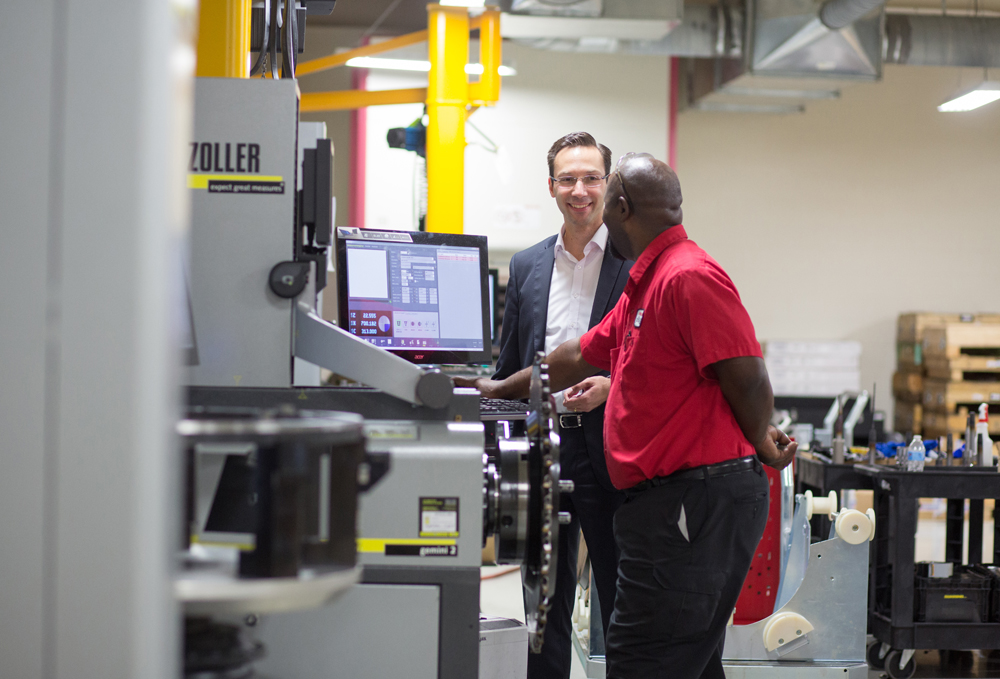 Groundbreaking took place in fall 2013, and after overcoming site issues, the facility tested its first machines in August 2015 and began production this year on crankshafts ranging from two cylinders to 12 cylinders. At capacity, the line runs 24-7, producing 14, 000 or so six-cylinder crankshafts in a month, depending on the project. With 90 employees and one production line, it can produce up to 150, 000 a year.
"The building is prepared for a second production line, " Deig says. "We are planning to grow our facility here to 300 employees in the next five years."
The Mississippi plant manufactures V6 and V8 crankshafts for Ford Motor Co. and General Motors, with additional projects in the works. The German plant produces two cylinder for Polaris, four cylinder for BMW, eight cylinder for Audi and 12 cylinder for Rolls Royce — just a few of Feuer's A-list clients.
"It's a big advantage that we can now respond to the great market potential in North America by serving our customers from a strategic location, " Deig says. "Daily, our entire team optimizes the necessary processes to operate such a big company."
Deig, a self-described motor head who diverted his career path from auditor to automotive executive, went to work for Feuer in 2011.
"We're one of the few external crankshaft producers in the world, " Deig says. "I think the crankshaft itself is a fascinating product. I describe it as the heart of the engine. When I see a Bentley Bentayga or a Rolls Royce or BMW on the road, it is great to think that's our product inside. I really love the automotive industry. After six years, it's still fascinating to me — it's a very fast, very volatile industry, and I love having discussions with customers worldwide."
Deig and his German executive vice president of operations handle the day-to-day business decisions, as well as strategic long-term goals. They are responsible for everything from finding the right mix of people to creating and improving procedures and processes, talking to new customers, solving problems and ensuring smooth operation on the production line.
Using European and German machinery, the plant is immaculate, with the entire production line behind glass. The majority of manual labor is boxing and preparing for shipping.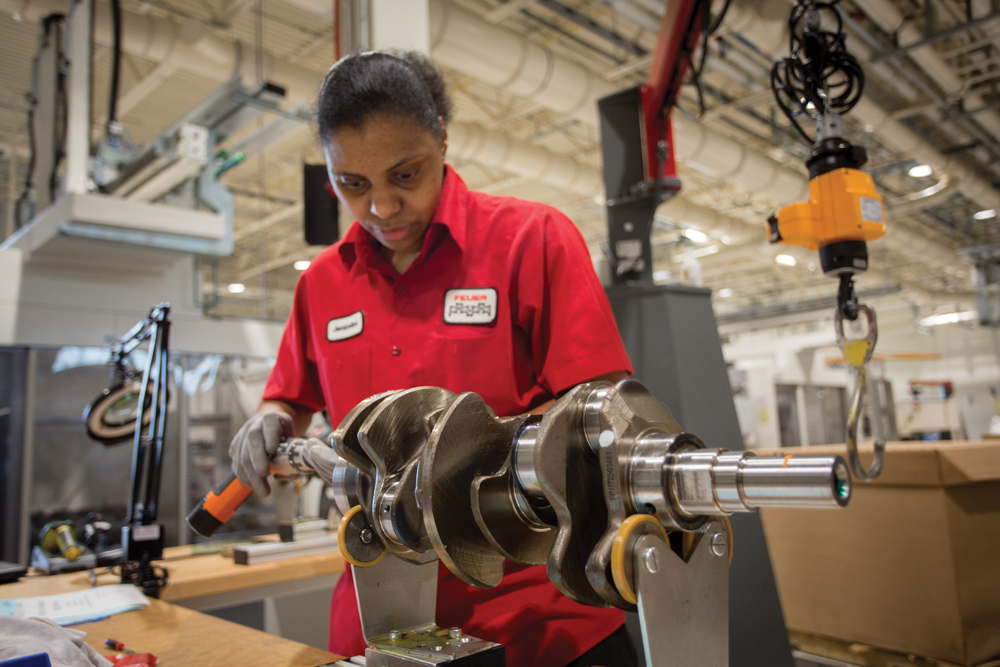 "From a machine and production standpoint, it's the same as what we have in Germany, " Deig explains. "What's important about our line is that it's very flexible, very safe and very clean. A lot of people say it looks like a surgery room."
Fully autonomous forklifts deliver parts from one operation to another, while the machines are set with strict quality controls. If one of the machines breaks down, the buffer system offers flexibility for other parts of the line to continue production.
"Our inventory strategy allows us a buffer to manage multiple projects, " Deig says. "It's a big advantage to change over quickly and produce different sizes of batches. We're very quick to react to customers' needs."
Deig says that in Germany, that flexibility allows the Feuer headquarters in Germany to produce 1 million crankshafts a year. "In Germany with multiple lines, we are even more efficient, " Deig says. "We will also come to this point here.
With the exponential growth expected when the second Mississippi line is in operation, projected production reinforces comments made at the November 2016 plant opening by Glenn McCullough Jr., executive director of the Mississippi Development Authority: "We're the capital of cotton and catfish and now crankshafts. We're here to celebrate a company that is known around the world in innovation. 2016 has been a good year for economic development in the state of Mississippi."
The parent company in Germany produces crankshafts for ultimate luxury brands like Jaguar, Ferrari, Maserati and Bentley, but it's the relative proximity to Detroit and the expanding automotive market in the Southeast that drive the many crankshafts rolling off the line in Mississippi.
"We're a young company here in the U.S., so it's more or less a start-up, " says Deig, who at 35 is a youthful chief of the brand. "From a cornfield four years ago, we now have a wonderful running operation with state-of-the-art machines. We see it growing and improving, with more business and more customers. We're always looking at the next investment and next line. We've put together the best from our German culture and the U.S. culture, and so far it works very well." 
---
TEXT By CARA CLARK // Photos by RON BLAYLOCK