When competitors in a certain high-profile sport hear they're up against "the Williams sisters" they usually know they need to bring their A game.
Well, there's another set of Williams sisters in Tennessee, and while they may not strike terror into the hearts of their opponents, folks who encounter them know they mean business – mostly, the automotive kind.
Macy and Molly Williams have both set their sights on careers in the automotive industry, with big-sister Macy strongly focused on engineering (like their mother), and with younger sister Molly aiming at human resources. Both will graduate this year from Tennessee Technological University, but are already working in the automaking business, with several internships between them and already under their belts.
And, as busy as they are, they have been setting aside some time for some friendly competition. Not with each other – they're on the same team – but in an arena related to the automotive business in ways that are both a little surprising, and apparently, a lot of fun.
Macy and Molly are both involved in Tennessee Tech's entry into NASA's Human Powered Rover Team project, which pits teams of students from across the globe in a competition to build the best human-powered version of a Mars rover-type vehicle from scratch. The teams face off against each other in head-to-head competition in April 2018 in Huntsville, Alabama. Both sisters are driving one of the two rovers their teams are fielding, but it's three-year veteran Macy who's driving the team.
Alternative power source
"I got involved in it my sophomore year of college, " Macy says. "We build a rover from the ground up. Every part has to be made in-house. But it's a worldwide, international thing. There's about 90 teams that come every year and we compete with a human powered rover, a male and a female driver. This will be my third year driving and Molly's first year driving. And we compete on basically a Mars map; they put out 14 obstacles to go through. Used to be the fastest time won. This year we have tasks that we have to complete on the course for points."
Building two rovers in 8 months is a lot of work. But Macy sees the project as something more.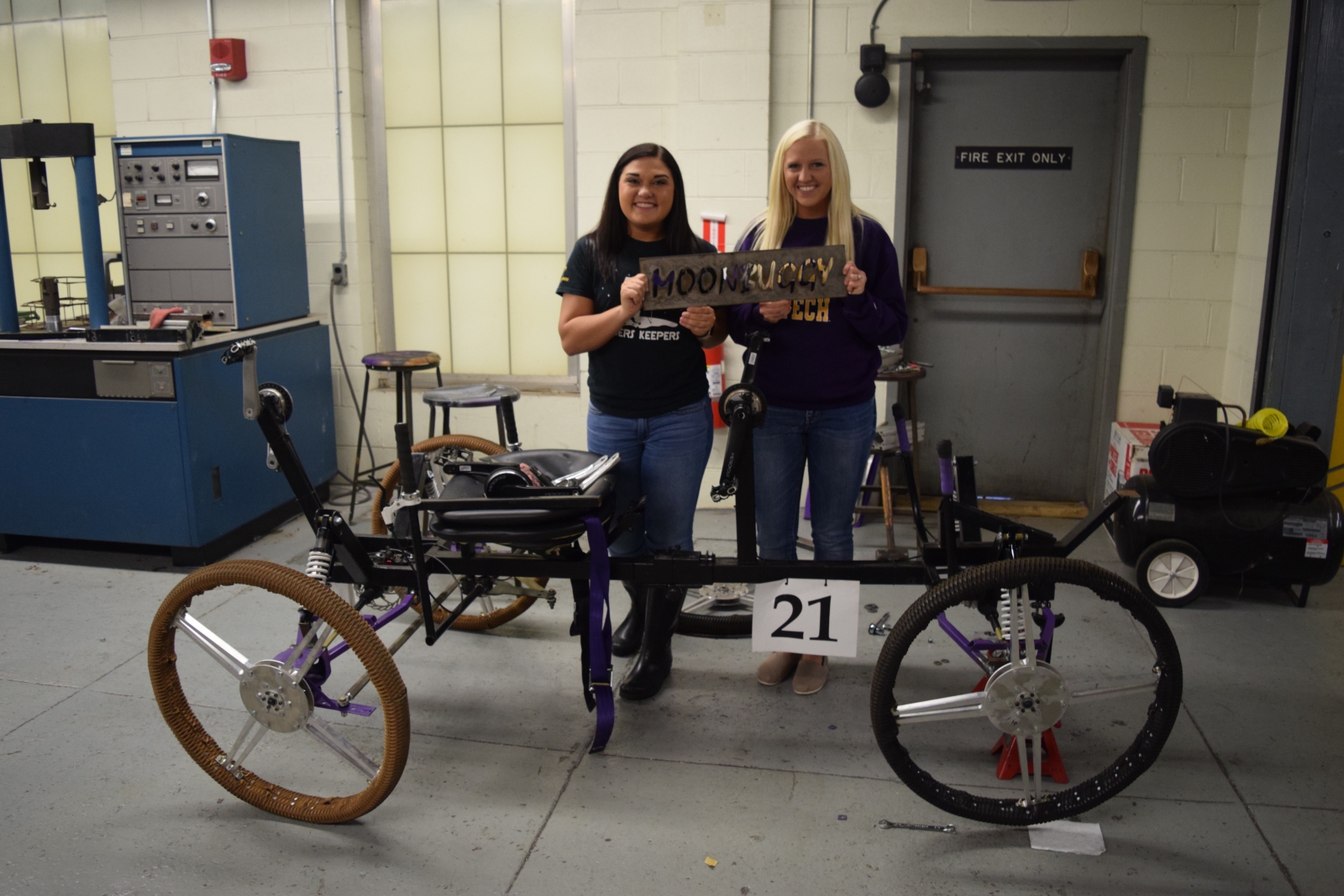 "It's really fun, " she says. "We get to be in the shop for 4, 5, 6, 8 hours a week learning to weld, machine, use components that you don't usually use for tire tread or wheels or things like that. We can order tire tread but it cannot be actual tires. Ours are conveyor belt material.
"So we can order differentials and bearings and shocks and bike chains and things like that because its pedaled. But as far as all the other components, the frame, everything like that, suspension, it's all got to be made in-house."
But that's not all, she says, suddenly recalling to mention a crucial detail. "The rover has to fold up and fit inside a five by five-by-five box and then unfold and be able to drive, " she says.
Macy is also the president of the 32-member organization that's building the rovers, and that puts her in charge of paperwork, coordination, ordering parts, and making sure the vehicles are built and the team gets to Huntsville on time and with places to stay.
She's determined to keep the trains running on time; in the past, they've gotten to the competition with their rover unfinished, she says. "We've had to work on it in the parking lot of our hotel. We're definitely not doing that this time."
Molly, who is not a gearhead, exactly, is nevertheless psyched about the rover competition. "I was so excited for [Macy] when she started that, " Molly says. "I watched it live on the internet to see what it was all about and to see what she was doing and the work that she's put into it. I just thought that was neat. I've always played sports growing up and been competitive…. It seems like it's a little bit of a sport to me."
Just as the Williams sisters approach the rover challenge from different perspectives, they also are taking on the automotive industry with different focuses. But their common background makes the industry a natural fit for both.
In the blood
"I just kind of grew up in automotive, " Macy says. "My grandpa was a millwright and had his own motorcycle shop. My dad was a maintenance technician and then my mom has always been an engineer my entire life. So, its always been a family dynamic of being into cars and working on things and just being in that kind of environment."
Their grandfather owned a motorcycle business, Newberry Motor Works, and worked as well inside Nissan's Smyrna plant, where her father also worked for a time. "And then my mom worked for General Motors as an engineer for 14 years and then went to Calsonic and now she is the …global director of operations at Tenneco, " Macy says. "Makes all sorts of performance exhausts and clean air systems for the automotive industry and they're right in our back yard in Smithville."
Macy has interned at Nissan in stamping and assembly at the GM plant in Tennessee, both of which left lasting impressions. "I actually got to work every single position on the [GM] assembly line in powertrain on a V8 engine which is something that was really cool to me. I'm really into engines and things like that, " she said.
Now, she works at Cookeville, TN-based G&L Manufacturing, a Tier 3 supplier which makes titanium and stainless steel tubes that end up as fuel lines on cars by Dodge, Ford and GM. There she's working on the organizational, procedural side of the business.
Like Macy, Molly was also drawn to the automotive business. But she sees it as a way to help people.
"These people are the types of people that I've grown up around. I think I can relate to them well even though I'm not an engineer or something like that, " Molly says.
Her internship at Nissan was in human resources, which brought her into close contact with plant workers. "Ninety percent of our job is to be out on the floor and be communicating and be seen and a presence to the people on the floor. …You have to understand the process of the work, " she says.
What appeals to Molly the most is helping people succeed in their work. "I really like the idea of training and development. I think that's really important for the success of employees. I did a lot of diversity training …  stressing the importance of working together as a team and being able to use your diverse backgrounds because of all these generational differences now, " she says. "It's really important for the success of the company and I really think it's important as a person to be able to grow and develop yourself."
Molly expects to graduate in December, about 7 months after her sister, so they'll both be taking on the automotive industry full time before long.
Before that, however, they've got their sights set on vehicles of a different type – and winning that rover competition.
After press time, the Tennessee Tech rover team ended up placing 5th in a field of 113 competing squads on April 13.The University of Alabama in Huntsville Team 1 won the college/university division with 61 points. For more information, visit https://www.nasa.gov/centers/marshall/news/releases/2018/18-017.html
---
By Nick Patterson/ Photos Courtesy Macy and Molly Williams/Tennessee Technological University