Wilbert W. "Wil" James has been president of Toyota Motor Manufacturing, Kentucky Inc. since 2010. The seventh executive in that position, James leads Toyota's largest automotive manufacturing plant in the world, a factory which builds the Camry, the Avalon and the Lexus ES 350, the only one of that luxury brand produced in the U.S. James, who has been with Toyota since 1987, is also a leading voice for quality initiatives for Toyota's fourteen North American plants.
Besides overseeing the multi-billion dollar enterprise, and more than 10, 000 employees, James is heavily involved in the community. Consider just a few examples: he has served in various capacities, including chairman, of the Kentucky Chamber of Commerce and on the boards of the Bluegrass Economic Advancement Movement, Central Bank & Trust and the National Urban League. He's been named one of Savoy magazine's Top 100 Most Influential Blacks in Corporate America.
James took time from his packed schedule to talk "straight from the heart" in his own words, about what matters most to him on the job, how he approaches his responsibility as a corporate citizen and how Toyota supports his efforts to give back.
Q: What's a typical work day like?
A: I start my day just dropping by my office that's in the middle of the plant. I actually have an office at the front of the plant in the administration building. But I also have my primary office right in the middle of the plant. So I walk through the plant, get a chance to see what's going on from an operation point of view and wave at a few team members and talk to them on my way to my desk. I take a few minutes to just kind of take a look at some of the stuff that's been dropped on my desk from the night before or the morning before I get in. Then we start our day off with a morning meeting…. The executive meeting starts at 8:30 in the morning where they share all of the activities that happened from the previous day and some critical things that we need to be prepared for today.
From there, it's a series of either meetings on some of our daily business activities, environmental, accounts and finance, human resources, etc, etc. Or if I'm really fortunate and I've got some free time, I spend time to go out into the plant and actually see what's going on the manufacturing floor. So my day is a hodgepodge of spending time when I can out on the floor seeing what's going on, talking to team members, or in some of our meetings setting strategy or finding out what's going on in terms of the operation, making decisions on where we need to go.
Q: Do you enjoy talking to the team members on the floor?
A: That's the most special part of my day. Just seeing what they're working on and what some of their challenges are and talking about how we can help them to address some of those issues. Calling in other resources as need be to help them with it or telling them who to go and talk to. That is, by far, unquestionably, the best part of my day when I have the chance to just walk around the plant and talk with team members.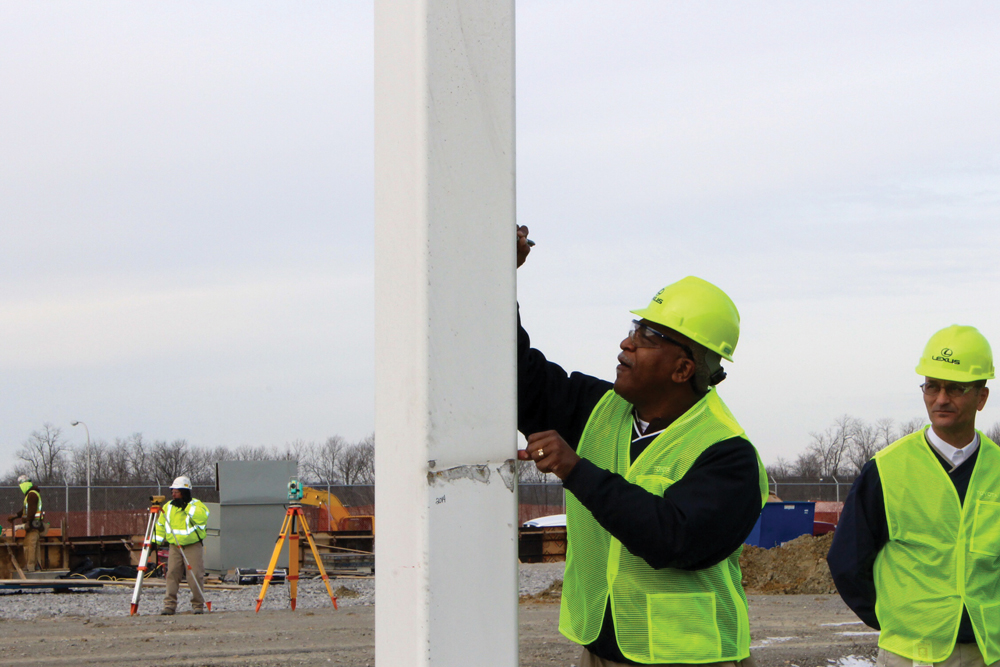 Q: It sounds like it's important to you to be close with the folks that work in the plant — and not just the executive level, but the rank and file.
A: I ensure that my entire work environment sends the signal that I'm always open to talk to team members. I won't say we have an open door. In my favorite office in the middle of the plant, I have no door. And I leave things wide open for team members to come up here anytime they've got something on their mind or I make myself accessible to them. I call it managing by walking around.
Q: Why is that important to you? Why do you do it that way?
A: Our success as a company and our ability to be able to provide the highest quality products with the best cost and the best safety and best lead time is through the efforts of our team members. Members of management, we're here to be able to set strategy and identify and gather the necessary resources and to communicate the direction of where we want to head in the company. But if I really want to find out where the rubber meets the road, it's down there on the floor with the team members. That's how I can evaluate how well we've communicated the strategies of what it is that we're trying to do. That's how I can tell how sincere and how connected our team members are to the products that we're going to be providing to our customers. I tell our management team all the time, "All of our value is determined by how effective we are in understanding and supporting the needs of the team members on the floor." Our whole purpose for being here is to identify the challenges that team members have and get those issues out of the way so they can focus on what it is that they really need to focus on, which is safe, reliable, high quality vehicles for our customers.
So I can't say those things to our management team if I don't live those things myself. So that's how I try to pattern my day — to be out there to support team members to understand what's going on, to ask questions, to listen to what they have to share, to listen to their questions, to answer their questions and to try to support them along the way.
Q: Did you come to this philosophy because you had managers who modeled that or because you had managers who didn't model that?
A: Before I came to Toyota I worked at a couple of companies — my background is mechanical engineering — so I worked at a couple of other companies before coming here. And I saw a number of examples of where management wasn't spending time with team members, wasn't respecting the value of team members. So I had some very clear examples of what not to do. But I did see a couple of managers who were… supporting of team members who were good examples. But honestly, when I came here to Toyota, that's when I saw how it's really supposed to work. That's where I saw examples of some members of management that showed you can do good, by being good.
I would say clearly, I've seen many, many more examples of that positive way, the appropriate way in Toyota than I saw before coming here. Our first president, Mr. [Fujio] Cho, was unbelievable in that regard. He would spend time out there on the floor. Team members still love him today. They still talk about him today…
What I have found, is that, in my core, I love people. And I care for people. I can't imagine having a better job than the job that I have, because it gives me that opportunity to be who I am deep down inside anyway and be a job that I can pay the bills with too, at the same time.
Q: That was my next question. It sounds like managing that way really fits your personality.
A: It does. I don't have to alter my way of being at all to be effective in this role. And I think that has probably shone through throughout my career at Toyota because I continually have gotten more and more responsibility to do things. But I'm just still being me.
Q: Where does that come from? Everybody sort of has an origin story. What made you be that person? How did that happen?
A: Mine is pretty clear. My parents, both my mother and my father — I'm originally from Norfolk, Virginia — they were always very caring and very supportive people. I can think of endless examples of where they showed compassion to others to help folks to actually become their better selves.
And I always wondered why, when I graduated from college and got out there in industry… some of the executives or managers that I saw couldn't understand that they would get so much more out of their employees if they were human. If they were supportive. If they would listen. If they would empower folks to be their better selves. Everyone wants to do a good job. It's all about the environment that's set as to whether people will do it or not. If people are given fertile ground to be able to come to work and contribute, they will. That's natural. I believe positively in people that way. But if they're not given that fertile ground, it really gets in the way and becomes more of a deterrent.
Q: You also do a lot in the community. Would you say that comes from the same place?
A: I think it's a combination of my caring my people and ….my sense of responsibility as a corporate leader. If you're going to be a good corporate citizen, you should be a good corporate citizen for all, not just for business. At Toyota, we look at what are some of the things in the community that we can support to make the community a better place. Let's face it. We've got 10, 000 employees here, a little over 10, 000 … and we're a part of the local community, so I support our team members through my work in the community. At the same time I try to do what I can to make the community a better place for everyone.
Executives have a responsibility to more than just their business. Fortunately, Toyota supports me in being able to go out and do good in the community, too. … I'd like to see more and more executives out there doing it. And I've been blessed to meet some out there that see it that way and are doing some very similar things.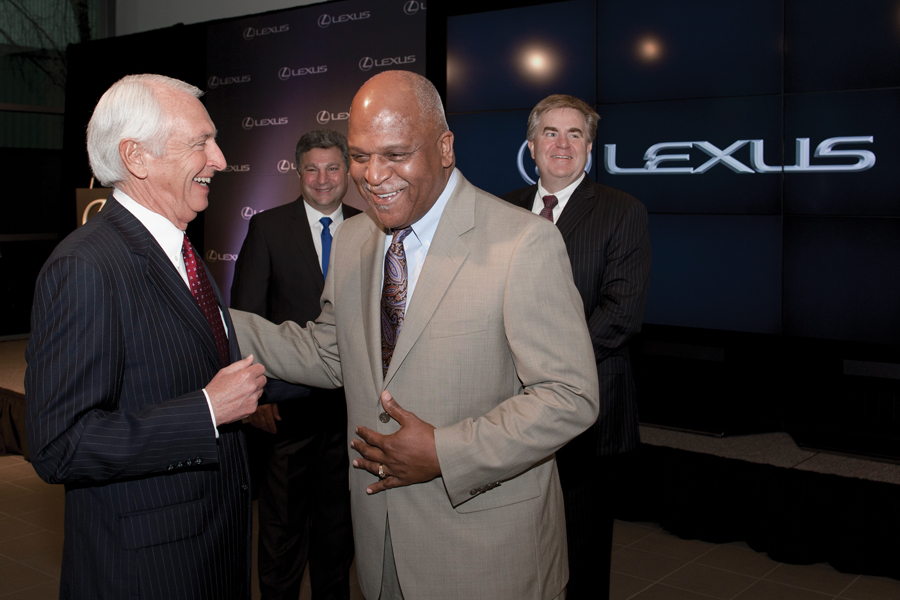 Q: Out of all the projects and organizations you've gotten involved with, is there one that you're the most proud of?
A: That's a very, very difficult question, because anytime we're addressing the needs of others, I'm just as happy as I can be. I'm in my element. But I will say … I'm still a member of the Kentucky Chamber, but when I spent my time as the vice-chair and then chair of the chamber and even as a member now of the executive committee of the chamber, I really do see some significantly great things happen. Because we're able to multiply the output by having a lot of business leaders sitting around the table and talking about things that impact business in a negative way…. We not only talk about stuff that's good for business, we talk about things that are good for the state, things that are good for the people.
The Franklin chamber has a lot of credibility. We're able to share with the legislature some of things that we'd like to see done. They're good for business, but they're also just good for people.
Q: Can you give me an example?
A: When we were discussing things like, "How do we address giving people that have spent time in prison, having the opportunity to come back and get a second chance at life?" We've got jobs that need to be filled and we've got people that have paid their dues. Why shouldn't we try to find a way to maximize that opportunity to give them a chance to get back into the community to take care of their families in a positive way?
That has a business connection. But it also has a human connection to it, because we're talking about the impact to families, not just the person that was incarcerated but their whole family, and their community is impacted by that. So going through those discussions and helping to put together some story to get to the legislature to see the benefit from not only a business point of view but a community impact point of view was pretty rewarding. That's just one example.
Q: It sounds like Toyota really supports your doing community outreach.
A: They see the benefit. We want to be a good strong corporate citizen. You can't be a good corporate citizen just by giving money. You've got give time. And you've got to be a voice for those that are sometimes unable to speak for themselves.
Q: You have a lot on your plate. How does that impact your family?
A: My family is pretty supportive. Right now it's just my wife and I. The kids are all grown and out there making life for themselves. Fortunately my two grandkids are right here. One of my daughters is working for Toyota, so she understands it… Our grandkids are right here in the daycare on the Toyota campus. Grandpa gets a chance to pop over and see them sometimes during the day.
They know where my heart is and they know that I'm just trying to do the best that I can while I'm here. And I encourage them to do the same. 
---
Interview by nick patterson // Photos courtesy of Toyota