The U.S. South has developed into a stronghold of automotive manufacturing in the last two decades, but the investment in new assembly plants has mostly headed south in recent years.
For 20 years, the South was the place to build — rich with new plants for Mercedes-Benz, Nissan, Toyota, Hyundai, Kia, Volkswagen, Ford, GM and more. And then came a seven-year dearth. Many of the OEMs expanded during those seven years and several of the expansions were enormous. 
Until Swedish automaker Volvo broke ground for a new plant in South Carolina last year, however, it had been a long dry spell — a dry spell that had Southern economic development officials looking south with envy at the mushrooming of new assembly plants south of the U.S. border, down Mexico way. 
2015 was the best year ever for vehicle production in North America, with the three NAFTA countries producing 17.4 million vehicles. But measured in percent gained year-to-year, Mexico showed the strongest momentum, as it has for the last seven years. 
Mexico's 3.4 million vehicles in 2015 — about one in five of the North American total — was a 6.1 percent increase over 2014 output, according to WardsAuto, which expects the share to increase to 25 percent by 2020.
Automakers in the U.S. recorded a total of 11.8 million vehicles, a 3.6 percent increase over 2014. Canada produced 2.3 million units, a 4.8 percent decline year-to-year.
"The U.S. South and Mexico are winning the battle, " Toronto automotive consultant Dennis DesRosiers told the Detroit Free Press in 2015. "Over half the capacity and 80 percent to 90 percent of investment dollars are going to the U.S. South or Mexico."
That's good news for the South, relative to Canada and other U.S. states — but still unsettling relative to Mexico.
It's a golden rule of the global automotive market that automakers want to build vehicles near the markets where they want to sell. But these days, Mexico is close enough to the U.S. market. About 70 percent of the vehicles made in Mexico are sold in the U.S.
"In the NAFTA countries since 2013, a high of 90 percent of the investments in greenfield plants have been in Mexico, with a handful in the U.S. and Canada, " says Joseph McCabe, president & CEO of AutoForecast Solutions LLC. "In 2010 Mexico made 2.3 million light vehicles. In 2015 they made 3.4 million. By 2023 we forecast they will make 5.4 million. 
"In 2010 Mexico had 19 percent of NAFTA production. In 2015, they had just over 19 percent of NAFTA production, which has grown 50 percent since 2010. Mexico maintained their percentage of a market that grew 50 percent. By 2023 North America will produce 19.1 million vehicles, and Mexico will have over 28 percent of them."
And it's not just the cheaper, smaller vehicles that are being made in Mexico these days. It began with the smaller GM sedans, but now it includes all of the technological sophisticates, and almost every automaker is boosting production in Mexico.
"Now it's a different story, " says McCabe. "The jurisdiction in Mexico now includes BMW, Audi, Mercedes, Infiniti. They're not just a low-cost producer. They're a high-quality area."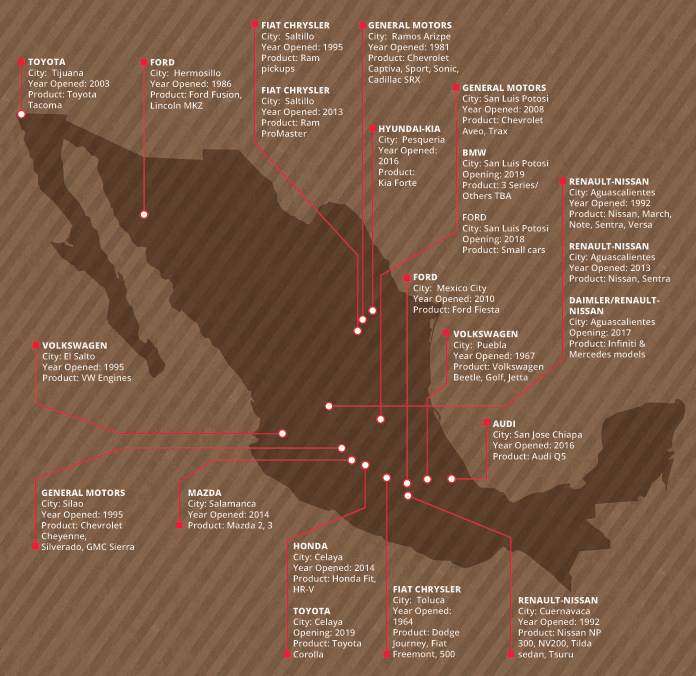 Vehicle plants in Mexico 
Not a surprise
In October of 2014, auto manufacturers gathered for the 7th annual Southern Automotive Conference, in large part to hear details of a report that they had commissioned: "Accelerating the Growth of the U.S. Automotive Manufacturing Industry at Home, Rather than Abroad."
The research was conducted by the Center for Automotive Research, a nonprofit based in Ann Arbor, Michigan that focuses on trends and changes in the automobile industry.
"Mexico attracted $1.5 billion in automotive investments in 2013 — three times more than the $0.5 billion that was invested in the Southern region for that year, " the Center for Automotive Research (CAR) reported.
"In addition to manufacturing, both automakers and suppliers report increasing reliance on Mexico for engineering as well. Mexico is therefore emerging as a key competitor not just for manufacturing jobs but also for the high-paying white collar jobs provided by R&D operations."
A year later, the director of CAR's Automotive Communities Partnership told Business Alabama magazine, "In 2014, automakers invested $10.5 billion in the U.S. and $7 billion in Mexico. They basically are just under 70 percent of what the U.S. got last year."
Strength in regional unity
First and foremost, what southern automakers need to do, the CAR report says, is to form a regional alliance that can work toward streamlining the economic development process.
Interviews with major automakers "revealed that communities which stand the greatest chance of attracting investments are those which not only offer the most competitive incentive package but those which also streamline, centralize and optimize their engagement with companies, " the CAR report found. 
"The companies interviewed stressed that they are more likely to invest in a community if both the community and the state perform incentive audits and monitoring in a manner that isn't onerous for both the company and the various levels of government involved."
For the South, that means state governments getting together to compete as a group on a par with the streamlined recruitment process that goes on in Mexico.
The Mexican government is "hitting the market strong to entice investment, giving investors a one-portal, concierge level service, one source to help with logistics and paperwork, which makes it easier and more digestible if you're considering putting a vehicle or power train plant in Mexico, " says AutoForecast Solutions' McCabe.
The most obvious advantage that Mexico offers is also one that automotive consultants don't have a lot to say about — perhaps because it is so obvious. Labor costs in Mexico are 80 percent less than those in the U.S. — though they have been creeping up as Mexico faces increased workforce vacancies. 
"A more accurate measure is that Mexico has free trade agreements that allow it to export to 60 percent of the world's GDP. The U.S. has agreements with 14 percent of the world's GDP. If an automaker is making a vehicle for export outside of NAFTA, it's a tremendous incentive."  — Bernard Swiecki, Center for Automotive Research
Trade agreements loom large
"Labor has a lot to do with it, but not as much as trade, " says Bernard Swiecki, CAR's senior project manager. "There are quite a few automakers, especially European, using Mexico as an export hub. Suddenly Mexico has free trade agreements that are very attractive. They have trade agreements with 44 countries. 
The U.S. has trade agreements with 19 counties. A more accurate measure is that Mexico has free trade agreements that allow it to export to 60 percent of the world's GDP. The U.S. has agreements with 14 percent of the world GDP. If an automaker is making a vehicle for export outside of NAFTA, it's a tremendous incentive." 
With 70 percent of Mexican-made autos now going to the U.S., this trade advantage is something that automotive investors are betting will become more important in the future.
"Markets outside of NAFTA are basically an opportunity, " says McCabe. "South America is now depressed, but as they come on board, Mexico is a good launching pad to get North American products into South America. It's a potential multi-billion dollar market over the next 20 to 40 years. You're looking at not just a short-term but also a long-term play. It provides an avenue to not only have the skill set but also the opportunities are going to get better over time, and it is one of the things that is strongly weighing their decisions." 
Workforce parity
Also on automakers' minds, says McCabe, is their increasing appreciation of the quality of the Mexican labor force. "They have a growing middle class, a hungry lower class that is burgeoning into a middle class that wants the opportunity to build even past the middle class, and these jobs allow them to do that. They are good, skilled workers who are able to follow directions and get the job done.
"If you see brands like Audi and BMW and Mercedes making investments, they don't want quality to drop. There is always a back-end risk, when you look at a market, but you bring in the people who will train the labor force there. They may not have the additional innovation capability as in U.S. or Canada, that moves the market forward, but you're looking at a hard working labor pool, " says McCabe.
Innovation and the engineering skills that come with it are one of the advantages the Southern U.S. might use to slow a march toward Mexico, the 2014 CAR report concluded.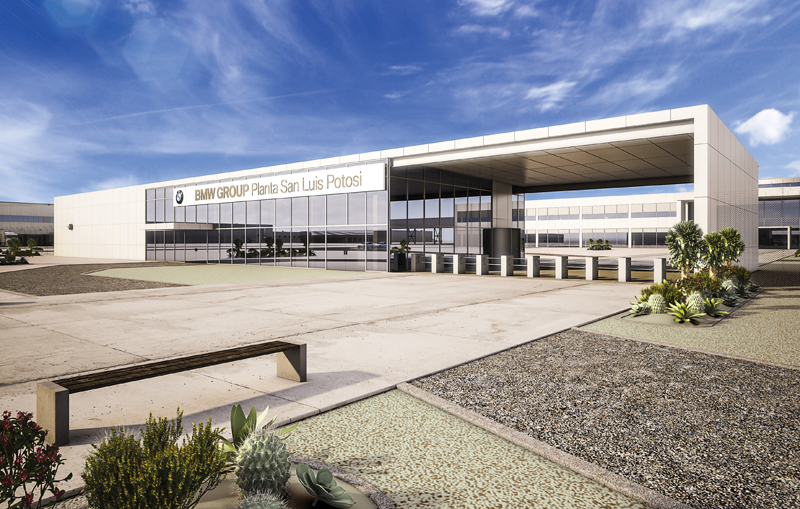 Photo courtesy of BMW 
Going forward
"The South is continuing to be a focus of automaker investment, but most of the totality of automaker investment is going into Mexico, " says Swiecki. "What is happening in the South is a lot more like what is happening in the North, which has maintained a renewed investment by automakers and growth on the part of the supplier base. 
"There has been an under-capacity in U.S. suppliers that is slowly starting to fill in. But with the case being that we are losing a lot of new assembly plants to Mexico, we are losing suppliers as well, certainly suppliers of those components that have to be made near the plant, such as instrument panels and headliners and seats —  components that are just-in-time or difficult to ship, " says Swiecki.
"In the future, companies will be putting even more credence into Mexico production, " says McCabe. 
"Toyota in Canada was very loyal to the Canadian market, but when they realized the higher costs involved, they saw they needed to migrate the Corolla production to Mexico. Manufacturers need to keep alive.
"Do we see them shutting down plants in the U.S. and ramping up in Mexico? No. As long as customers are satisfied, we see no near term future where U.S. plants are being shut down, " says McCabe.
A factor that may play into the longer-term future, however, is the global economy and how a downturn might affect different segments of the auto market. 
"We're seeing a gradual shift, where the Detroit Three are moving around their North American production base — so that more passenger cars are made in Mexico and more of the U.S. production base is trucks and crossovers, " says Swiecki. "In a way, that's good. The U.S. is retaining the vehicles with higher labor content and higher content of suppliers. While the economy is good, this will be good for the U.S. 
"But the concern is that in a few years, the U.S. could suffer a disproportionate volume hit from an economic downturn — certainly more of a hit than small cars."
A Call for Southern R&D
Experts agree that the South should take advantage of its capacity to support research endeavors.
"On the research side, the region boasts world-class universities and several government laboratories that can be an asset to automakers and suppliers struggling to meet upcoming fuel economy and safety regulations, as well as consumer demand for increasingly sophisticated vehicles and components, " according to a 2014 Center for Automotive Research report.
"Regardless of where their headquarters is, the chance is that a company's central R&D is being strained, " says CAR's Bernard Swiecki. "So there is now a greater expectation for the local facility to handle R&D — at least enough engineering capability to get through a product launch. Local capacity is required because the mother ship is strained."
Mercedes announced just such a move August 1 at the CAR Management Briefing Seminars in Traverse City, Michigan. "Daimler's Mercedes-Benz is putting more emphasis on how design and manufacturing engineers can collaborate early in vehicle development, " WardsAuto reported. "The previous singular attitude was 'the car is designed, and then we build it, ' " says Jason Hoff, president and CEO of Mercedes-Benz U.S. International, which runs the automaker's assembly plant in Alabama. "The new approach is that manufacturing engineers get more involved at the very first development stage of every new product."
The CAR Report found that supporting research centers at universities in the South is critical. "The South needs to stick together, " says Fred Cartwright, director of one such R&D asset — the Clemson University International Center for Automotive Research. "The enemy isn't the next state. We have to be competitive with Mexico.
"There is not always a lot of knowledge about how the industry is changing and what new technology is being introduced. When you live in Detroit, that's all you see, that's all you do, the whole industry. The South could benefit generally from understanding what's coming, what the future holds for the industry. I think there's a vacuum there at the moment, " says Cartwright.
---
Text by Chris McFadyen