It's not hard to see a major automotive manufacturer as a boon to a hometown's economy. Volkswagen Chattanooga is also proving to be a boon to local education.
Eight "eLabs" – offering state-of-the-art equipment and a guided learning experience to give students access to rapid prototyping technologies including renewable energy components, laser cutters, CNC routers, 3D printers, robotics, microcomputers, and vinyl cutters are now open in Hamilton County. The enhanced lab experience comes courtesy of a partnership between  Volkswagen Group of America Chattanooga Operations, LLC, the State of Tennessee and the Hamilton County Department of Education (HCDE).
The eighth lab, located at Sale Creek Middle High School, opened a few months ago, but only represents the halfway mark in the initiative. Eventually, there are expected to be 16 of these eLabs available to about 8, 000 Hamilton County students. The other schools currently operating eLabs include Chattanooga School for the Arts & Sciences, Dalewood Middle School, East Hamilton Middle High School, The Howard School, Hunter Middle School, Normal Park Museum Magnet School, and Red Bank High School.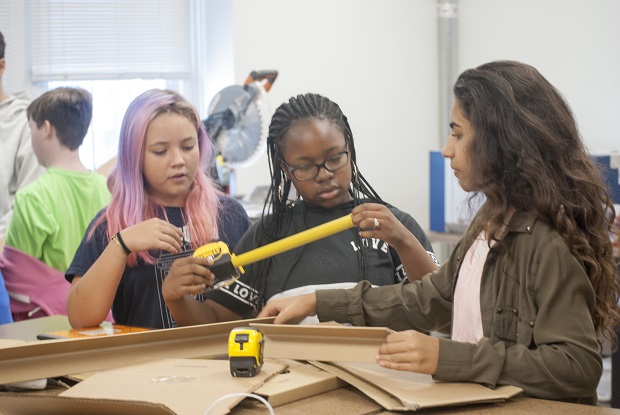 Chattanooga School for the Arts & Sciences
A $1 million Volkswagen grant makes the eLabs possible. Each lab is staffed with a Volkswagen eLabs Innovation Team, composed of "highly trained teachers with specialized skills in facilitating learning through digital fabrication, " the company said in a press release.
The labs are administered in partnership with the Public Education Foundation (PEF), which is an independent, nonprofit organization providing training, research and resources to HCDE educators.
At the time the first 8 schools were chosen – from an applicant pool of 20 – PEF President Dr. Dan Challener said, "Imagine: In just a few short months, students across Hamilton County will begin using an amazing set of new tools to solve authentic problems and design and manufacture new things. This is extraordinary—and further proof of the great things that can happen when businesses, not-for-profit organizations, government, and community members create partnerships with our public schools."
"This summer, teachers engaged in more than 112 hours of professional development in addition to the countless hours they spent setting up equipment and preparing the spaces, " said Michael Stone, PEF's director of Innovative Learning. "Through this process.. schools are discovering and sharing strategies to capitalize on this investment in order to maximize the impact on student learning, "he said. He added, "Volkswagen eLabs will help prepare Hamilton County students for college and career success and they have already marked Hamilton County as an emergent international leader in digital fabrication education."
The eLab program fits with VW's commitment to education, according to company executives.  "At Volkswagen Chattanooga we hold a deep, active and ongoing belief that education, whether at university, a middle school lab or an apprenticeship on the shop floor, is crucial to a successful career, " said Ulrich Heimann, executive vice president of Finance & ITP for Volkswagen Chattanooga. "These Volkswagen eLabs will teach hands-on, engineering-based learning, " he said.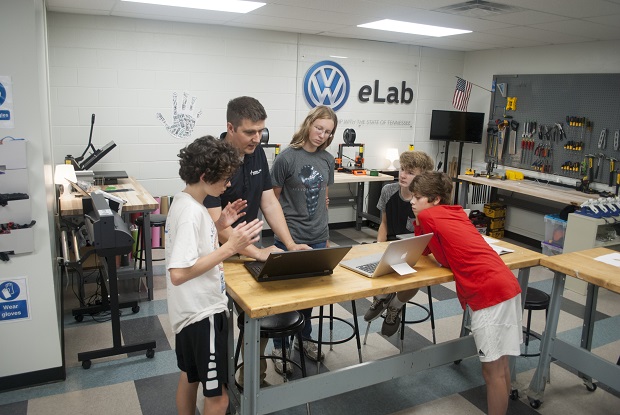 Normal Park Museum Magnet School
Tennessee Gov. Bill Haslam said VW has been a "great partner" for more than a decade. "Through the eLabs, Hamilton County middle and high school students will have access to innovative programs that will equip them with skills they need to be successful in the future, " Haslam said.
The specific skills are in the STEM fields, where there are expected to be 42, 000 jobs in Tennessee alone in the next few years, according to HCDE Superintendent Dr. Bryan Johnson.
Tennessee officials say that the growing importance of STEM education means the eLabs will give students new skills engineered to put them ahead of the curve.
"STEM fields are one of the fastest-growing in our state and our country, and the need for integrated STEM education in Tennessee has never been more critical, " said Tennessee Department of Education Commissioner Candice McQueen. "These eLabs will give our students the opportunity to lead the nation in exceptional, hands-on STEM education, uniquely preparing them for college and the workforce, " she said.
Each school with an eLab  is expected to raise funds — $5, 000 a year either in cash or contributed materials — to make sure the labs can be "continually refreshed and materials are replaced, " the VW press release notes. Middle schools and high schools in Hamilton County will be able to apply for the second phase of the eLabs program.
Tennessee state officials have high hopes that the eLab initiative will bring a long term benefit to the economy and educational system. "The eLabs, " said Tennessee Department of Economic and Community Development Commissioner Bob Rolfe, "are a great opportunity for Hamilton County students to learn new skills that will help each student be better prepared to enter the workforce."
---
Text By Nick Patterson/Photos Courtesy of Volkswagen Chattanooga