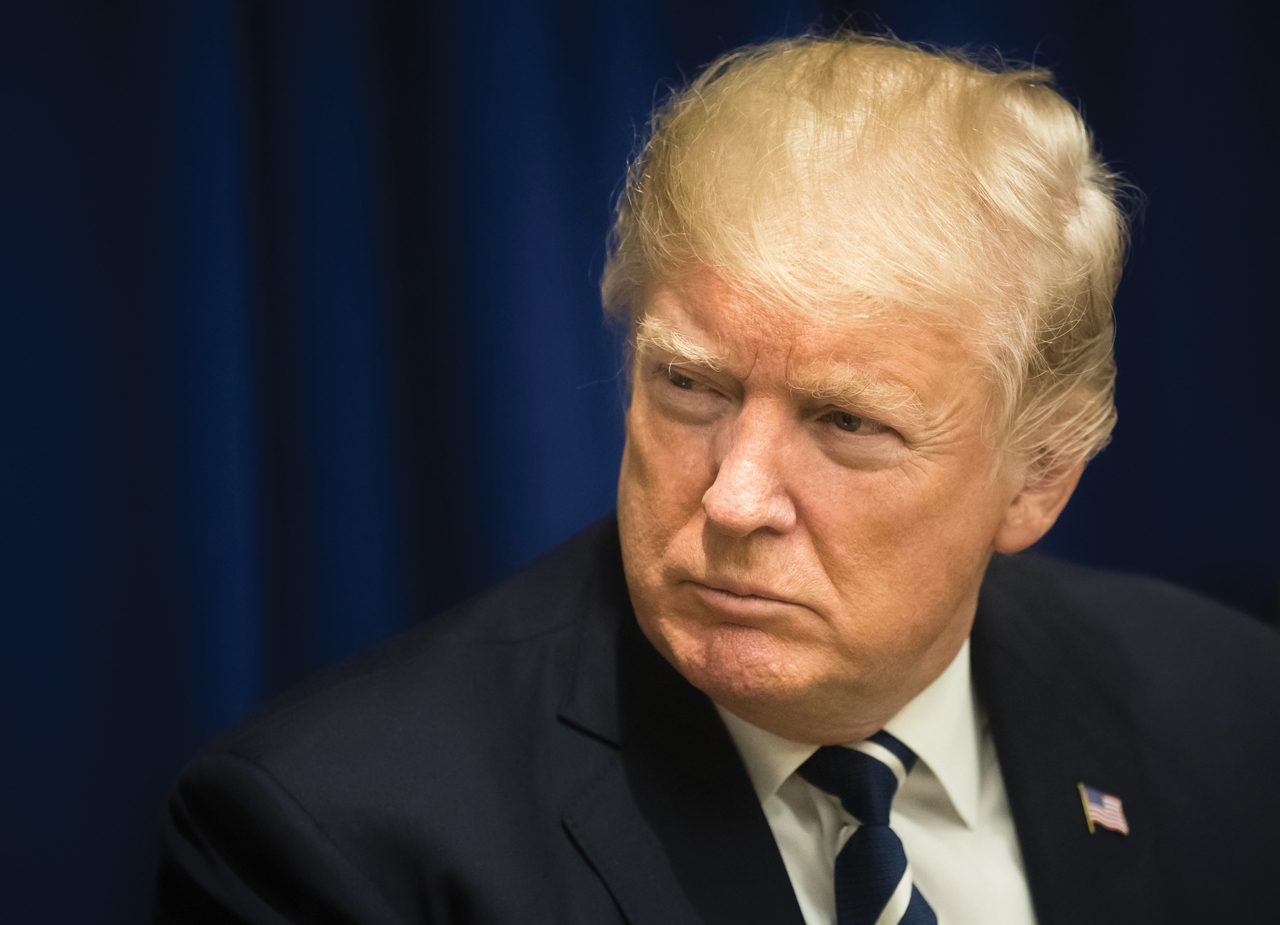 For consumers in the market for a new vehicle, it might be time to pull the trigger.
Kristin Dziczek, vice president at the Center for Automobile Research, a nonprofit research organization in Ann Arbor, Michigan, says she has had "a couple of cocktail party conversations with people who then went out and bought new cars."
The reason behind the decision is that Dziczek and other industry observers expect vehicle prices to jump if the Trump administration's proposed tariffs are enacted.
What kind of tariff policy the administration will come up with is unclear, but the administration has mentioned tariffs of up to 20 percent on imports. It may be coincidence, but U.S. automakers reported stronger June sales, as consumers continued to buy sport utility vehicles and trucks in larger numbers.
Right now, Dziczek says, the Commerce Department is conducting an investigation, which will be followed by a comment period.
"We are expecting it will be pretty quick, August or September. We will see a report and then the president can take that report and follow their recommendations, do whatever the heck he wants, " Dziczek says. "I am expecting this will follow much of the same procedure that we saw with steel and aluminum and that is that all countries will be under the tariff until they negotiate individual exemptions.
"With steel and aluminum there were only a handful of exemptions granted; one was to Korea, one to Australia, one to Brazil, but Canada and Mexico did not get exemptions."
More than half of the cars imported to the U.S. come from Canada and Mexico, Dziczek says, and more than half the country's imported vehicle parts come from Canada and Mexico. In addition, she says, "71 percent of our parts exports go to Canada and Mexico. That is a really important trading bloc that is going to be shook off its foundation if they are included in the tariffs on cars or parts."
Edmunds.com estimates that 47 percent of new cars sold in the U.S. are made elsewhere, as well as some share of parts on the remaining 53 percent because of global supply chains.
"Given the sizable import presence in the auto industry, Trump's proposed tariffs would dramatically increase new-car prices. For example, for imported vehicles, a 20 percent tariff could increase the average transaction price of a typically equipped new car by approximately $7, 000, from $35, 000 to $42, 000, if automakers passed on the entire cost of the tariff to consumers, " Edmunds.com notes. "What's more, price increases would likely not be limited to imported cars or cars with higher levels of imported content. As prices increased on these vehicles, demand would grow for vehicles less impacted by the tariffs. Given the extent of imported vehicles and parts, it is unlikely that manufacturers could readily adjust domestic production to meet the higher demand or that the additional vehicles could be produced as cheaply as their imported counterparts. In particular, labor tends to be more expensive in the U.S. As a result, prices on the less impacted vehicles would likely rise as well."
The Southern tier of automotive manufacturers could be deeply impacted by the tariffs and auto manufacturers with facilities in the South have voiced their opposition to the proposed tariffs, according to businessinsider.com.
Honda, in its statement to the Commerce Department, says tariffs on auto imports would harm the U.S. economy and lead to layoffs.
The tariffs, Honda reports, "would increase prices for consumers, both of imported and domestically built cars, which would likely lead to decreased sales and could ultimately negatively impact auto industry jobs, from production to suppliers to dealers."
BMW says the move could lead to layoffs at its plant in South Carolina and other U.S. facilities.
"All of these factors would substantially increase the costs of exporting passenger cars to these markets from the United States and deteriorate the market access for BMW in these jurisdictions, potentially leading to strongly reduced export volumes and negative effects on investment and employment in the United States, " BMW's statement says. "Given the very high export share of our U.S. production, this negative impact could also overcompensate any positive effect of forced deeper localization of products supplying the U.S. domestic market."
General Motors, a U.S.-based company, says the tariffs would increase costs and hurt business and recommends "prioritizing work with our adjacent trading partners to strengthen U.S. manufacturing and advance implementation of modernized NAFTA and KORUS agreements. The overbroad and steep application of import tariffs on our trading partners risks isolating U.S. businesses like GM from the global market that helps to preserve and grow our strength here at home."
Hyundai, a South Korean company, cites the recent updates to the U.S.-Korea Free Trade Agreement as a key reason the tariffs are unnecessary and pointed out that half of its cars sold in the U.S. are manufactured in the U.S.
Toyota warns that the cost of its cars would rise significantly due to the tariffs, which could harm consumers and its business. "Free and fair trade is the best way to create sustained growth for the auto industry, employment opportunities for American workers and provide more choice and greater value for American consumers, " Toyota reports. "Erecting trade barriers, like import tariffs, will ultimately invite retaliation from other nations and undermine America's leadership, exports and competitiveness overseas."
According to the American Automotive Policy Council (which represents Ford, Chrysler, and GM) auto tariffs "will undermine the enormous economic contributions the U.S. auto sector makes to our economy… consumers would face a combined $90 billion in additional costs if a 25 percent tariff is imposed." The council reports tariffs  "will increase costs for consumers, lessen consumer choice, lower consumer demand, reduce car and light truck production and sales, lower investment levels, and lead to job losses in the US auto sector."
"You know, the president talks a lot about imported Mercedes and BMWs, " Dziczek says, "those luxury vehicles that he says are being sent here by the millions, but they are not. We make a lot of BMWs and Mercedes in the United States. Those are two of our top exporting companies. They are one and two for exports to China. I think Mercedes is number one, BMW number two 2, Ford is number three and Tesla is number 4 if you are looking at exports to China."
But, as Dziczek points out, "The case with China is a different case. That is a section 301 case about intellectual property and China just announced a retaliation. It set tariffs on imported U.S. vehicles – they went down to 15 percent, then they added 25 on top of that so now they are 40 percent and the auto makers who export there said we are not going to raise our prices."
"It is only a handful of vehicles – they are making more in China than they are exporting from the United States."
The problem is, according to Dziczek, "On a mass market vehicle, you cannot pass that tariff along.Their volumes are too huge to eat the tariff. Take for example the Toyota RAV 4, which they will soon be making in Mississippi. Now they make it in Canada. It is in a very competitive segment against vehicles made in the U.S. so a tariff on that coming from Canada, and running it against a Ford Escape now made in the U.S. you are not going to sell very many RAV-4s here until you can start building them here.
"One of the big problems with this procedure is that this is a signature procedure, so the Commerce Department makes its investigation, makes its recommendations, the president signs an executive order and tariffs are in place. To avoid the tariff, and to comply with this, would cost billions and billions of dollars per auto maker and supplier."
According to Dziczek, the average U.S. content in a vehicle made in the U.S. is right around 60 percent. "On imported parts you are looking at 30 to 40 percent of it costing 25 percent more, so even a car made here costs more. We looked at what if cars made were all at 90 percent content — which none are — you're still putting on a 10 percent tariff and that would erode a quarter to a half of the profit margin on that vehicle."
One way auto makers are looking at to cope with the tariffs is reducing the numbers of models. In 2017, there were 237 existing models and 38 new car models offered in the U.S. market, compared with 2000 when there were 170 existing models with 41 new models.
"Well, they will reduce the ones that they are importing, " Dziczek says, "and then they will be able to take the productive capacity here and turn it to a smaller number of vehicles.
"It is a risk-mitigating strategy to say we are going to offer fewer models, to have less specialized production, " Dziczek says. She says auto makers will have to be more flexible to be able to produce more of what the market will demand. "We only have about 60 days of inventory on the lots right now. So all imports are going to go to a trickle, certain imports make consumers less price sensitive, certain importers sell so few here they may be able to do it and mainly eat the tariff but you will see some just disappear."
Last year there were 17.3 million vehicles sold in the United States, 11 million of which were made in the U.S, which exported a little more than two million. According to Dziczek, "So of that 17 million, only about nine million were made here and sold here. And then half of those imports that were sold here came from Canada and Mexico. If we had all U.S. plants running all out, two shifts, straight time, at what is considered full capacity, you could make 14 million units of cars and trucks. So we only made 11. Why did we not make 14? Because there is 3 million units in seemingly idle capacity so it is either plants down to be retooled or it is plants that are making models that are not in high demand and many of the plants that are not running full capacity are sedan plants. Americans hate sedans all of a sudden.
"The best case, I think, for next year if these tariffs are in place, is maybe we can make 12 or 13 million units of cars here, " she says. "But nobody is making any decisions on this because they are all waiting to see what happens."
Dziczek says that the U.S. will have to "reduce production, will have lower volumes, probably have some layoffs, and the thing is, the case that they made for steel and aluminum was that an industry is healthy if it is at 80 percent utilization and the U.S. auto and parts industry is over 80 percent utilization. So I don't know what case they make to say this is not a healthy industry."
The used car market also looks grim.
"You can't make more used cars, " Dziczek says. "There is a set number of cars so the used car market will increase. If you want to hang on to your car longer, you have to buy consumables – air filters, oil filters, PCV valves and all that – and many of those are imported. Just the cost of maintaining and repairing your car will go up."
And those customer-attracting incentives for new car buyers? "They will probably be reduced or phased out, " according to Dziczek.
Also at risk if the tariffs are enacted is the U.S. auto parts industry, which employs some 880, 000 people. In comments submitted June 29 to the U.S. Department of Commerce, the Motor & Equipment Manufacturers Association (MEMA) strongly opposed broad, unilateral, and import-restrictive measures on imported automobiles or motor vehicle parts being explored by the department as directed by the Trump administration. MEMA strongly urged the Department of Commerce to remove motor vehicle parts from the scope of its investigation and not to recommend any adjustments to imported parts.
If the tariffs are enacted as currently planned, and if Canada and Mexico are included, Dziczek says, "I think the slowdown in American production happens very quickly, probably within a couple of months."