A man named David summons a car to his mountaintop home, and shortly afterward a driverless car — a BMW — pulls into his driveway, stops in front of the house and the driver-side door opens. 
David gets in and heads for a large city nearby, driving the car himself. Later, in busy freeway traffic, the car's communication system makes a phone call at his request to a business associate, Caroline.  She asks if David can review some photographs and choose his favorite for an upcoming campaign. Caroline had e-mailed the photographs earlier, and she and the pictures now appear on screens on the dashboard to David's right as the two communicate. 
David decides at this point to let the car drive itself so he can devote full attention to Caroline and the photographs.  The car self-drives him safely through the freeway traffic, and when the conversation is over, David takes control of the car again.
Arriving at his destination shortly afterward, he gets out in front of an office building, waves the car on and says, "Thank you. See you later."  The car replies, "I will be back to pick you up here at 11, " and drives itself away.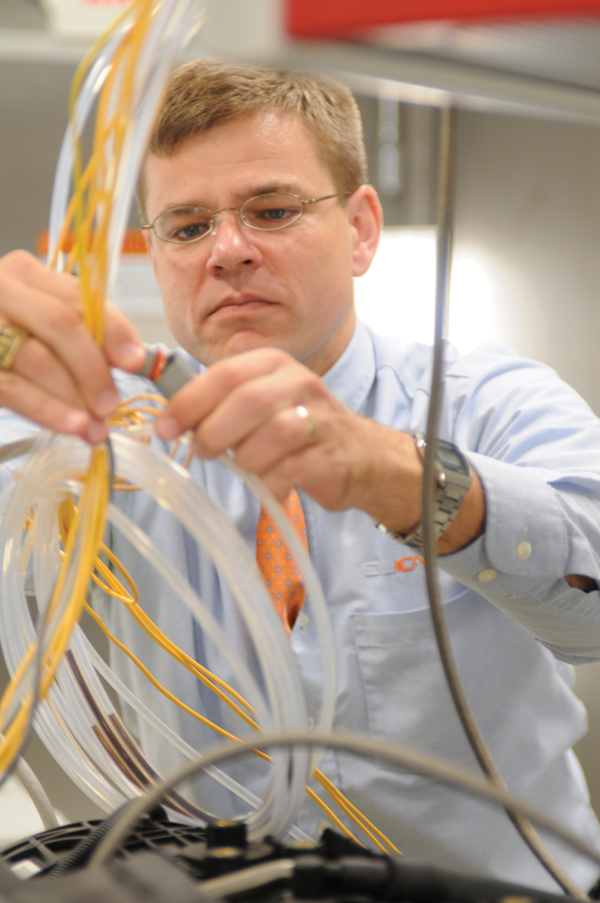 Mechanical engineering professor Tom Kurfess works in his lab at Georgia Tech. Kurfess says that the technology for autonomous cars is further along than many people think. But he believes that safety will be a crucial factor in their rollout. "Autonomous cars will have to have very, very few accidents, ' he says. 
Photo courtesy of Tom Kurfess
That's how a BMW video depicts a not-so-distant future of driving.  In fact, the autonomous-vehicle technology in the video is already performing well in BMW test cars. 
BMW, in a major press conference in July, said that it, Intel and the Israeli firm Mobileye are in a collaborative partnership aiming to bring fully autonomous cars — cars with no driver inside — to the streets by 2021. No one is questioning that driverless cars are coming, but when they get here in large numbers is the question.
Says Tom Kurfess, a mechanical engineering professor at Georgia Tech whose background includes extensive automotive research:  "I think the technology is pretty much there for autonomous cars in a good number of circumstances. The technology is further along than people think."
At least in the short term, Kurfess sees continued development and implementation of technology already on the road (Tesla) or in test cars being developed by several automakers. That basically means cars with drivers that can travel essentially on autopilot, especially on interstates. In heavier, congested traffic, the driver might prefer to take control of the car, just as today's drivers usually turn off cruise control once they are in the midst of other cars. 
Kurfess also sees the day when vehicles are driverless, but he says a major hurdle to that is safety — or perceived safety.  He notes that Tesla got hammered with negative publicity after one of its cars hit a tractor trailer that turned in front of the car, killing the Tesla driver.  That publicity came despite the fact that Tesla has an excellent safety record, compared with the number of auto fatalities that happen daily in the United States.
"The bottom line is autonomous cars have to be better than the human driver, " Kurfess says. "If they aren't, then nobody will think about them.  Autonomous cars will have to have very, very few accidents."
It's Cool, But Is It Legal?
One thing that's clear when it comes to autonomous cars is that there is a lot of catching up to do. On the legal front, that includes addressing questions as basic as "What's legal?" and "Do these cars meet safety guidelines?"
"The laws are definitely going to have to catch up (with the technology), " says Robert Sartin, a partner and co-chair of the automotive team at the Nashville law office of Frost Brown Todd LLC.
When we spoke with Sartin, the National Highway Traffic Safety Administration (NHTSA) was nearing completion of a regulations revamp to address autonomous cars.  But he says there is no way to stay ahead of the curve.
"When you say autonomous cars, we still aren't sure what that will be at the end of the day, " Sartin says. "Will it be truly autonomous, where the driver has absolutely no participation in the process at all? You just get in, there's no steering wheel, and the car is going to move you around with no human input?  Or will there always be some kind of component of driver-assist? Frankly, it's likely that it's going to be driver-assist for a long, long time.
"We don't really know what it's going to evolve to, so it's impossible to pass laws to address it. The laws are always going to have to be somewhat reactive to the technology. The challenge we're facing is that the technology is evolving exponentially and is changing so quickly that the legal systems, the laws themselves, the processes we have for making laws, can't keep up. 
"I think a lot of regulatory authorities are acknowledging that. … So that's the purpose behind the regulations they're promulgating now.  They're trying to come up with a system that will acknowledge that inherent challenge so that technology can evolve because technology does produce good things.  It does produce safer cars.
"(NHTSA) doesn't want to get in the way of things that will improve safety but at the same time, the current system is set up to force a recall if there's a concern over safety. Well, you won't know if there's a concern until (autonomous) technology is deployed. It's kind of a chicken and egg problem, and they're trying to come up with new rules and processes to address that problem."
ABOVE The Mercedes-Benz F 015 research car reflects what the company expects in the year 2030: a fully autonomous driving option and a living-room-like interior with touch screens for choosing  speed, music and movies. 
 
The Demise of Parking Decks and Soccer Moms
There also is major-league catching up to do in the realm of urban planning.  A post on govtech.com refers to a report in the Journal of Planning Education and Research that shows almost all major metropolitan planning organizations have failed to include self-driving vehicles in their long-term planning.  
That's despite the fact that driverless cars will have a major impact on urban areas, says Molly Wasko, professor and chair of management, information systems and quantitative methods at the University of Alabama at Birmingham's Collat School of Business.
Parking, for example, is a huge issue right now at UAB, but it won't be in seven to 10 years because of driverless cars and ride-sharing, Wasko predicts.  
"All this space we have dedicated for parking lots, especially in urban areas, is going to open up for other uses, " she says.  "Talk about a huge shift in how we use an asset — parking lots, where things just rest and remain idle, can be repurposed and have much more productive uses."
Another indicator that driverless cars and ride-sharing are coming is simply that fewer people are driving. That's especially true for people between the ages of 16 and 44, according to a study by the University of Michigan Transportation Research Institute.
Wasko talks about the Homeland Generation, a term sometimes used for the next generation after Millennials. "When the Homeland Generation gets to college, we will see it, " she says. "I doubt they will even know how to drive a car. Their thinking is going to be 'If you can call a car that can drive itself, why do you need to know how to drive?'  
"Kids today are being driven around in cars, and they're on electronic devices and not paying attention, so they don't have the thrill and freedom of being able to drive yourself.  They're used to sitting in a car and not paying attention, anyway. So, the fact that they would have to sit up and pay attention and do the driving — they figure 'Why would you do that if you could just ride and look at your computer, or watch a movie or text your friends?' "
Could it be that driverless cars will mean the demise of the proverbial soccer mom?
"Absolutely, " says Wasko. "For parents with kids who have to be at different places, this will completely transform how kids go to and from their activities.
"It's going to be incredibly safe. You tell the car where to go, and you can actually have the car send you a picture when they've arrived. And, clearly with an application like Uber, you can follow the car on its trip and you know exactly where it is and when it has arrived."
The Google Factor
Technology firms such as Google and Apple have been called the competition in Southeastern automotive circles.  But Georgia Tech's Kurfess doesn't necessarily see it that way. 
"Building a car in a modern production facility is very impressive, and the reality is that going from making zero cars to making cars on the scale of something like GM or Ford or Chrysler would be pretty difficult, " he says. "Even if you look at the numbers Tesla is turning out, it's still a very small operation. So, the question is: 'Can you scale it up?'
"I think the question for the Googles and tech companies, the Apples, is 'What are your core competencies?' If they're thinking about expanding into automotive production, that's a pretty steep learning curve. So to partner with another company might make more sense.
"Maybe you purchase a company, " Kurfess says. "Look at the capitalization of Apple, and you figure they could purchase a company or at least a huge chunk of one. I think Apple can move its way more into the automotive sector, but I also think the GMs of the world can move into technology, into the information systems of the world. 
"I mean, GM bought a good ($500 million) chunk of (ride-sharing company) Lyft.  I think you'll see more of what I think of as a hybrid approach. You'll see some partnerships, some acquisitions and so forth. It's really hard to get a new auto maker" up and running.
The convergence of tech companies' interest in building cars and automakers' interest in technology is creating a "fascinating time in the industry, " says Nashville automotive lawyer Sartin. "No matter how that plays out, what we do know is the car will advance and it will become, I think, autonomous in some form.
"Whether it becomes fully autonomous in our lives remains to be seen, but it certainly will be significantly driver-assist. That means, and it's going to be fun to watch, you're going to see a lot of economic growth opportunity because this intersection of auto manufacturing and technology is going to lead to a lot of additional commerce.  Employment of the tech types to develop the technology means more jobs. 
"There's going to be more transactions, more companies buying and gobbling up technology. You're going to see a lot of M&A activity, a lot of change in the regulatory environment, and that's for all sorts of service providers — lawyers, accountants, government advisors, industry experts — I think we are in a time of growth both domestically (in the Southeast) and internationally."
The technology will be the same around the world, but how different societies implement that technology is going to be different. "In Amsterdam, people don't drive so much, so having an autonomous vehicle isn't something they need or want, " Wasko says. 
"But on the American side, that's exactly what they need, " she says. "There will be different business models that emerge because of this technology. So, right now the typical business model is you have an asset purchase, people buy a car, or a lease, where people rent the right to have a car, but going forward, there are going to be all kinds of interesting ways for people to rent or join a car club or own" their own auto-related business, like Uber on-demand services.
Back to the Future, Revisited
BMW has been working on autonomous vehicles since early 2000, a company spokesperson says, but some of the most recognized groundbreaking for such cars goes back to the mid-1980s. That's when Mercedes-Benz was part of a project with several other entities and researchers.  As part of that, Mercedes eventually made a car that technically drove almost entirely by itself for 1, 043 miles from Munich to Copenhagen in 1995. The car reached speeds of up to 115 mph on the autobahn and managed to pass other cars with little to no human intervention.
But when it comes to fully autonomous cars, which can drive themselves with no one inside, "Some people were saying it would be 20 years, now some people are aggressively saying 10, " Sartin says. "Once this thing gets more traction, I think the time line will speed up. But realistically, I think you're looking at 15 to 25 years for a truly autonomous car on a mass scale."
And then he throws in this food for thought.  "Even if we get there from a technology perspective, will it be human nature to allow complete and total control of the vehicle to take over?"
---
Text by Charlie Ingram