Mark McClanahan looked at the growing automotive industry in Alabama and saw a window of opportunity. And a door. And a hood.
A native of Decatur, McClanahan was living in Chicago in 2013 when he and his wife decided they were ready to move back to Alabama. Though he was running a food-service equipment business at the time, McClanahan had more than 20 years of automotive experience working for parts manufacturer Delphi-Saginaw (now known as Nexteer Automotive). And he noted that since leaving the state in 1998, the automotive industry "had gone nuts" with the influx of several international manufacturers.
"I knew there would be opportunities. So I looked around for the need. I was trying to find out what was missing, " McClanahan says. "I talked to a lot of people, including people with Mercedes, to find out what area of need wasn't being met."
The answer, he discovered, was the creation of steel container racks that are custom-made for large automotive parts such as windows, hoods, instrument panels and exhaust pipes. These racks have to fit specific model sizes and cannot be off by even an inch, in order to prevent damage during transport to and within the manufacturing plants.
McClanahan says it is the type of work that most automobile manufacturers would prefer not to handle internally. "They want to use their maintenance people on higher-level things, like repairing and installing machines, " he says. "The people at Mercedes said there was a need for this type of rack manufacturing in the state."
So, with an initial investment of $1.5 million in equipment and inventory,  McClanahan opened Fayette Fabrication in January 2014 in the rural town of Fayette, approximately 60 miles northwest of the Mercedes plant in Vance. The company began by simply repairing existing racks but quickly moved into custom manufacturing.
Two years later, Fayette Fabrication has grown from six employees to 35, and McClanahan says plans are under way to expand the facility from 50, 000 square feet to 90, 000. The company does work for major auto manufacturers such as Mercedes and Honda, as well as for parts suppliers such as Eberspacher and Kamtek.
"Fayette Fabrication is a perfect example of the entrepreneurial opportunities that exist in Alabama within the automotive industry, " says Ron Davis, president of the Alabama Automotive Manufacturers Association. "It's a wonderful opportunity for rural Alabama to be adding businesses. A lot of times a larger community is looking for new businesses that will bring in 500 jobs. But in some of these rural communities, a business that has 35 jobs is a huge contribution for the area.
"So it all begs the question of what other support do the OEMs and the suppliers in the state need that they don't currently have? I think there are many more opportunities like this out there, " says Davis.
Of course, finding the need and meeting it are two different things. McClanahan says the work his company does is not easy, mainly because of the precision required in the creation of the racks. It is considerably easier to build a container for a refrigerator door, for example, than for a specific part to a specific model of a high-performance vehicle.
"The rack has to hold the part in a precise orientation so it doesn't get damaged, " McClanahan says. "If it's going to be holding a hood or a door or a roof — something that is going to be painted and you can see — then that surface cannot be scratched. It has to be held exactly right for the contours and size of that part. You can only touch certain surfaces without damaging the surface. That surface on a Kia hood is different than it is on a C-Class hood. So that C-Class hood rack has touch points that are very different.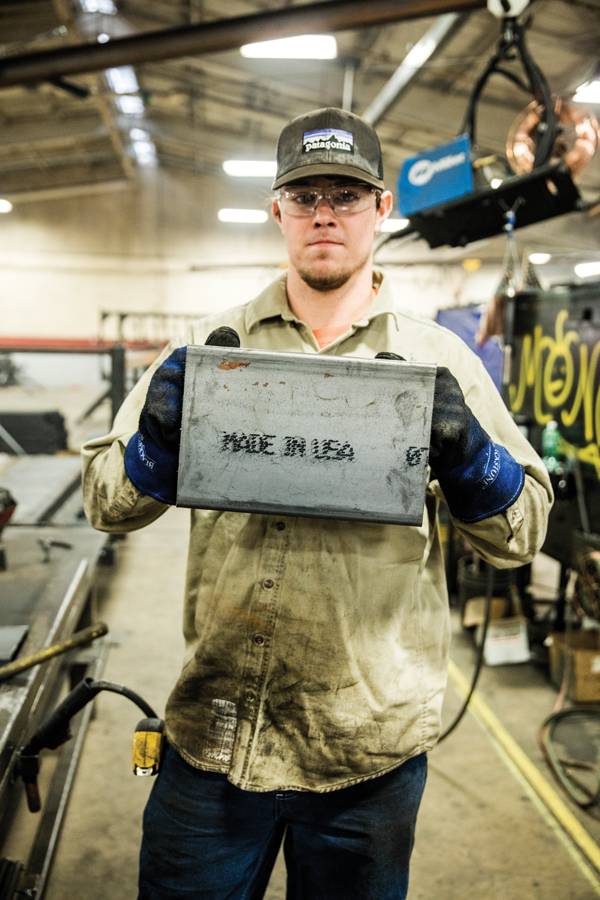 Ray Beede shows off Made in USA steel before it's transformed into Made in Alabama racks for the auto industry.
"Mercedes will have different hood racks for different models, and the racks have to change when the models change. So when Mercedes makes a design change, they probably can't use their old racks. The new part might be just an inch wider or shorter. You can't just design a rack for an axle. It has to be for a certain type of axle. You don't design a rack just for a Hyundai shock absorber, but for a Hyundai model AN shock absorber. The quantity and design of each rack is different. It's a very custom business."
All of which can lead to a variety of challenges. For example, exhaust pipe-manufacturer Eberspacher requires container racks that are 12 feet long. And, while some companies provide the dimensions that are needed for a specific container, others hire Fayette Fabrication to both design and produce the racks.
"These relationships are all over the map, " McClanahan says. "In some cases they won't even have a drawing. They just show me the part and say they need 50 racks. So we kind of reverse engineer it and do the design and the prototype. Everybody has a different process. The need is totally different for each company and each part."
The one thing that is the same throughout the state's automotive industry, McClanahan says, is the need for additional support companies such as Fayette Fabrication. The state of Alabama is encouraging the creation of new businesses in rural counties by offering tax credits for a company that moves or expands into a county that has a population of fewer than 25, 000 people. With those incentives in place, McClanahan says the key is simply discovering what the auto industry requires for continued growth in the state.
"Yogi Berra said you can hear a lot just by listening, " McClanahan says. "There are other opportunities like this that people don't look for. People are looking into high tech. They want to invent something, find a factory to build it and then sell it to the automotive companies. But that is such a long, long cycle — where this is just filling a need."
---
TEXT By CARY ESTES // Photos by CARY NORTON