Roy Metal Finishing Co. was in the "right place at the right time."
The right place, according to Adam Brumfield, director of business and product development at Roy, was Greenville, South Carolina, and the right time was 1999, when the South's textile industry was all but dead and being replaced by the Southern automotive boom.
Now, Roy Metal Finishing Co. Inc., founded by Clifford D. Roy, who is chairman of the company, is the largest electroplating job shop in the Southeast, providing barrel and rack zinc and zinc-alloy plating. In addition to zinc, zinc nickel, zinc iron and tin zinc, RMF offers heavy zinc phosphating, passivation, water-soluble dipspin coatings, sorting and boxing.
Automobile manufacturers have always looked for ways to protect their vehicles from the relentless forces of corrosion. That's where firms like Roy Metal Finishing come into play.
Electroplating involves using an electrical charge to attach a thin metal layer or coating to an object such as an automobile part. Electroplating on plastic is also used to chrome-plate the lightweight but sturdy parts that are a staple of the modern automobile.
Established in 1961, privately-held RMF has grown steadily to a company with more than 240 people working three shifts, five days a week.
"Historically, in the '60s, '70s and '80s, our primary focus was the textile industry, because that's where we are, " says Brumfield, who has been with the shop 17 years. Then came the North American Free Trade Agreement and much of the South's textile industry moved offshore.
Brumfield says RMF was doing a small amount of automotive work at the time but at a "very low level of coating. We were not doing the type of work we are doing now."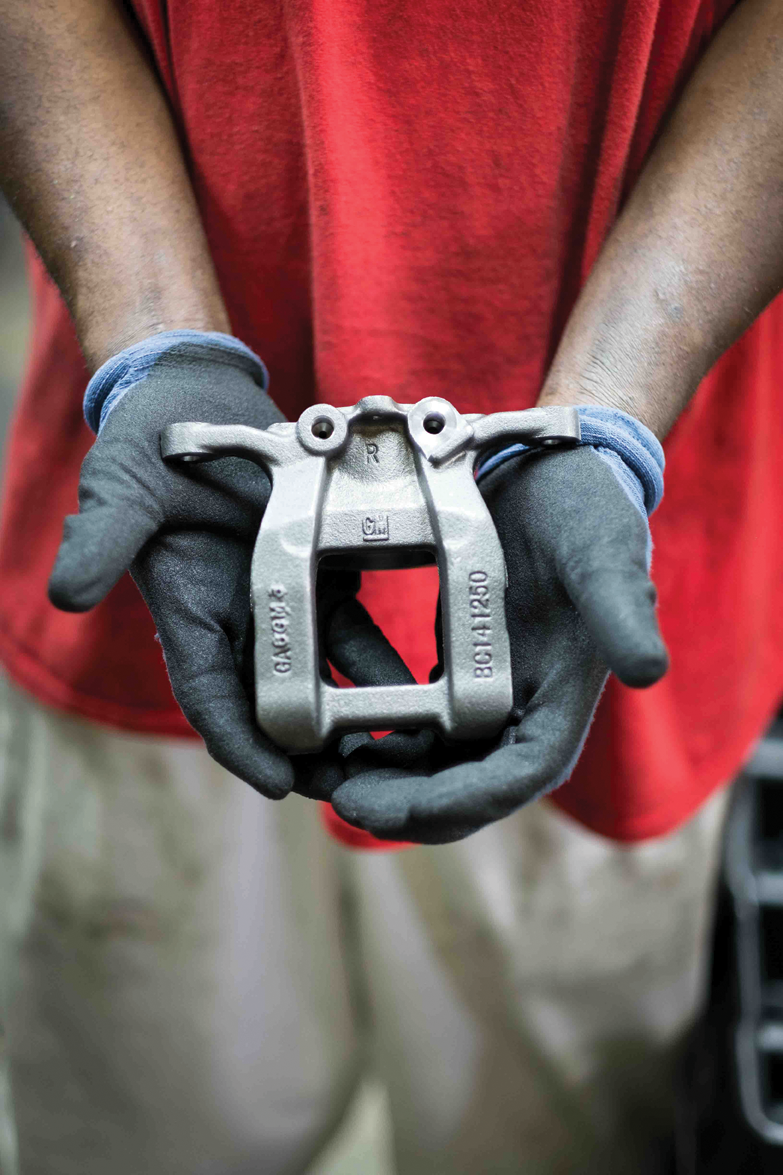 The Roy Metal Finishing Co. plant makes, among other things, anchor housings and calipers for automotive braking systems.
The firm's big break in the auto industry came courtesy of the nearby BMW plant. "Our first venture into the automotive industry was via a link arm for the BMW plant in 1999, " Brumfield says. "We were a Tier 3 plant at that point and we saw a need to up our game a little, so to speak, because of automotive quality systems, the BMW influence and sub-suppliers locating to the area." 
Brumfield says the influx of German-owned companies relocating to the Southeast to support the Mercedes, BMW and Volkswagen plants has had a large influence on RMF. 
"They have left a mark on our company, " he says. "They made us develop better systems to handle the quality that they expected. They took us from just a plating operation to a better and more diversified company. The Germans got us in the game and the Koreans and the Japanese have also been a huge part of our growth."
To underscore RMF's dedication to quality work, the company has been named the best finishing shop in the U.S., according to an industry benchmarking survey conducted by Products Finishing magazine, a trade publication that has covered the industry since 1938. 
RMF's core business is zinc and zinc nickel plating. "Zinc is the traditional bright plating, " Brumfield says, "and nickel and zinc nickel is more functional from a corrosion standpoint and offers about five times the corrosive protection as zinc."
Not surprisingly, most of the company's plating relates to an auto's braking system — anchor housings and calipers. "We do 10 to 12 million of those a year, " Brumfield says. "Open wheels have contributed to the need for plating the braking and wheel components. There are no hubcaps anymore."
From a logistical standpoint, South Carolina is the ideal location for a plant like RMF. "These parts that we plate are really heavy, so from a transportation standpoint and the logistics — freight and weight and all that — it really helps to have a customer that is close. We realized that and it has really helped grow our business. The sandbox we play in is generally 250 to 300 miles from us. We have some customers in the Northwest and Midwest, but our success has been driven by our location."
Brumfield points out the proximity of BMW, Mercedes and Volkswagen and adds, "That I-85 corridor is the automotive belt for this region."
The Interstate 85 corridor between Charlotte and Atlanta, an area once known for textiles, is now home to BMW Manufacturing and 230 other international companies. With more than 200 automotive suppliers located in South Carolina and more than 1, 000 automotive suppliers located within 500 miles of Greenville, this area is becoming known as a center for automotive commerce.
Competition has not been a serious issue for RMF, because, as Brumfield points out, "You can't just put up a plating shop wherever you want to. You have environmental regulations and you have state and local laws that you have to follow and comply with and compliance is expensive. That's a barrier to entry into this industry. You have to have proper disposal of your water. If you don't do that, you're out of business."
While the majority of RMF's sales are in automotive (65 percent), consumer goods make up 20 percent and industrial goods make up 15 percent. The company also now offers warehouse management and is beginning to focus on the growing aerospace industry in the Southeast.
In 2012, RMF invested $16 million in a custom facility at The Matrix business and technology park in Greenville County, where the company has three automated facilities to service the automotive, heavy truck and industrial customer base. 
"We go where the automotive industry goes, " says Brumfield. "For us it is being diversified, and we know we have to be in the automotive industry for us to run at the volume that we need to run."
Bill Gerdes is a freelance writer for Southern Automotive Alliance. 
---
text By BILL GERDES // Photos by MATTHEW FRANKLIN CARTER