It would be hard for us to just do automotive research, " says Roger King, executive director at CAVS. "I think you have to look at the larger mobility picture, especially with the unmanned aerial systems, unmanned ground vehicles, airplanes and ships. There are things we can take advantage of on the broader mobility for research and development."
CAVS revolves around 335 people, including 87 tenure-track and research faculty plus another 34 research staff personnel. It includes the work of 93 graduate students, 95 undergraduates and an administrative staff of 19.
In 2016, CAVS received roughly $20 million in funding, with about a quarter of that coming from the state of Mississippi. Monies from federal government grants and other sources make up the remaining 75 percent.
Since it opened in 2002, CAVS has worked closely with Nissan and Toyota plants in Mississippi,   as well as other automotive industry manufacturers and suppliers. CAVS' commitment to Mississippi includes support for other manufacturing sectors, such as steel, as well as industrial recruiting.
Money from federal government grants and other sources has supported CAVS research for ground, air and water vehicles for entities such as NASA, the Department of Defense and the Department of Energy, among others. Overall, about 60 percent of what CAVS does is related to ground vehicles.
What King calls a "brand separator" for CAVS has been Mississippi State's high performance computing capabilities. "Since 1990 and before, Mississippi State has been involved with a lot of work with industry and government through high performance computing applications for vehicles, " he says.
"We have large super computers that do a lot of calculations and simulations, and that gives us the capability to do large-scale simulations. That means a lot of work at NASA's Marshall Space Flight Center, the Glenn Research Center, the Langley Research Center and the Department of Defense, because they all have vehicles. We have done a lot of work supporting the automotive industry and will continue supporting industry that's vehicular-based, but it's not always going to be a Ford, Chrysler, GM-type situation. That's why we're called the vehicular center. We don't just focus on cars."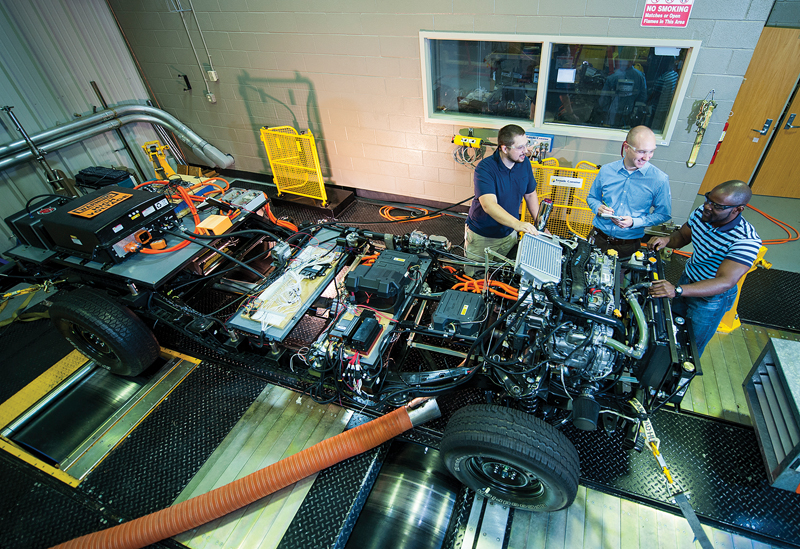 CAVS, for example, has worked on code that supported NASA's space shuttle missions and continues supporting code used in the new space launch vehicles. "We do a lot of Department of Defense work, " King says. "We're developing simulation models for the next generation military ground vehicles. Because of our nature, we aren't just working with Ford, GM or Toyota. We do things for them, but those companies generally are not going to give big money or have big projects for the university."
Most of the automotive industry's research and development activities occur at the major manufacturers' headquarters, whether it be Germany, Japan, South Korea or Detroit. CAVS has had ongoing collaborations "for many years" with Nissan and Toyota in Mississippi, but "We're not doing R&D in the sense that I'm looking at aerodynamics of the vehicle, " King says.
"I would call what we're doing for Nissan and Toyota 'engineering support.' We're interested in production — we look at quality control, the number of vehicles coming off the line, where we can pick up time and where the bottlenecks are. We've done a lot of that kind of simulation for the OEMs and suppliers, looking at their processes and advising them on getting productivity gains."
Nondisclosure agreements limit what King can say about work CAVS has done with the automotive industry, but there have been success stories. "There's been a variety of things we've looked at on warranty issues, " he says. "Nissan uses a product we developed, and all their North American vehicles are tested with it, including their Mexico plants.
"This was to help them with a major warranty issue they were having on a project. It was a quality control kind of thing. It was something we were able to develop and turn the technology over to them. They integrated it into their Canton plant, their Smyrna plant and their North American plants."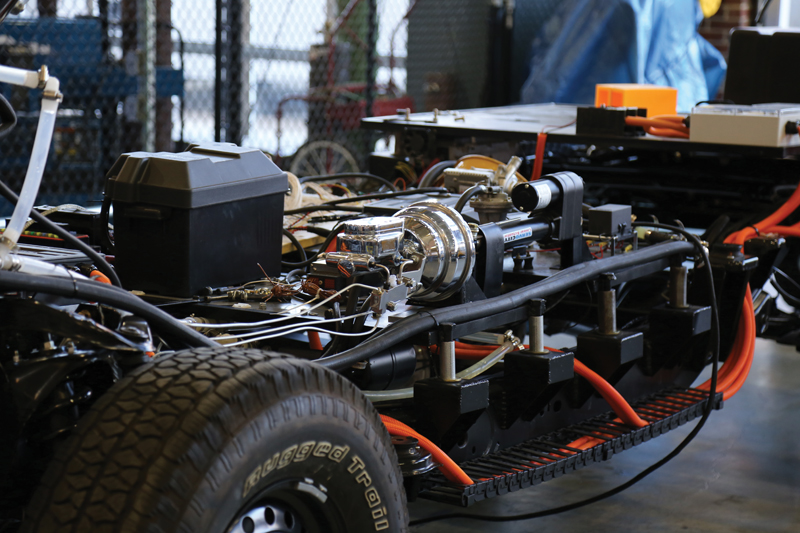 King says CAVS has a strong focus these days on autonomy and robots. "We're not competing with Michigan or Stanford or Google, " he says. "We're not trying to put together a vehicle to drive down the streets of San Francisco or New York City.
"We focused on autonomy in defined areas, where you've got controlled areas, like inside a fence where you have an industry and you don't have to worry about certain things, like a mother pushing a baby carriage or shopping carts. We're providing autonomy to industry for vehicles within their walls."
CAVS' current work also includes collaborations with partners in South Korea and the United Kingdom to study such things as power line efficiency, hydrokinetic power and even shaken baby syndrome.
Its work related to in-stream hydrokinetic power, for example, centers on electric power generated more efficiently by extracting energy from the natural flow of water to power turbines without the necessity of dams or other impoundment. Because electricity generated via dams can be inefficient, much of the water impounded by dams never reaches its destination, according to the CAVS website.
CAVS is working with the University of Cardiff in the UK to "redefine the world's understanding of shaken baby syndrome" because the existing understanding is based on woefully inadequate data. The partners are working on a new instrument that would provide never-before-seen data to better measure the effects of shaken baby syndrome. A possible benefit from having that new data might be better evidence gathered at crime scenes involving toddlers.
Given the nature of technology and its rapid dissemination, it is imperative for CAVS to have an expansive worldview. "There are so many things now that require a global perspective, " King says. "It is important for you to have that perspective."
---
text by CHARLIE INGRAM