All the plates the Trump Administration has in the air right now have the nation's automobile manufacturing industry a little jumpy.
Like the stock market, "The auto manufacturing industry hates uncertainty, " says Kristin Dziczek, who is director of the Industry, Labor and Economics Group at the Center for Automotive Research (CAR), an independent, nonprofit, research organization in Ann Arbor, Michigan. Dziczek joined CAR in 2005, and has more than 25 years of experience as a researcher and policy analyst.  
"We are sort of in a period of uncertainty and the auto industry hates uncertainty. It invites all kinds of risk, " Dziczek says. 
Dziczek says several key appointment confirmations are in the works in Washington and  "then we will probably start to see things move, " she says.
One "thing" that appears to be starting to move is action on the North American Free Trade Agreement (NAFTA), a trade agreement among the U.S., Mexico and Canada, which President Trump has called "a catastrophe for our country."
Mexico's President Enrique Peña Nieto announced Feb. 1 he would start trade negotiations to reform NAFTA in May, after a 90-day consultation period with Mexican businesses. The confirmation of Wilbur Ross as U.S. Secretary of Commerce, who will play a leading role in President Trump's revamping of NAFTA, likely means the required notification to Congress will come soon. American law requires the Trump Administration to provide 90 days' notice to Congress before starting any trade negotiation.
Dziczek says she thinks any action on NAFTA "likely will be deeper than just changing rules of origin. Rules of origin could be changed under the current NAFTA without reopening the entire agreement." 
Rules of origin are the criteria needed to determine the national source of a product. Their importance is derived from the fact that duties and restrictions in several cases depend upon the source of imports. There is wide variation in the practice of governments with regard to the rules of origin.
"It is unclear what direction they are going because there are three different things being tossed about that relate to North American trade, " Dziczek says.
"One is reopening NAFTA and making adjustments there; one is the border tariff or tax on the southern border's 35 percent, which we haven't heard much about lately; the third is encompassed in corporate tax reform, which is a border adjustment tax which is not a tariff and is not an incident of goods crossing the border. It is an IRS filing on the corporation that they will not get to count the costs of imports when calculating their taxable base and they also will not count their export revenue when calculating their taxable base.
"If you are a net importer your taxable base goes up, and even though your rate goes down, the effect may be negative overall. The questions are: Should we put a tariff there? Should we renegotiate changing the rules of origin? What happens to corporate tax reform and how will that affect trade?" Dziczek says there has been some talk that Canada might be exempted from the border adjustment but nothing about Mexico.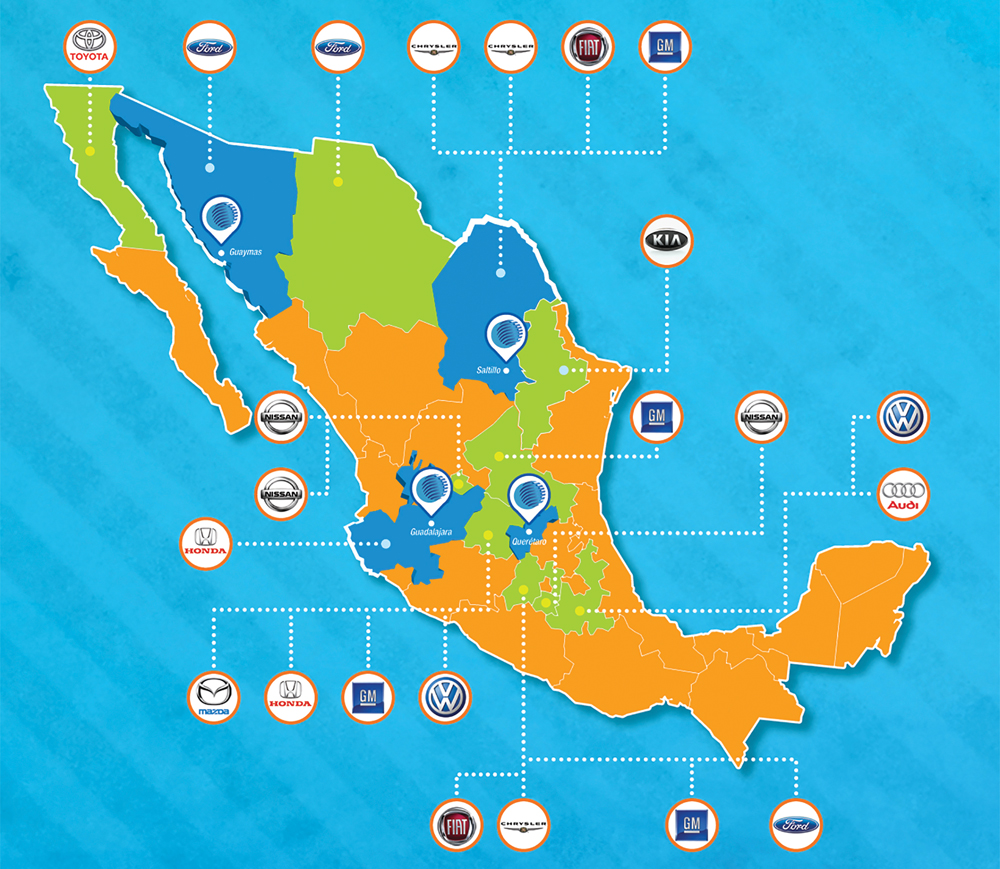 MEXICO'S OEMS: A look at which original equipment manufacturers have bases of operations in various parts of Mexico.
Map courtesy of the Offshore Group
Each manufacturer is affected differently. "Companies like Toyota and Honda, big stalwarts in the South, are affected but less so than some others. They have some base in Mexico, but are largely U.S. producing with some imports."
"A company like BMW is a net exporter out of the U.S. to the rest of the world. They just started a plant in Mexico, so we don't know how they will be affected there, but they use largely imported parts in their production here in the U.S. so they would be affected by border adjustments for the imported parts.
"Nissan has a larger base in Mexico and could be more affected than others. 
"And you have Hyundai-Kia. The major source of their sales in the U.S. is pretty evenly split between imports and domestic production and they are starting up in Mexico as well. 
"Mercedes is a net importer and they could be impacted quite considerably by any border adjustment and by changes with the North American Free Trade Agreement, " adds Dziczek.
So what makes Mexico so attractive to auto manufacturers? "Right now it is absolutely trade, " Dziczek says. "Right now you can reach the U.S. market, which is a very attractive market, and you can reach Europe. Then there is the tariff.  You make something in the U.S. and ship it to Europe, you are paying 10 percent tariff. You make it in Mexico, you pay nothing."
And, she adds, "Mexico has 44 countries it can reach tariff-free, and that is half the global market for new vehicles and about 65 percent of the world's GDP. Right now, about one in five vehicles that leaves Mexico is sent to a non-NAFTA country and it is going to be one in three in just four years. So they are starting to face outward and away from just supplying the NAFTA regions out of Mexico."
Dziczek says cheap labor was a big motivator for the first companies that moved to Mexico, and that hasn't changed much. NAFTA was supposed to raise the standard of living in Mexico and in so doing provide a market for U.S. goods. Dziczek says, "Wages have gone nowhere; the standard of living has not increased; the per capita income and the per capita vehicle sales have gone nowhere. And that was part of the deal, that there would be vehicle sale increases as per capita income increased. Mexico has not become a market for U.S. made goods and services."
Another major issue automakers face are new mileage and emission standards, starting with the 2017 model year. The Obama administration set the higher mileage standards in an effort to reduce emissions and combat climate change. The new standards will cover cars and light trucks for model years 2017-2025, requiring performance equivalent to 54.5 mpg in 2025 while reducing greenhouse gas emissions to 163 grams per mile.
Mitch Bainwol, president and CEO of the Alliance of Automobile Manufacturers, on Feb. 21 sent a letter to G. Scott Pruitt, the new administrator of the Environmental Protection Agency, asking the EPA to "withdraw the final determination on the appropriateness of the Model Year 2022-2025 light-duty vehicle greenhouse gas emissions standards." The Bainwol letter says, "For the auto industry, the Final Determination may be the single most important decision the EPA has made in recent history."
All of this comes at a time when the auto industry has about reached a peak.
Dziczek says, "We inched up a little bit in 2016 but if you have been in the industry for very long, you know that what goes up must come down. So while we are celebrating high sales, everyone is anticipating that this will not last and what happens when there is a down turn? 
"If they are able to supply the top of the market with what they have now, why would they consider expanding beyond where they are? Ninety-five percent capacity on two shifts is really tight. I don't see them expanding much beyond where they are."
---
Text by bill gerdes