The driving force behind the automotive manufacturing sector — as it is with any car — is movement. It comes as no surprise, then, that healthy car manufacturers are never still. And that means that in the constant race to keep up with demand and changing consumer expectations, new models are often the end result.
Given that new models come from the same factories as their inter-company forebears, innovation and change are sometimes necessary to expand the capabilities of an already busy factory floor. OEMs in the Southern automotive region are rising to meet the challenges.
For instance, Ford Motor Co. (whose long history in Louisville is featured in this issue's Vintage section), recently announced it would soon start building a re-engineered Expedition at its Kentucky truck plant. Honda recently retooled its line and began knocking out new Odyssey minivans. And Volkswagen AG's U.S. operations have just brought a new competitor into the crowded, but ever growing SUV sector, being built in the Chattanooga, Tennessee factory.
VW grows
Volkswagen's example shows that it takes advance planning to be ready to add a new model, like the most recent addition to its SUV fleet — the midsize seven-seater Atlas, the biggest sport utility it builds in America. The Atlas joined the Passat in the Chattanooga plant.
"From the very start of the project Volkswagen planned to add vehicles to the Chattanooga factory, as this is necessary to achieve efficiencies in production, " says Scott Neal Wilson, head of communication at Volkswagen Chattanooga. "At the same time, Volkswagen product planners had been planning to add on to our SUV offerings to match the needs of that growing market. The timing was perfect for our plant to get the go-ahead to build the Atlas."
Production for the Atlas began in late December 2016 and the vehicle went on sale this past spring. And VW Chattanooga was able to absorb the addition. "The plant is currently operating on the same production schedule, " Wilson says.
Getting ready for the new model meant a growth spurt for the Chattanooga factory, Wilson says. "First we undertook a construction expansion to accommodate the addition of the Atlas. This involved increasing the size of the factory by 26 percent. We added more than 400 robots to the body shop and a new line in the paint shop and extended necessary lines in the assembly shop.
"Space was also added to accommodate for the increased logistical needs of parts flow for the Atlas. Thus far we have hired nearly 800 additional team members, who will join the team building both the Passat and the Atlas."
The result: increased output from Chattanooga, and with that, additional cost. "Plant capacity grew from 150, 000 to 250, 000 vehicles annually on an investment of over $900 million, " Wilson says.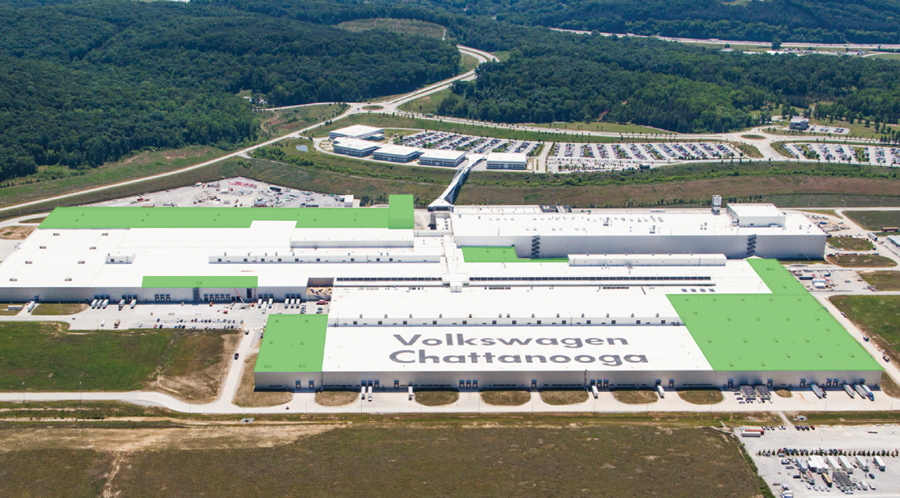 Commonalities
In general terms, no matter which brand you're talking about, there are some consistent elements involved in developing, building and delivering a new model while still cranking out existing products. And those elements need to be built in from the beginning.
"It all starts with the basic design of the facility and the equipment, " says Ashley Frye, the president of the Tennessee Automotive Manufacturer's Association. If the plant's not ready to expand, it means adding assembly capability or using the same lines to move different vehicles. "It makes it a more expensive proposition, " Frye says.
"When you're adding the complexity of another vehicle into the assembly line, your whole supply chain gets more complex — all your inbound material coming in to support" the process, he says.
Training employees is critical when adding another vehicle, he notes. That training can come in many forms; some companies include video showing the assembly process in detail to help workers get familiar with the differences between the older product and the new. "There's always going to be training involved, " Frye says. "Even an experienced operator who is qualified in one process, as soon as you change that process, they've got to go through that training again."
And when a new product is introduced, the checks and balances built into the manufacturing process also get updated, Frye says. "Generally, you're going to find that during any type of change or introduction of a new product, what I call enhanced verification of the process" also comes into play, he says. "Not only are the production operations part of the business enhanced… you'll also have the quality control folks with enhanced inspection processes to make sure that if there is any opportunity for something to go wrong, it's corrected as early as possible."
Always thinking ahead
Wil James, president of Toyota Motor Manufacturing Kentucky, the behemoth of an operation in Georgetown, Kentucky, says that even when a plant is successful, it's always wise to be looking down the road to what's next.
"We're always evaluating opportunities or options to make sure that the manufacturing plant is fully utilized, " James says. "And because of that, we've been very, very fortunate to have the Camry, the best-selling car in America for the last 15 years, to move as much volume as it has. So we didn't have that strong pressure of having to look for other vehicles to bring, for example, to our mix. But the sedan market is shrinking and people are moving to SUVs and trucks. So it should be of no surprise to anyone that we're studying what we need to do to position this plant appropriately, to be able to accept product that will keep it full. And the SUV avenue is one of the wiser ones for us to look at.
"So the key is to position the plant so that the plant is flexible enough to be able to handle the variety of other product options that are out there. We're making a huge step in that direction right now as we go through what we call a renewal, " he says. "We call it 'Reborn, '" he adds.
That effort includes "addressing new technologies, upgrading some of our equipment, putting new programs and technologies in place here to be able to run not only the kind of product that we're running today, but to also be better fit for other options and other product mixes in the future."
Keeping the options for new products open can be a big piece of preparation for shifts in market direction, he says.
"You can't make a decision to bring a new product on today and then just slap it in your plant tomorrow, " James says. "You've got to kind of till your soil and prepare your plant for a variety of different things — if you don't have that decision already cast in stone. And this market is so fluid that it's not smart to try to make a single decision and go in one direction without looking across the whole gamut of options. So we're positioning ourselves to be in the best place to be able to handle the decision once the decision is made."
James would not specify what new product might be coming from Toyota. "We are not at a point that we can share too much because there are still a variety of options that are out there, " he says. "Every decision you make has other implications."
---
Text by Nick Patterson