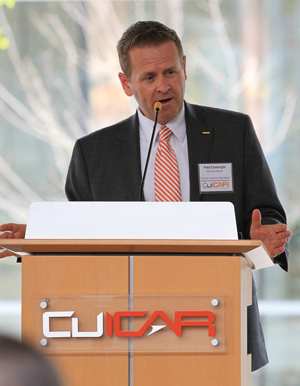 Fred Cartwright
Photo courtesy of CU-ICAR
Fred Cartwright was born, raised and educated in Indiana in the heart of General Motors country. His first job out of college was with GM, and he worked there for 32 years before taking a job in South Carolina.
He drives a new Corvette and had a Chevrolet Camaro SS before that. "The new Corvette is a fantastic driving machine, " says the 58-year-old Cartwright. "For me, there will always be a certain allegiance to GM products, and I think the Corvette is the best sports car on the market."
Despite his Midwest and GM perspective, Cartwright is one of the more visible auto industry proponents in South Carolina. He is executive director of the Clemson University International Center for Automotive Research (CU-ICAR) in Greenville, only a few miles from BMW's South Carolina plant.
"This place is a $250 million investment between the state, the university and private industry, " Cartwright says. "What we do here is different from anything you'll find on the planet. We do three things: research, education and economic development. There are few places, if any, that I've seen that do all three of those things."
The CU-ICAR conducts research in seven auto-related fields. It has more than 300 alumni who earned graduate degrees and more than 200 students currently pursuing degrees. Ninety-five percent of CU-ICAR graduates now work in the auto industry for companies that include Ford, Fiat Chrysler, BMW, Cummins and Toyota R&D America.
"I'm very proud of our students and very proud of the research here, " Cartwright says. "But we also do economic development. We're constantly trying to bring business to our state. In foreign direct investment, South Carolina ranks Number 1, and so we have a flow of companies through our offices, and we have more than 200 acres for companies to locate here."
Cartwright received a degree in mechanical engineering in 1980 from Rose-Hulman Institute of Technology in Terre Haute, Indiana, followed by a master's in business administration from Butler University in 1987.
He often thinks about his early experiences at GM and how they shaped him for the days ahead. "Early in my career I decided I wanted to be a production supervisor on the floor and that's what I got, " he recalls. "I did that for a couple of years — the midnight shift, multiple departments and a lot of people. The reason that stands out is that it gave me a lot of experience on the floor, working with people, a lot of manufacturing experience, a lot of experience working with the union, the UAW, and that was terrific."
Cartwright left manufacturing and went into the design and development of the half-ton transmission that GM was manufacturing for the U.S. Army's Abrams army tank. "It was sophisticated and very expensive, " he says. 
"I was always intrigued with the customer side of things, and my new work took me to military operations around the world. I enjoyed the application of the product side of things, so that was great experience, again, working on more defense-oriented or military-oriented products until 1993. And that's when my world changed."
That's when GM asked Cartwright to work on the company's first hybrid electric vehicles, which led to years of work applying that technology to buses, initially, then to light-duty cars and trucks. Along the way, around 2004-2005, GM formed a partnership with BMW and what was then DaimlerChrysler to develop hybrid electric vehicles. 
"Ultimately, I ended up in Germany as the vice president of all our (GM) partnerships in Europe and sat on the board for GM Europe, " Cartwright says. "Then I came back to Detroit for one more year and then decided to do something else."
Cartwright has been at the CU-ICAR since 2013. From a regional perspective, "I think the most important thing we need — you'll see Tennessee say the same and maybe some of
the other Southern states — we need to continue chipping away at building a knowledge-based economy, " Cartwright says.
"That's not to say we shouldn't still be focused on manufacturing — low-cost, right-to-work, no-union manufacturing — that's important, too. But we need to attract tech companies here, R&D centers, and that would be a collective effort inside every state to make that happen. The South in general would benefit from a collective effort to augment the (auto industry) success that has already been created by bringing more research and development locations across the states, and that is not easy."
Cartwright has settled into his new life in the South, and says that his 30-plus years with GM prepared him well. "All of that prepared me really well for this position, which is all about partnering, new frontiers, new technology and all about automotive and mobility, " he says. "It's a whole lot better in Greenville than Detroit."
How's that?
"Well, the weather for one, " he says. "Spend 10 years in Detroit and you'll know what I mean. Here, there's less traffic, less congestion. It's just a very, very nice place to be."
---
Text by Charlie Ingram